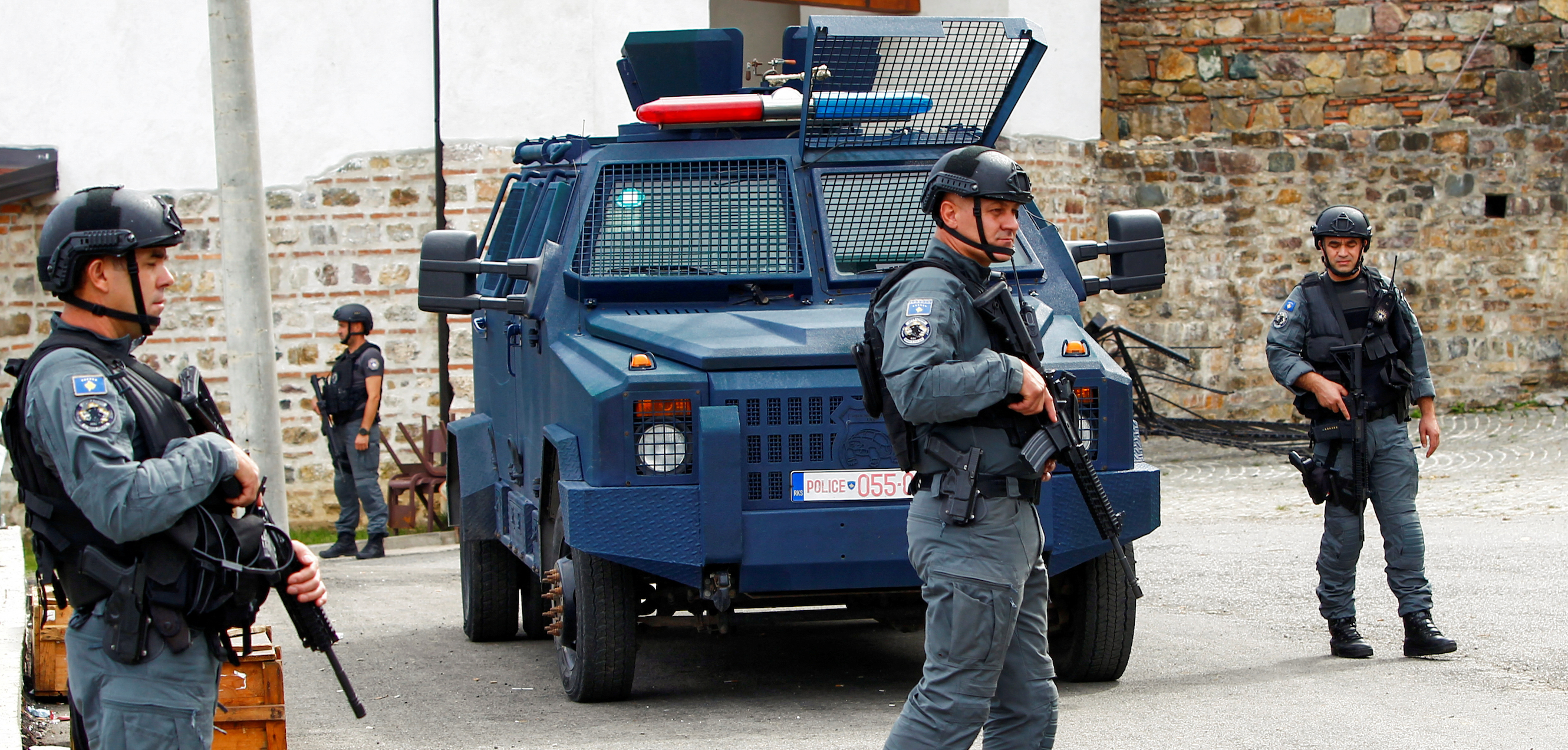 Serbia lowers number of troops near Kosovo, army chief of staff says
PHOTO CAPTION: Kosovo police officers patrol, in the aftermath of a shooting incident, in Banjska village, Kosovo September 27, 2023. REUTERS/Ognen Teofilovski
BELGRADE (Reuters) - Serbia has withdrawn some troops stationed near the border with Kosovo, after having increased the numbers deployed there following a gun battle in northern Kosovo in which four people died, army commander General Milan Mojsilovic said on Monday.

Tensions between Belgrade and Pristina soared since Sept. 24, when Kosovo police near the northern Kosovo's village of Banjska fought around 30 armed Serbs who barricaded themselves in a Serbian Orthodox monastery. Three attackers and one police officer were killed.

The skirmishes prompted new international concern over the stability in the predominantly Albanian Kosovo, which declared independence from Serbia in 2008 after a guerrilla uprising and a 1999 NATO bombing campaign that drove out Serb security forces.

"Serbia had deployed 8,350 troops near (the border) ... with Kosovo, ... and reduced them to 4,500 at the moment," Mojsilovic said.


He said the army presence in the so-called Ground Safety Zone, a 5 kilometre-wide (3-mile) strip inside Serbia along the Kosovo border, had "reverted to normal."

Serbia has not "formally raised the level of readiness" of its 22,500-strong army, Mojsilovic said.

Kosovo on Saturday called on Serbia to reduce the number of troops along the border, while the United States on Friday said it was monitoring Serbian military deployment, describing it as destabilising.

Pristina blamed Serbia for providing financial and logistical support to the group that fought Kosovo police, which Belgrade denied.

Mojsilovic said that Milan Radoicic, a Kosovo Serb politician who had admitted to taking the part in the skirmishes in Banjska, had not taken part in training with the army.

Some 50,000 Serbs who live in northern Kosovo do not recognise Pristina's institutions and see Belgrade as their capital. They have often clashed with Kosovo police and international peacekeepers, but Sunday's violence was the worst in years.

NATO, which still has 4,500 troops in Kosovo, said on Friday it had "authorised additional forces to address the current situation".



(Reporting by Ivana Sekularac and Aleksandar Vasovic; Editing by Alex Richardson)
MORE FROM THE
OAF NATION NEWSROOM