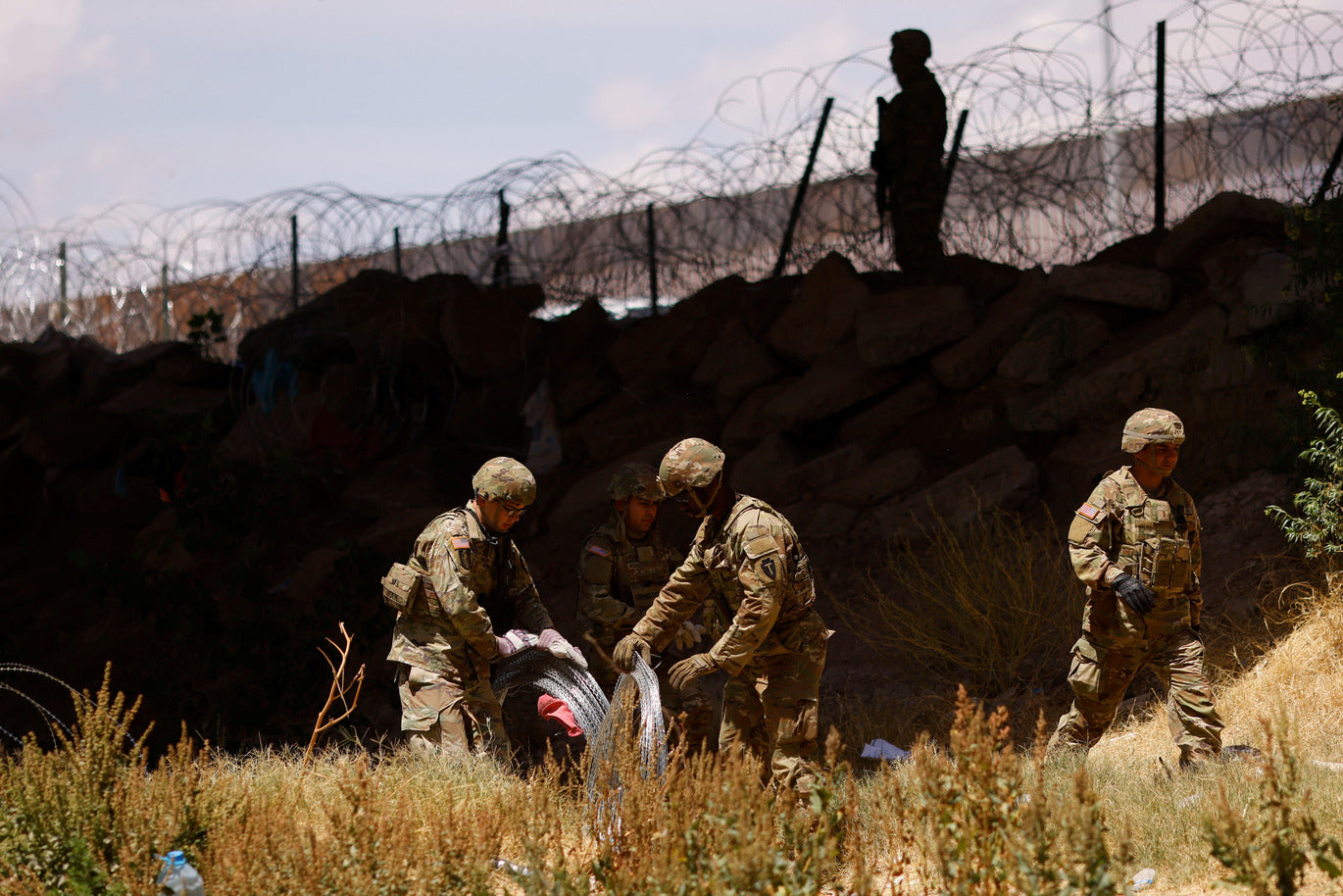 With barbed wire and warnings, migrants stopped at US-Mexico border
Illustrative photo: Members of the Texas Army National Guard extend razor wire to inhibit migrants from crossing, as seen from Ciudad Juarez, Mexico May 13, 2023. REUTERS/Jose Luis Gonzalez
CIUDAD JUAREZ, Mexico (Reuters) - After hours of waiting on the U.S. side of the border and hoping the Texas National Guard would let them seek U.S. asylum, a group of 15 migrants crossed a shallow green river back to Mexico, their faces drawn in disappointment.
After traveling from countries including the Dominican Republic and Guatemala, they were among the first people on Saturday attempting to enter the U.S. from Mexico after the end of COVID-19 restrictions that had blocked many migrants from requesting asylum at the border for the last three years.
But access to asylum is still restricted.
"Please, go back to Mexico," a Texas soldier told the group just north of a river dividing El Paso, Texas, and Mexico's Ciudad Juarez, beneath a bridge that joins the two countries.
As the migrants trudged up the sandy, trash-strewn riverbank into Mexico, a Guatemalan man said the Texas troops had been clear: "It's not in our interest to be here."
Two dozen National Guard troops quickly set about stretching coils of barbed wire across the cement base of the bridge where the migrants had been.
Under the order known as Title 42, U.S. authorities could quickly turn back migrants without giving them a chance to seek asylum.
Since that policy ended on Thursday night, Reuters witnessed nine instances in which U.S. authorities told asylum-seekers aiming to enter from Ciudad Juarez - including Venezuelans, Cubans, Colombians and Mexicans - that they needed appointments via a government app called CBP One.
U.S. Customs and Border Protection (CBP) in recent years has grappled with record crossings, and in the wake of Title 42's expiration has said it is prioritizing migrants with appointments to streamline processing.
When a Colombian family of six approached a port of entry to El Paso, Texas, a CBP officer said they needed an appointment.
"There are a lot of people ahead of you ... we can't have you jump the line," he said.
'COULDN'T CROSS HERE'
Heidi Altman, policy director of the National Immigrant Justice Center, a legal aid group, said she saw similar scenes at the Mexican border town of Matamoros and was concerned that U.S. officials were blocking asylum access.
"Whether the person has a CBP One appointment ... does not make any difference in terms of the U.S. government's lawful obligation to permit them in and process for asylum," she said.
Beneath the Ciudad Juarez-El Paso bridge, a Texas National Guard member warned migrants that if they came further into the U.S., they would be deported and barred from applying for U.S. entry for five years.
New regulation presumes most migrants are ineligible for asylum if they passed through other countries without first seeking protection elsewhere, or if they failed to use legal pathways.
Such messages have reached the ears of many migrants who are pinning their hopes on CBP One. U.S. Homeland Security Secretary Alejandro Mayorkas on Sunday said the number of migrants crossing the border fell by half since the end of Title 42.
Yet some are unfamiliar with the app.
A Dominican couple under the bridge told Reuters they had just reached Ciudad Juarez and had not heard of it. A Cuban woman, with her sister and son at a port of entry said she did not trust the app would work.
Kleisy, a 16-year-old from Guatemala traveling alone, arrived minutes after the group had dispersed from under the bridge, and said U.S. officials elsewhere on the border had delivered a similar message.
"They said I couldn't cross here," she said, struggling to make herself heard through a sudden stream of tears.
The teenager in black jeans and a bright yellow baseball hat left her hometown of Jalapa alone and hoped to reunite with her father in Dallas, Texas, after a 10-year separation.
Kleisy, who gave only her first name, crossed to the U.S. side of the river, approached the nearest soldier and asked to cross. He quickly waved her back, telling her to find a formal border point.
The Texas troops unspooled more barbed wire.
(Reporting by Daina Beth Solomon and Jose Luis Gonzalez in Ciudad Juarez, Mexico; Editing by Stephen Eisenhammer and Matthew Lewis)
MORE FROM THE
OAF NATION NEWSROOM