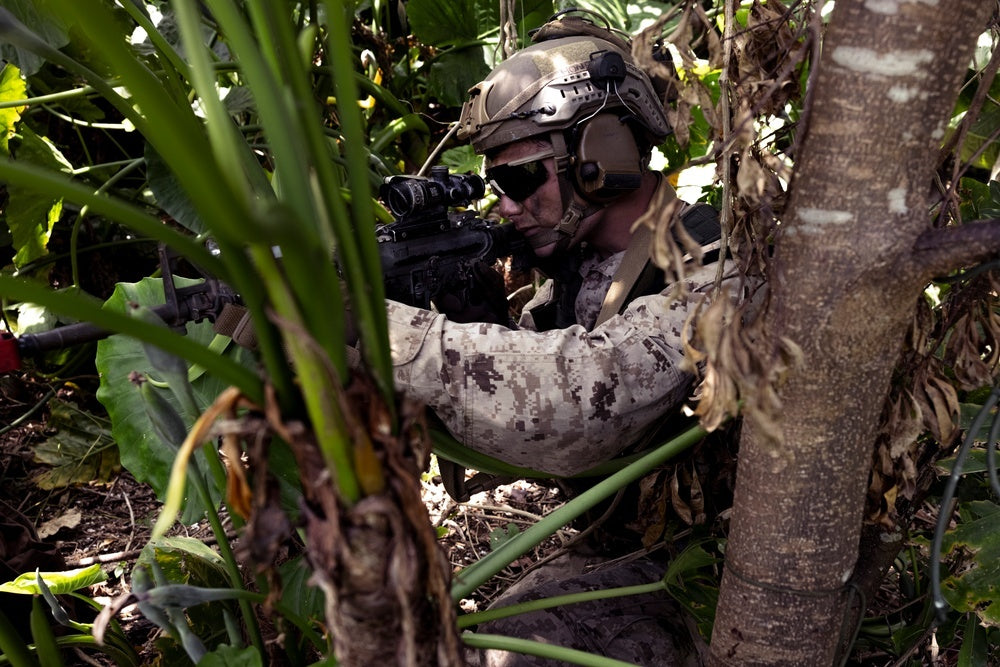 US defense pact to strengthen Papua New Guinea military and police, PM says
Illustrative photo: U.S. Marine Lance Cpl. Trevor Dillard, an infantry Marine with Battalion Landing Team 2/1, 31st Marine Expeditionary Unit, provides suppressing fire during a boat raid exercise at the Kin Red training area, Okinawa, Japan, May 12, 2023. (U.S. Marine Corps photo by Cpl. Christopher W. England via U.S. Defense Visual Information Distribution Service)
SYDNEY (Reuters) - Papua New Guinea Prime Minister James Marape said that the United States had been a "silent" security partner to his nation but that a defense cooperation pact to be signed when Joe Biden arrives Monday will see Washington "stepping out".
Biden will be the first sitting U.S. president to visit Papua New Guinea, and Marape confirmed on Tuesday that two security agreements will be signed, on defense cooperation and maritime surveillance.
"These signings will add value to our domestic security, as well as strengthen our own military, our police, our navy," he told radio station 100FM.
The government would provide details on the agreements on Thursday, he said.
"The USA has been a strong security partner of us, but silent, almost deep at the back. Now for the first time now they are stepping out, coming to the front, engaging with PNG like never before," he added, referring to Papua New Guinea
Washington is seeking to nudge Pacific island nations away from security ties with China, after Beijing last year struck a security pact with Solomon Islands, and as tensions rise over Taiwan. PNG sits near crucial sea routes between Australia, Japan and the United States.
"At the moment in our waters, especially in our 200km waters, we have illegal fishing, we have illegal transportation, we have drug cartels... we want to ensure our country is secure from illegal activities," he said.
PNG's former foreign minister Justin Tkachenko told Reuters last week an agreement to allow the U.S. Coast Guard to patrol PNG's vast exclusive economic zone would also give PNG access to U.S. satellite surveillance.
Tkachenko resigned on Friday after public backlash sparked when his daughter posted Tiktok videos about her luxury travel to the coronation of King Charles III in London.
Marape has taken over the foreign minister's role as PNG prepares for the arrival of Biden, U.S. Secretary of State Antony Blinken, and Indian Prime Minister Narendra Modi on Monday.
Marape said it was a "big moment" for his nation.
Modi will meet with Pacific island leaders from 18 countries on Monday morning. Biden will stop for three hours on Monday evening, before travelling to a summit of the Quad countries - the United States, Japan, India and Australia - in Sydney.
China has sought closer trade and economic ties with PNG, and last year failed to strike a security and trade pact with 10 Pacific island nations.
(Reporting by Kirsty Needham. Editing by Gerry Doyle)
MORE FROM THE
OAF NATION NEWSROOM