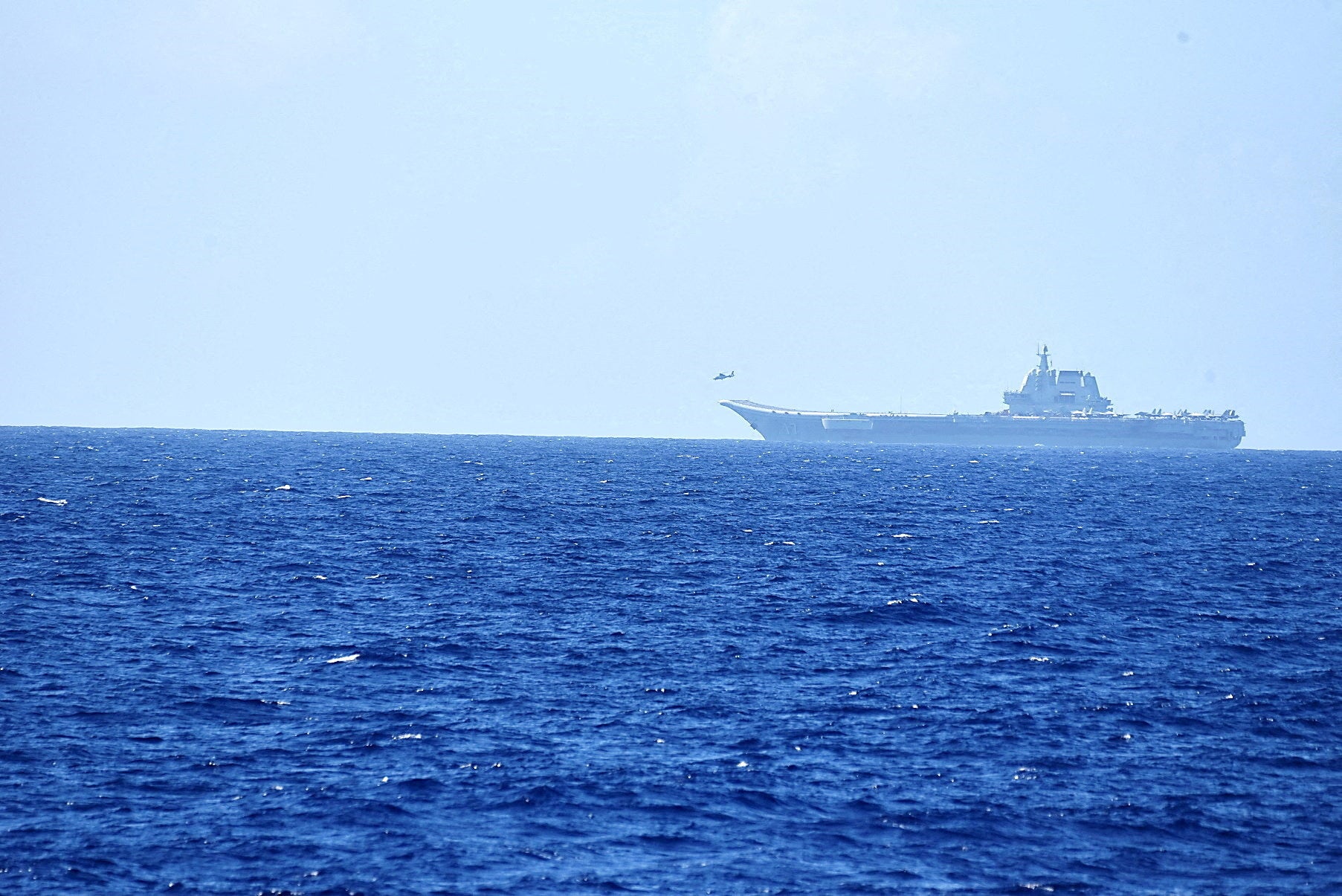 Chinese warships return to West Pacific for live-fire drills
A helicopter takes off from China's Shandong aircraft carrier, over Pacific Ocean waters, south of Okinawa prefecture, Japan, in this handout photo taken April 15, 2023 and released by the Joint Staff Office of the Defense Ministry of Japan April 17, 2023. Joint Staff Office of the Defense Ministry of Japan/HANDOUT via REUTERS
BEIJING (Reuters) - Two Chinese warships have ventured into the Western Pacific for live-fire exercises, the military said on Tuesday, shortly after one of China's two aircraft carriers returned from a patrol, in its latest projection of force into more distant waters.
The destroyer Dalian and guided-missile frigate Huangshan sailed to an unidentified area of the West Pacific "not long ago" and conducted attack and defense drills, the Southern Theatre Command of the People's Liberation Army said in a statement.
"The joint training in unfamiliar and complex waters is of great significance in exploring the boundaries of new equipment effectiveness, testing the practical application of new warfare method," the command said, citing a training officer.
The exercises in more distant seas in the West Pacific came soon after a carrier group led by the Shandong, one of China's two operational aircraft carriers, returned to its home port this month after sailing around Taiwan and into the Western Pacific.
China is modernizing its military and its formidable missile forces and navy fleet, with new vessels such as cutting-edge cruisers, are posing a concern for the U.S. and its allies.
"China's aircraft carrier is not a homebody and cannot just stay at home," Song Zhongping, a military commentator with Hong Kong's Phoenix TV, told Reuters, referring to the Shandong.
"There will be more and more of these distant sea travels in future. Also China has quite a lot of warships."
In March, China's first domestically produced amphibious assault ship, the Hainan, along with a destroyer, a frigate, and a supply ship completed their first distant sea training after a 30-day trip into the South China Sea and the Western Pacific, the Southern Theatre Command said.
Despite China's military expansion, it could be more than a decade before it can mount a credible carrier threat far from its shores, defense analysts say.
(Reporting by Albee Zhang and Ryan Woo; Editing by Robert Birsel)
MORE FROM THE
OAF NATION NEWSROOM