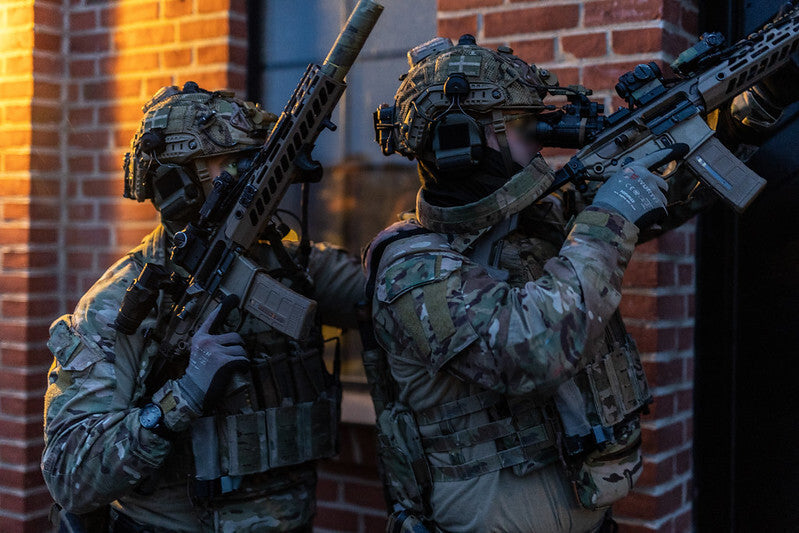 Denmark aims for closer Nordic security ties in Arctic and Baltic Sea region
Operators from the Royal Danish Army's Jaeger Corps prepare to clear a building during exercise Night Hawk 21, Oct. 5, 2021. (North Atlantic Treaty Organization photo via Flickr)
COPENHAGEN (Reuters) - NATO member Denmark said on Tuesday that it aims to strengthen defense ties with other Nordic countries to protect critical infrastructure and counter the Russian threat both in the Arctic and the Baltic Sea region.
In a new foreign and security policy strategy, the country's government calls for more joint military exercises and coordination of defense plans with its Nordic neighbors.
"With Finland's accession to NATO and Sweden on the way, there is a historic opportunity for us to move closer together in a situation where all the Baltic Sea countries, except Russia, are members of the same defense alliance," Foreign Minister Lars Lokke Rasmussen said in a speech.
The strategy calls for tighter relations with the Baltic countries, as well as closer diplomatic ties in places like Moldova, West Balkans and Georgia to counter Russian influence. Denmark opened an embassy in Georgia on Monday.
Danes voted last year to join the European Union's defense policy, signaling a shift to deepen defense ties in response to Russia's invasion of Ukraine.
Denmark is already working with Sweden, Norway and Finland to create a unified Nordic air defense.
Still, NATO will continue to be the cornerstone of Denmark's defense and security, with the United States remaining its most important security ally, the minister said.
The country last published a foreign and security policy strategy just weeks before Russia invaded Ukraine in February last year.
The new strategy acknowledges that Denmark has not taken the security threat from Russia in the Baltic Sea region seriously enough and points to shortcomings in its ability to defend its own territory. Denmark aims to meet a NATO spending target of 2% of GDP by 2030.
It underlines that in light of the sabotage of the Nord Stream gas pipelines in September last year, there is a need to protect critical infrastructure and make Danish society more robust to deal with cyber and terrorist threats, espionage and influence campaigns.
(Reporting by Jacob Gronholt-Pedersen; Editing by Christina Fincher and Sharon Singleton)
MORE FROM THE
OAF NATION NEWSROOM