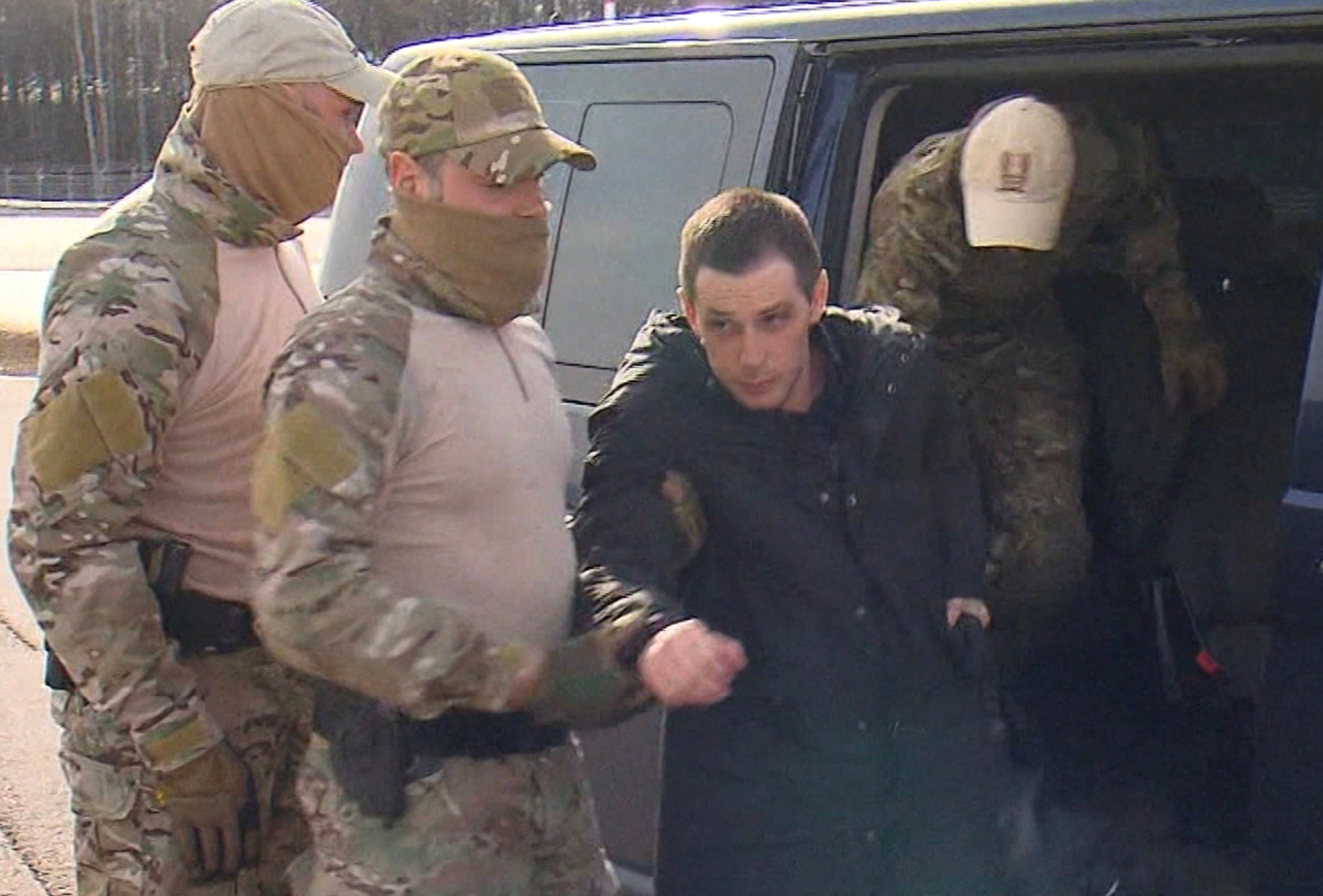 US State Dept aware Marine veteran and former prisoner Reed wounded while fighting in Ukraine
PHOTO CAPTION: U.S. Marine veteran Trevor Reed, who was detained in 2019 and accused of assaulting police officers, is escorted to a plane by Russian service members as part of a prisoner swap between the U.S. and Russia, in Moscow, Russia, in this still image taken from video released April 27, 2022. RU24/Handout via REUTERS TV
By Simon Lewis and Daphne Psaledakis

WASHINGTON (Reuters) -The U.S. State Department is aware that Trevor Reed, a former U.S. Marine who was detained in Russia and then freed in a prisoner swap last year, was injured while fighting in Ukraine, State Department deputy spokesperson Vedant Patel said on Tuesday.

"Mr. Reed was not engaged in any activities on behalf of the U.S. government," Patel told reporters, adding that he was not aware of any communication offered to the U.S. government on Reed's travel plans to Ukraine.

Reed was transported with the help of an NGO to Germany for medical care, Patel said.


The United States has repeatedly warned Americans not to travel to Ukraine or participate in the fighting, and the State Department's travel advisory for Ukraine warns that there are reports of Russian singling out U.S. citizens in Russian-occupied areas of Ukraine for detention, interrogation, or harassment.

"We have been incredibly clear that traveling to Ukraine, choosing to participate in the fighting there, has a very real risk of capture, of death, of bodily harm, and that continues to be our assessment," Patel said, again warning Americans not to travel to the country.

Reed was freed by Russia in a prisoner swap in April 2022 in exchange for Russian pilot Konstantin Yaroshenko. The release took place amid fraught relations between the United States and Russia over the war in Ukraine.

Reed was convicted in Russia in 2019 of endangering the lives of two police officers while drunk on a visit to Moscow. The United States called his trial a "theater of the absurd."

Yaroshenko was arrested by American special forces in Liberia in 2010 and convicted of conspiracy to smuggle cocaine into the United States. Russia had proposed a prisoner swap for Yaroshenko in July 2019 in exchange for any American.

The United States has said it is working to free other Americans held in Russia, including Paul Whelan, also a former Marine, and Evan Gershkovich, a Wall Street Journal reporter.

U.S. basketball star Brittney Griner was freed last December in a prisoner swap for Russian arms dealer Viktor Bout.

(Reporting by Simon Lewis, Jasper Ward and Daphne Psaledakis; editing by Jonathan Oatis)
MORE FROM THE
OAF NATION NEWSROOM