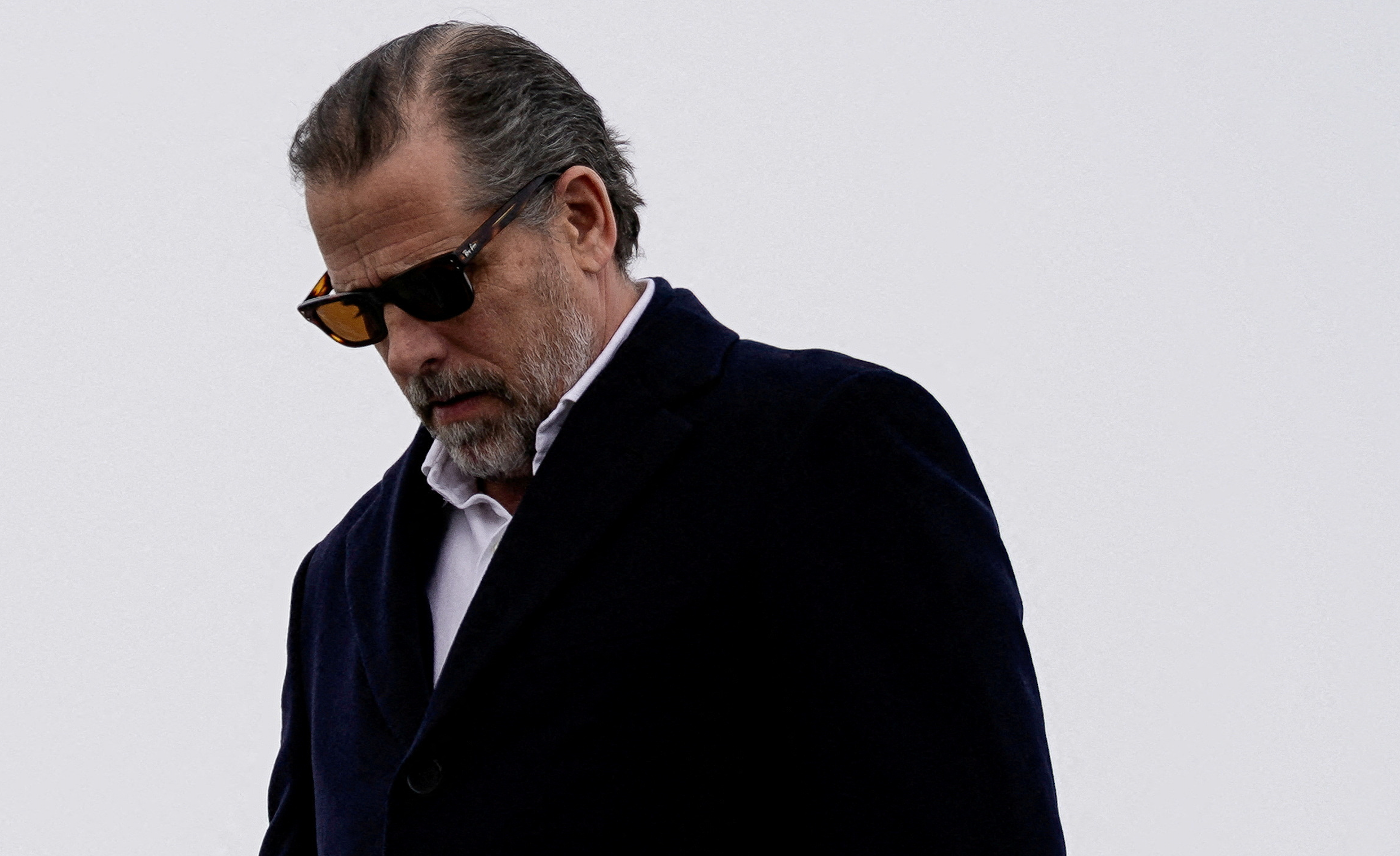 US president's son Hunter Biden to plead guilty to tax charges
PHOTO CAPTION: Hunter Biden disembarks from Air Force One at Hancock Field Air National Guard Base in Syracuse, New York, U.S., February 4, 2023. (REUTERS/Elizabeth Frantz)
By Jack Queen

WILMINGTON, Delaware (Reuters) - U.S. President Joe Biden's son Hunter Biden is set to plead guilty on Wednesday to two misdemeanor charges of willfully failing to pay income taxes, part of a deal that allows him to avert conviction on a gun-related charge.

The younger Biden did not pay taxes on more than $1.5 million in income in 2017 and 2018 despite owing more than $100,000, prosecutors allege.

He is also charged in a separate case with unlawfully owning a firearm while addicted to and using a controlled substance, a felony. Under an agreement with federal prosecutors in Delaware, the younger Biden has entered into a pretrial diversion agreement for that charge, an alternative to prosecution that allows defendants to avoid a conviction or prison time.

The 10 a.m. ET (1400 GMT) hearing comes as Democratic President Biden is in the middle of a re-election campaign that could pit him against former President Donald Trump, the current front-runner for the Republican nomination for the 2024 election.

Republicans have for years accused Hunter Biden of leveraging his father's political power for personal gain in his dealings in Ukraine and China, though the probe by U.S. Attorney David Weiss of Delaware, a Trump appointee, has not turned up any evidence to support those claims.

News of the plea deal in June sparked accusations of favorable treatment for the president's son from Trump and his Republican allies, who have for years accused the younger Biden of influence-peddling abroad, among other things.

Those allegations spurred the criminal investigation by Weiss, who in a departure from typical practice was allowed to remain in office to continue the probe after Biden defeated Trump in the 2020 election.

U.S. Attorney General Merrick Garland has denied allegations of special treatment and said Weiss was given full autonomy to investigate Hunter Biden. Weiss has also said he faced no interference.

Hunter Biden has worked as a lobbyist, lawyer, consultant, investment banker and artist. He has publicly discussed his struggles with addiction, including alcoholism and crack cocaine use.

Trump, who was indicted in New York for allegedly falsifying business records to cover up hush money payments to a porn star and faces federal criminal charges in Florida for his handling of classified documents upon leaving office in 2021, has criticized Hunter Biden's deal with prosecutors as a mere "traffic ticket."

The tax charges could carry a sentence of up to 18 months, but legal experts say Hunter Biden is unlikely to face prison time because he has no prior criminal history and has accepted responsibility for his actions.



(Reporting by Jack Queen; Editing by Scott Malone and Jonathan Oatis)
MORE FROM THE
OAF NATION NEWSROOM