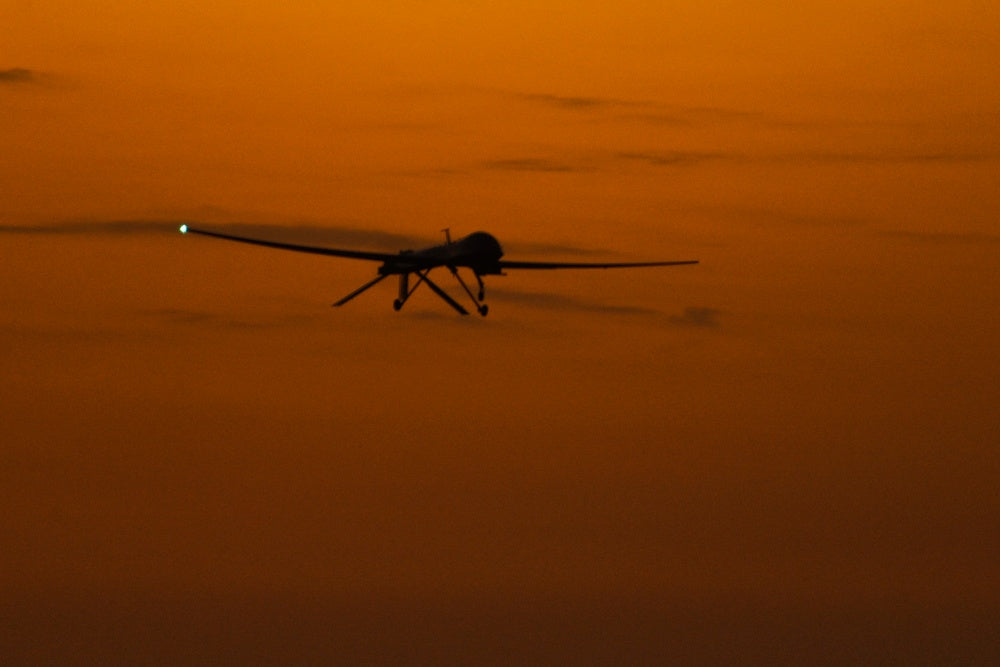 US says Russian aircraft flew "dangerously close" to US drone over Syria for second time this week
PHOTO CAPTION: An MQ-9 Reaper departs on a nigt mission from Kandahar Airfield, Afghanistan, Dec. 27, 2009. (U.S. Air Force photo by Tech. Sgt. Efren Lopez via U.S. Defense Visual Information Distribution Service)
By Trevor Hunnicutt and Kanishka Singh

WASHINGTON (Reuters) - A second Russian aircraft flew "dangerously close" to a U.S. drone over Syria this week, just days after another Russian jet damaged another U.S. drone above the war-torn country, the White House said on Wednesday.

"We have seen the early reports of a second Russian fighter aircraft this week, flying dangerously close to our drone on a defeat ISIS mission," White House spokesperson Karine Jean-Pierre told reporters in a press briefing.

"We remain focused on the mission to defeat ISIS as is evident by our recent strike against an ISIS leader in Syria this month," she added.

The U.S. military said on Tuesday a Russian fighter jet hit a U.S. drone with a flare on Sunday and "severely" damaged its propeller over Syria, in violation of established protocols and international norms.

U.S. officials say that Russian jets have increased the pace of dangerous encounters with U.S. military aircraft in recent months over Syria, where forces from both countries operate.


Russia intervened in the Syrian civil war in 2015, tipping the balance in President Bashar Al-Assad's favor. Moscow has since expanded its military facilities in the country with a permanent air base and also has a naval base.

The U.S. is leading a coalition against the Islamic State militant group and has carried out air strikes in Syria this year. Washington has in the last year stepped up raids and operations against suspected ISIS operatives in Syria.

A U.S.-led campaign killed former ISIS head Abu Bakr al Baghdadi, who had declared himself the "caliph of all Muslims", in 2019 and has since targeted its surviving leaders, many of whom are thought to have planned attacks abroad.

Islamic State controlled one-third of Iraq and Syria at its peak in 2014. Though it was beaten back in both countries, its militants continue to wage insurgent attacks.



(Reporting by Trevor Hunnicutt; additional reporting by Kanishka Singh and Phil Stewart; writing by Kanishka Singh; editing by Rami Ayyub and Sandra Maler)
MORE FROM THE
OAF NATION NEWSROOM