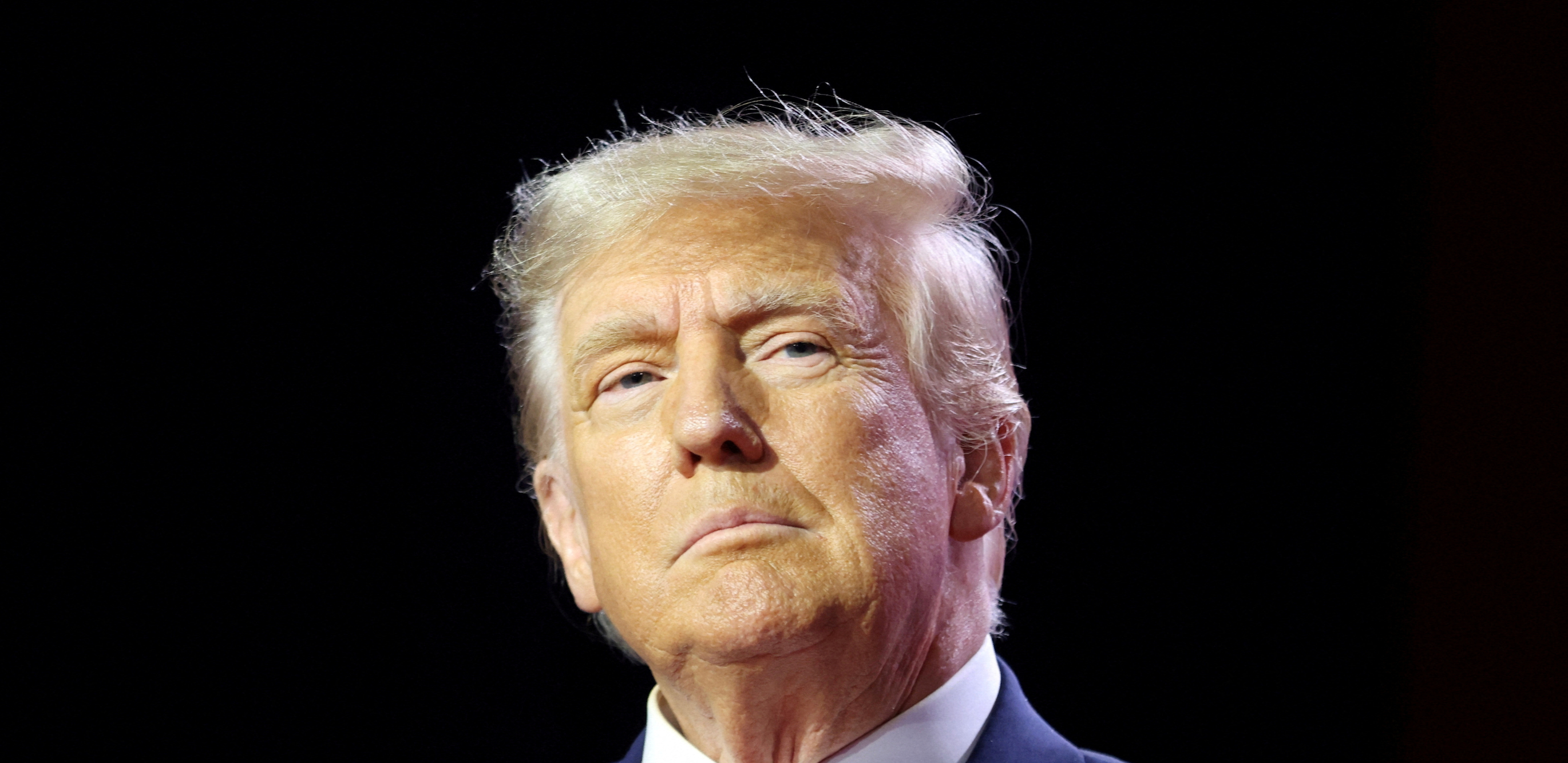 Trump faces federal charges for efforts to overturn 2020 election
PHOTO CAPTION: Former U.S. President Donald Trump addresses The Faith and Freedom Coalition's 2023 "Road to Majority" conference in Washington, U.S., June 24, 2023. REUTERS/Tasos Katopodis/File Photo
By Sarah N. Lynch, Jacqueline Thomsen and Andrew Goudsward

WASHINGTON (Reuters) -Donald Trump was indicted on Tuesday for his wide-ranging attempts to overturn the 2020 election, the third time in four months that the former U.S. president has been criminally charged even as he campaigns to regain the presidency next year.

The four-count, 45-page indictment charges Republican Trump with conspiring to defraud the U.S. by preventing Congress from certifying Democrat Joe Biden's victory and to deprive voters of their right to a fair election.

Then-President Trump pushed fraud claims he knew to be untrue, pressured state and federal officials - including Vice President Mike Pence - to alter the results and finally incited a violent assault on the U.S. Capitol in a desperate attempt to undermine American democracy and cling to power, prosecutors said.

Trump was ordered to make an initial appearance in federal court in Washington on Thursday. The case has been assigned to U.S. District Judge Tanya Chutkan, who was appointed by Trump's predecessor Barack Obama.

The charges stem from Special Counsel Jack Smith's sprawling investigation into allegations Trump sought to reverse his loss to Biden. Despite a dizzying and growing array of legal troubles, Trump has solidified his status as the front-runner for the Republican presidential nomination, according to public opinion polls.

Weeks of assertions that the election had been stolen culminated in a fiery Trump speech on Jan. 6, 2021, as Congress met to certify the results. Soon after, his supporters stormed the U.S. Capitol in a bid to stop Congress from formalizing Biden's victory.

In a brief statement to reporters, Smith placed the blame for the violence squarely on Trump's shoulders.

"The attack on our nation's Capitol on Jan. 6, 2021, was an unprecedented assault on the seat of American democracy. As described in the indictment, it was fueled by lies - lies by the defendant, targeted at obstructing the bedrock function of the U.S. government," Smith said.

More than 1,000 people have been arrested in connection with the attack.

PHONY SLATE OF ELECTORS

Trump and others organized fraudulent slates of electors in seven states, all of which he lost, to be certified as official by Congress on Jan. 6, the indictment said.

The indictment lays out numerous examples of Trump's election falsehoods and notes that close advisers, including senior intelligence officials, told him repeatedly that the results were legitimate.

"These claims were false, and the defendant knew that they were false," prosecutors wrote.

When the push to certify the fake electors failed, Trump sought to pressure Vice President Mike Pence not to allow certification of the election to go forward, and took advantage of the chaos outside the Capitol to do so, according to prosecutors. During the violence, Trump rebuffed calls from his advisers to issue a calming message.

"The Defendant attempted to use a crowd of supporters that he had gathered in Washington, D.C. to pressure the Vice President to fraudulently alter the election results," the indictment reads.

In a statement, the Trump campaign said he had always followed the law and characterized the indictment as a "persecution" reminiscent of Nazi Germany.

"President Trump will not be deterred by disgraceful and unprecedented political targeting!" it added. Later Tuesday, Trump's campaign sent out a fundraising email referencing the indictment.

The indictment also includes six unnamed co-conspirators who have not been charged.

Based on the descriptions, they appear to include Trump's former personal lawyer Rudy Giuliani, who called state lawmakers in the weeks following the 2020 election to pressure them not to certify their states' results; former Justice Department official Jeffrey Clark, who tried to get himself installed as attorney general so he could launch voter fraud investigations in Georgia and other swing states; and attorney John Eastman, who advanced the erroneous legal theory that Pence could block the electoral certification.

"Every statement that Mayor Giuliani made was truthful and expressing his beliefs," his attorney Robert Costello told Reuters. "He believed there was proof of election fraud, and I have seen the affidavits that back that up."

Eastman lawyer Charles Burnham said in an email the indictment used a "misleading presentation of the record to contrive criminal charges against Presidential candidate Trump and to cast ominous aspersions on his close advisors."

Clark did not respond to requests for comment.

The most serious charge against Trump carries a maximum penalty of 20 years in prison, though sentencing is based on numerous factors and is subject to the judge's discretion.

MOUNTING LEGAL WOES

Trump already had become the first former U.S. president to face criminal charges. He has portrayed all of the prosecutions as part of a politically motivated witch hunt aimed at preventing his return to power.

Tuesday's charges represent a second round of federal charges by Smith, who was appointed special counsel in November by U.S. Attorney General Merrick Garland.

Trump pleaded not guilty after a federal grand jury in Miami convened by the special counsel charged him in June in a 37-count indictment over his unlawful retention of classified government documents after leaving office in 2021 and obstructing justice. Prosecutors accused him of risking some of the most sensitive U.S. national security secrets.

Last Thursday, prosecutors added three more criminal counts against Trump, accusing him of ordering employees to delete security videos as he was under investigation for retaining the documents.

In March, a grand jury convened by Manhattan's district attorney indicted him for falsifying business records to hide hush money payments to porn star Stormy Daniels before the 2016 election about a sexual encounter she said she had with him. Trump pleaded not guilty and has denied the encounter.


TRUMP IS 2024 REPUBLICAN FRONT-RUNNER

Trump, 77, leads a crowded field of Republican presidential candidates as he seeks a rematch with Biden, 80, next year.

Trump, who served as president from 2017 to 2021, has shown an ability to survive legal troubles, political controversies and personal behavior that might sink other politicians. Many Republicans - elected officials and voters - have rallied behind Trump, portraying the charges against him as selective prosecution and a Democratic plot to destroy him politically.

That pattern largely held on Tuesday, as most Republicans pivoted to attacks on Biden. House Speaker Kevin McCarthy, the top Republican in Congress, said on X, the site formerly known as Twitter, that the indictment was an attempt to "attack the frontrunner for the Republican nomination."

Florida Governor Ron DeSantis, Trump's leading rival for the Republican nomination, said on X that he had yet to read the indictment. But he vowed to "end the weaponization of the federal government," suggesting that the Biden administration was using the charges to target a political enemy.

Strategists said that while the indictments could help Trump solidify support within his base and win the Republican nomination, his ability to capitalize on them may be more limited in next year's general election, when he will have to win over more skeptical moderate Republicans and independents.

Meanwhile, Trump's legal woes are growing. In addition to the three indictments, Trump faces a fourth criminal investigation by a county prosecutor in Georgia into accusations he sought to undo his 2020 election loss in that state.

Fulton County District Attorney Fani Willis has indicated she plans to bring charges in that case within the next three weeks.

Special counsels are sometimes appointed to investigate politically sensitive cases, and they do their jobs with a degree of independence from the Justice Department leadership.

Before being appointed by Garland to take over the two Trump-related investigations, Smith had served as the chief prosecutor for the special court in The Hague, assigned to prosecuting war crimes in Kosovo, oversaw the Justice Department's public integrity section and worked as a federal and state prosecutor in New York.

(Reporting by Jacqueline Thomsen and Sarah N. Lynch; Additional reporting by Rami Ayyub, Andrew Goudsward, Luc Cohen, Jack Queen, Kanishka Singh, Dan Whitcomb, Costas Pitas, Mike Scarcella, Tim Reid, Jeff Mason and Gram Slattery; Writing by Joseph Ax; Editing by Scott Malone, Will Dunham, Howard Goller, Grant McCool and Michael Perry)
MORE FROM THE
OAF NATION NEWSROOM