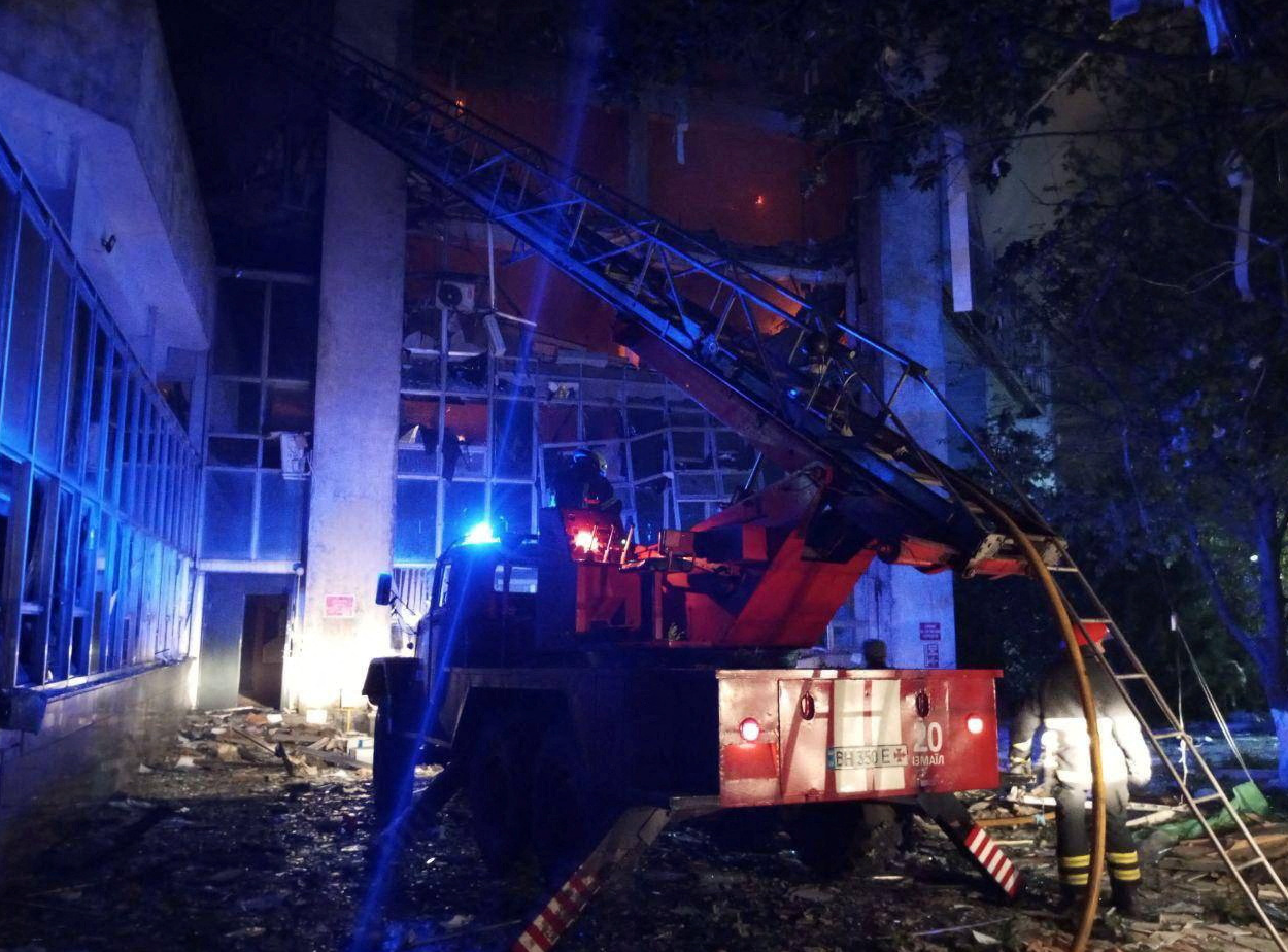 Russia strikes Ukraine's Danube port, sending global grain prices higher
PHOTO CAPTION: A general view of damaged property, following a Russian drone attack, amid Russia's attack on Ukraine, at a location given as Odesa region, Ukraine in this handout image released on August 2, 2023. Odesa region Governor Oleh Kiper via Telegram/Handout via REUTERS
By Pavel Polityuk

KYIV (Reuters) -Russia attacked Ukraine's main inland port across the Danube River from Romania on Wednesday, sending global food prices higher as it ramps up its use of force to prevent Ukraine from exporting grain.

The attacks destroyed buildings in the port of Izmail and halted ships in their tracks as they prepared to arrive there to load up with Ukrainian grain in defiance of a de-facto blockade Russia reimposed in mid-July.

Commercial ship tracking data showed dozens of international ships halting and dropping anchor at the mouth of the Danube, many of them registered to arrive in Izmail from the Black Sea in an apparent bid to open a breach in Russia's blockade.

The port, across the river from NATO-member Romania, is the main alternative route out of Ukraine for grain exports, since Russia's blockade halted traffic at Ukraine's Black Sea ports in mid-July.

Video released by the Ukrainian authorities showed firefighters on ladders battling a huge blaze several stories high in a building covered with broken windows. Several other large buildings were in ruins, and grain spilled out of at least two wrecked silos.

Two industry sources told Reuters operations at the port were suspended. Seaport authority head Yuriy Lytvyn said on Facebook that repair work had already begun and the port infrastucture continued to operate.

There were no reports of casualties, Odesa region governor Oleh Kiper wrote in a post on the Telegram messaging app.

"Russian terrorists have once again attacked ports, grain, global food security," President Volodymyr Zelenskiy said on Telegram.

Chicago wheat prices rose by nearly 5% following the attack and were still up 1.2% at $6.60 a bushel by 1119 GMT due to concern about a hit to global supplies from driving Ukraine, one of the world's top exporters, off the market.

Russia has attacked Ukrainian agricultural and port infrastructure for more than two weeks, since refusing to extend an agreement that had lifted its war-time blockade of Ukrainian ports last year.


PUTIN-ERDOGAN TALKS

President Vladimir Putin spoke by telephone to the grain export deal's sponsor, Turkish President Tayyip Erdogan.

The Kremlin said Putin reiterated Russia's condition for rejoining the grain deal: that a parallel deal improving terms for its own food and fertiliser exports be implemented. Those exports are already exempt from sanctions, which the West says Moscow aims to undermine by threatening the global food supply.

Erdogan's office said he and Putin agreed that the Russian leader would soon visit Turkey. Putin, wanted by the International Criminal Court for war crimes, has made no official visits abroad this year, and has left former Soviet territory only once since launching his invasion - a day trip to Tehran more than a year ago. Erdogan has long said he hopes to host Putin and convince him to rejoin the grain deal.

Moscow has described its recent attacks on Ukraine's grain infrastructure as retaliation for a Ukrainian strike on a bridge to Crimea, used to supply its troops in southern Ukraine.

U.S. ambassador Bridget Brink condemned the attacks in a statement, listing recent Russian targets: "Homes. Ports. Grain silos. Historic buildings. Men. Women. Children.

"Round-the-clock and intensifying Russian strikes on Kryvyi Rih, Kharkiv, Kyiv, Kherson make it clear once again Russia has no desire for peace, no thought for civilian safety, and no regard for people around the world who rely on food from Ukraine."

Kyiv says the goal of the strikes is to reimpose Russia's blockade by persuading shippers and their insurance companies that Ukrainian ports are unsafe to resume exports.

"It is the enemy's priority to convince the international community and shipowners in particular that ... navigation in the direction of Ukrainian-controlled ports is dangerous," said Natalia Humeniuk, military spokesperson in southern Ukraine.

Producers in Ukraine are already feeling the impact. Kees Huizinga, a farmer in Ukraine's central Cherkasy region told Reuters: "Because of the shelling a direct consequence to our farm is that we can not deliver 700 tons of contracted barley which we were supposed to deliver today".

Ukraine's Danube river ports such as Izmail accounted for around a quarter of grain exports before Russia pulled out of the Black Sea deal, and have since become the main remaining route out, with grain loaded onto barges and shipped to Romania's Black Sea port of Constanta for shipment onwards.

Kyiv's goal is for international ships to go straight there and load up directly and on Sunday, Ukrainian media reported several foreign cargo ships had arrived at Izmail from the Black Sea, for the first time since the expiry of the grain deal.

The United Nations has warned of a potential food crisis and hunger in the world's poorest countries as a result of Russia's decision to abandon the deal, brokered by the U.N. and Turkey.

Moscow says it will treat ships heading to Ukrainian seaports as potential military targets.

Ukrainian officials have said Moscow has hit 26 port facilities, five civilian vessels and 180,000 tonnes of grain in nine days of strikes since quitting the grain deal.

Ukraine's Air Force reported that Russia also launched a drone attack on Kyiv and the surrounding region overnight. Air defence shot down 23 drones, but debris from downed drones damaged several buildings in the capital and the region. No casualties were initially reported.

(Writing by Pavel Polityuk and Peter Graff; Editing by Jacqueline Wong, Tom Hogue, Simon Cameron-Moore, Philippa Fletcher)
MORE FROM THE
OAF NATION NEWSROOM