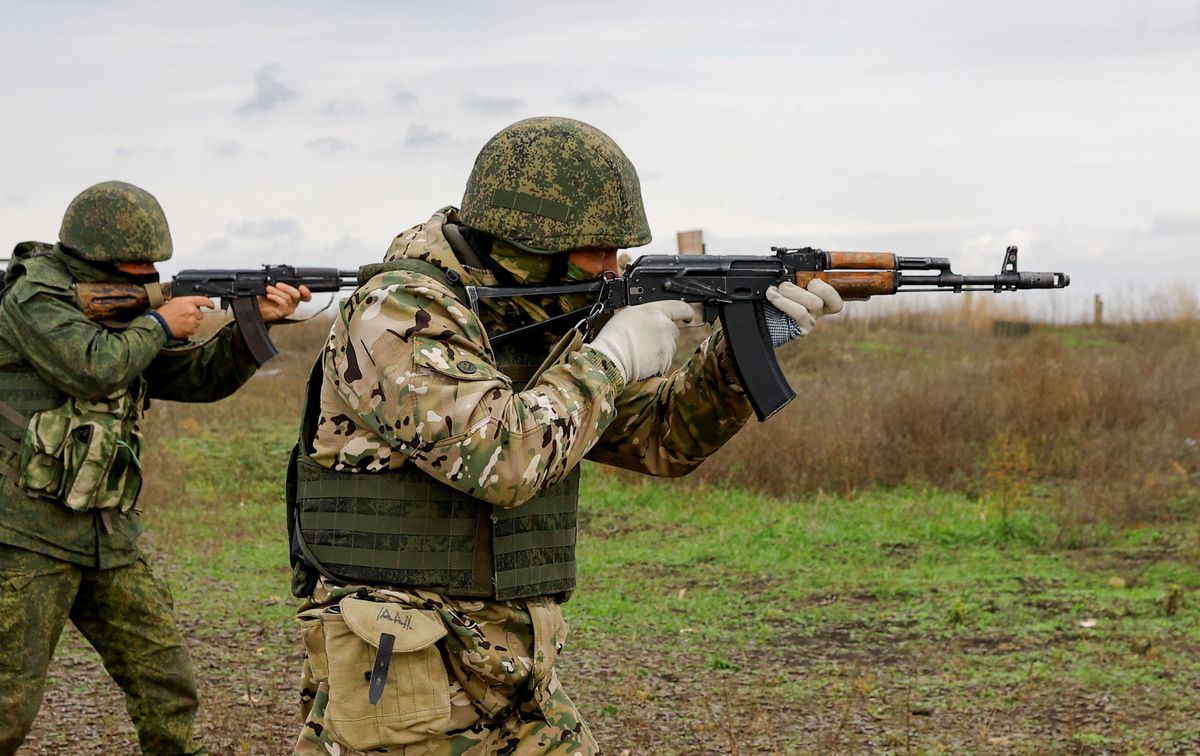 Russia targets neighbor Kazakhstan with army recruitment ads
PHOTO CAPTION: Mobilized Russian reservists train at a shooting range amid the Russia-Ukraine war, Russian-occupied Donetsk region, Ukraine, Oct. 10, 2022. REUTERS/Alexander Ermochenko
By Filipp Lebedev

(Reuters) - Advertisements offering an immediate payment of over $5,000 for joining the Russian army have began popping up on the screens of Kazakh internet users amid the escalating Ukrainian conflict.

Kazakhstan, a former Soviet republic bordering Russia, is home to over 3 million ethnic Russians and has traditionally been one of Russia's closest allies. The Astana government, however, has not supported what Moscow calls its "special military operation" in Ukraine, and has called for peace.

Clearly targeting Kazakhs, ads seen by Reuters feature Russian and Kazakh flags and the slogan "Shoulder to shoulder". They promise a one-off payment of 495,000 Russian roubles ($5,300) to those who sign a contract with the Russian military, along with a monthly salary of at least 190,000 roubles ($2,000) and undisclosed extra benefits.


The ads lead to a website that offers potential recruits a chance to join the Russian army in the Sakhalin region in Russia's Far East. The website lists its owner as the Human Capital Development Agency of the Sakhalin region, an organisation set up by the local government.

Its call centre operators said they could not comment on the ad placement, and the organisation did not reply to emailed questions. Joining military conflicts abroad for pay is illegal under Kazakh law.

Kazakhstan's Ministry of Information and Social Development did not immediately reply to a request for comment on the ads.

Residents of other ex-Soviet Central Asian nations told Reuters some of their compatriots had joined either the Russian army or Russian private mercenary groups such as Wagner, but recruitment usually took place in Russia, where millions of Uzbeks, Tajiks and Kyrgyz migrant labourers work.

"A former husband of my sister died in Lysychansk last October," a resident of Tajikistan told Reuters, speaking on condition of anonymity. "One of my nephews joined the Wagner group after being in a Russian prison."


In Kyrgyzstan, a local man was sentenced to 10 years in prison in May for joining Russian proxy forces in Ukraine's Luhansk region. The Russian foreign ministry said this week it was considering a request by a Russian politician to grant the man Russian citizenship so that Moscow could pressure Bishkek to set him free and allow him to return to Russia.

There are far fewer Kazakh migrant labourers abroad due to the country's oil-based wealth, although construction jobs in Russian-controlled parts of Ukraine are also advertised on Kazakh classified websites.

($1 = 93.5625 roubles)



(Additional reporting by Mariya Gordeyeva and Olzhas Auyezov; Editing by Gareth Jones)
MORE FROM THE
OAF NATION NEWSROOM