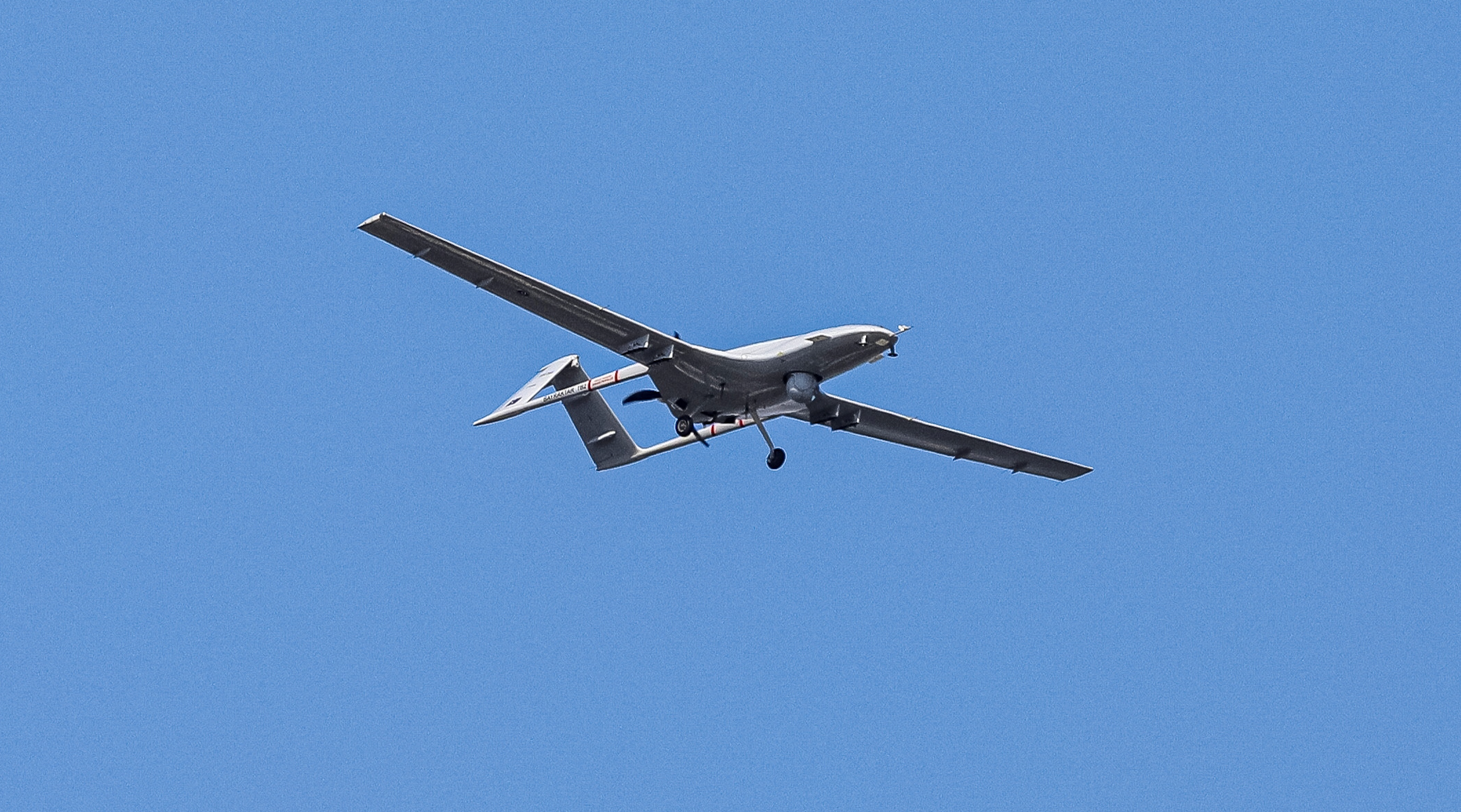 Three Iraqi counterterrorism personnel killed in Kurdistan drone strike, statement says
PHOTO CAPTION: Representational photo — A Bayraktar TB2 unmanned combat aerial vehicle is seen during a demonstration flight at Teknofest aerospace and technology festival in Baku, Azerbaijan May 27, 2022. REUTERS/Aziz Karimov/File Photo
SULAIMANIYA, Iraq (Reuters) -Three members of the Iraqi counter-terrorism service were killed and three others wounded on Monday in a drone strike on the small military airport of Arbid in Iraq's Kurdistan region, the Iraqi military said.

The drone entered Iraqi airspace through Turkey's border, Iraqi military spokesman Yahya Rasool said in a statement early on Tuesday.

A local official and a security source told Reuters that six people were killed in the strike.

Two members of the Kurdish security forces were wounded in the attack and were rushed to a military hospital in Sulaimaniya under tight security, the security source added.

Arbid is a small airport used for helicopters located 50km (30 miles) to the east of the city of Sulaimaniya in the northeast of the country.

Iraqi Kurdish security forces sealed off the area, according to two security sources.

Police said the identities of the deceased were still unknown.


One security source said initial information suggested a Turkish drone was used in the attack against a suspected Kurdistan Workers Party (PKK) target.

Turkey regularly carries out air strikes on PKK militants in northern Iraq and has dozens of outposts in Iraqi territory. The PKK took up arms against the Turkish state in 1984.

Bafel Talabani, President of the Patriotic Union of Kurdistan (PUK), one of the dominant Kurdish parties in northern Iraq, confirmed the drone strike and said the six dead and wounded were members of the Iraqi Kurdish counter-terrorism force.

"We strongly condemn the terrorist attack on the Agricultural Airport of Arbid in Sulaimaniya, which resulted in the martyrdom and injury of six heroic Peshmerga," he said in a statement.

Iraqi Kurdistan's internal security forces, Asayish, said in a statement the counter-terrorism force was attacked and three members were killed during a training mission inside the airport.

Iraqi Kurdistan's Deputy Prime Minister Qubad Talabani condemned the drone attack and demanded the intervention of the federal government authorities to "prevent these attacks from recurring".

"Iraq reserves the right to put an end to these violations," Rasool said.

Two Iraqi army intelligence officers said Baghdad will send a joint security team to Sulaimaniya to investigate the strike.

(Writing by Ahmed Rasheed, Nayera Abdallah and Enas Alashray; Editing by Christina Fincher, Grant McCool and Lincoln Feast.)
MORE FROM THE
OAF NATION NEWSROOM