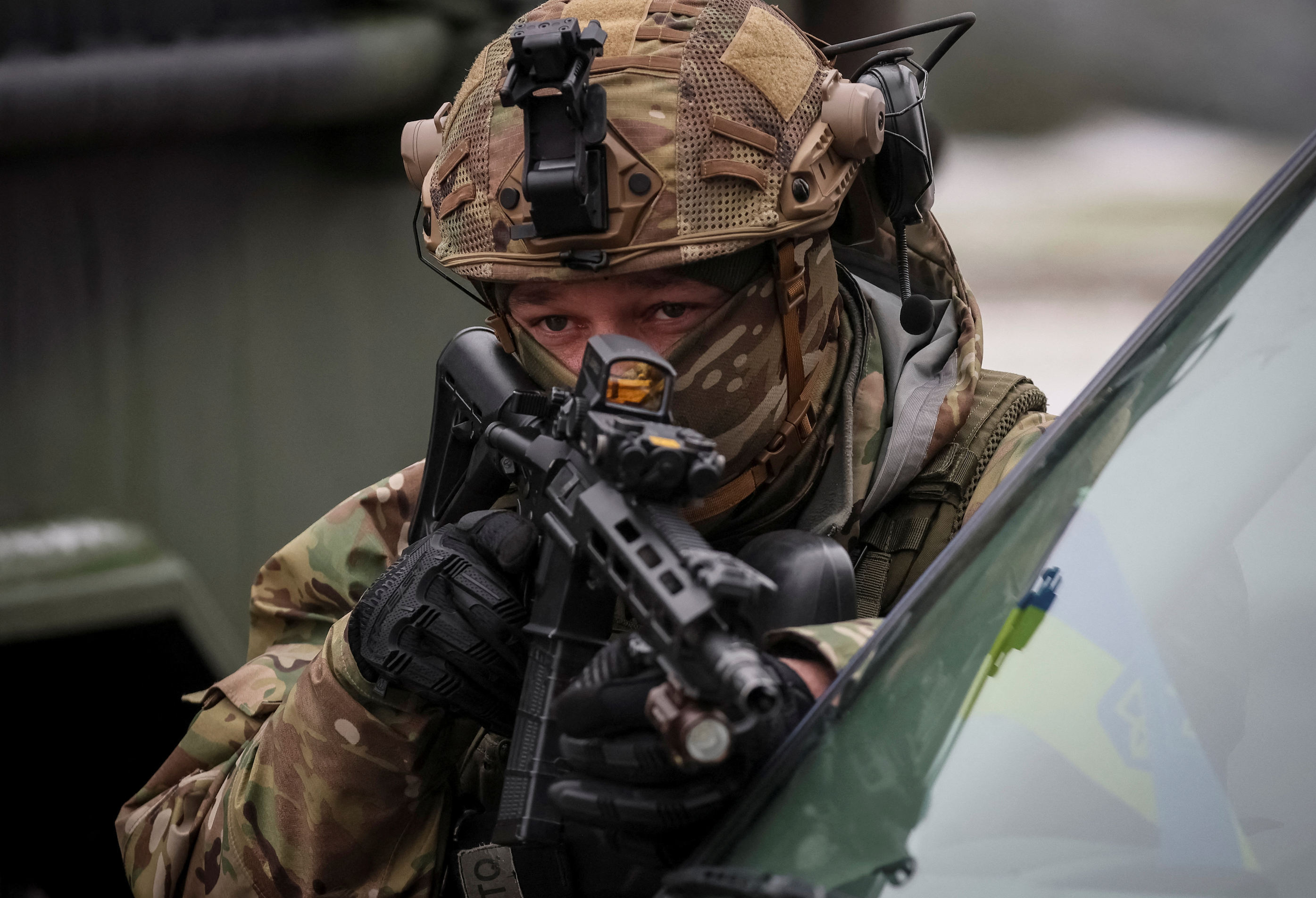 Ukraine says it breached Russian lines by recapturing two eastern villages
PHOTO CAPTION: Representational photo — A Ukrainian serviceman attends a joint drills of armed forces, national guard and Security Service of Ukraine (SBU) near the border with Belarus, amid Russia's attack on Ukraine in Rivne region, Ukraine January 11, 2023. REUTERS/Gleb Garanich
KYIV (Reuters) - A top Ukrainian general hailed the recent recapture of two eastern villages as an important breakthrough on Monday, saying it had enabled Kyiv's troops to breach Russian lines near the shattered city of Bakhmut.

But General Oleksandr Syrskyi, the commander of Ukraine's ground, said fighting remained heavy around the two villages as Russia tried to recover positions it had lost. Moscow has not acknowledged losing control of either village.

President Volodymr Zelenskiy announced the recapture of Klishchiivka on Bakhmut's southern flank on Sunday, two days after Kyiv said its forces had regained control of nearby Andriivka. Both villages lie on higher ground than Bakhmut.


"These settlements, at first glance small, were important elements in the enemy's defensive line which stretched from Bakhmut to Horlivka," Syrskyi said on the Telegram messaging app, referring to a town about 40 km (25 miles) from Bakhmut.

"As a result of our troops' successful actions, the enemy's defensive line - which it tried to close by throwing all available reserves into battle - was breached."

Military spokesperson Ilia Yevlash also underlined the tactical importance of Klishchiivka, saying in televised comments that its recapture exposed the southern flank of Bakhmut and was "a favourable springboard for further progress".

But Russia, which began its full-scale invasion of Ukraine in February 2022, still controls vast swaths of Ukrainian territory in the east and south.

Ukraine launched a counteroffensive in early June to try to take back the lost territory but has reported slow, steady progress against entrenched Russian positions, retaking a string of villages but no major settlements. Zelenskiy and other officials have dismissed Western criticism that the offensive is too slow and hampered by strategic errors.


Deputy Defence Minister Hanna Maliar said earlier on Monday that Ukrainian forces had retaken 51 square km (19 square miles) near Bakhmut since the start of the counteroffensive.

Ukraine has also regained more than 260 square km of land in the south during the counteroffensive, she said.

Maliar was one of six deputy defence ministers whose removal was announced later on Monday as part of a reshuffle at the ministry under a new defence minister.



(Reporting by Anna Pruchnicka and Yuliia Dysa; Editing by Timothy Heritage)
MORE FROM THE
OAF NATION NEWSROOM