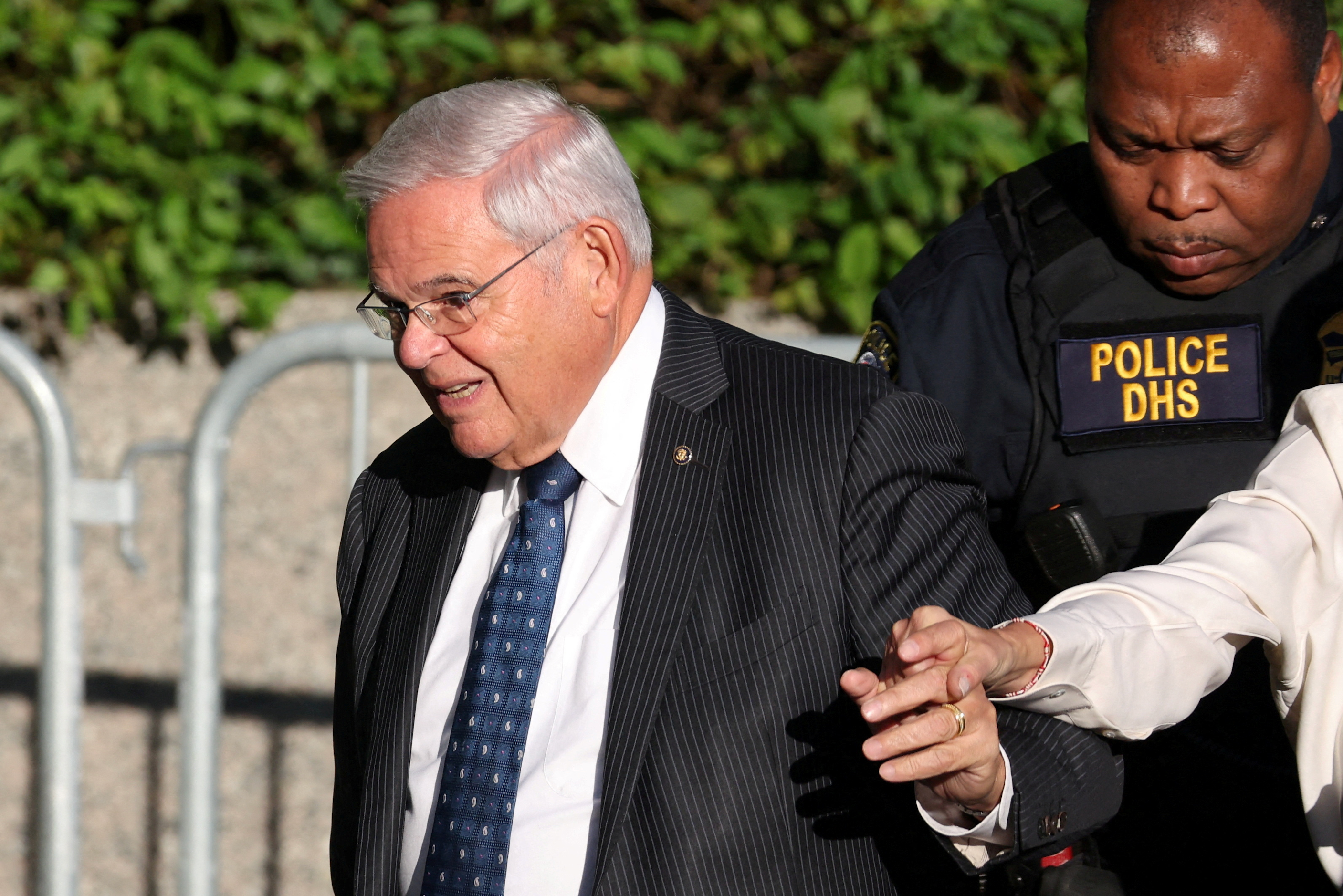 Senator Bob Menendez arrives in court as calls for resignation mount
PHOTO CAPTION: U.S. Senator Robert Menendez (D-NJ) arrives at Federal Court for a hearing on bribery charges in connection with an alleged corrupt relationship with three New Jersey businessmen, in New York City, U.S., September 27, 2023. REUTERS/Shannon Stapleton
By Luc Cohen

NEW YORK (Reuters) -U.S. Senator Bob Menendez and his wife Nadine Menendez arrived in federal court on Wednesday to face charges of taking bribes from three New Jersey businessman, as calls for the senator's resignation from his fellow Democrats escalated.

Federal prosecutors in Manhattan last week accused Menendez, 69, and his wife of accepting gold bars and hundreds of thousands of dollars in cash in exchange for the senator using his influence to aid Egypt's government and interfere with law enforcement investigations of the businessmen.

Bob Menendez, Nadine Menendez, 56, and businessmen Jose Uribe, 56, and Fred Daibes, 66, are set to appear in a federal courtroom in Manhattan around 10:30 a.m. EDT (1430 GMT). A third businessman, Wael Hana, 40, pleaded not guilty on Tuesday.

David Schertler, a lawyer for Nadine Menendez, said she intends to plead not guilty and "vigorously defend" against the allegations. Lawyers for Bob Menendez, Uribe and Daibes did not respond to requests for comment.


Bob Menendez, one of two senators representing New Jersey, stepped down from his role as chairman of the Senate Foreign Relations Committee, as required under his party's rule. But on Monday he said he would stay in the Senate and fight the charges.

More than half of all U.S. Democratic senators - including Cory Booker, the junior senator from New Jersey - have called on Menendez, a powerful voice on foreign policy who has at times bucked his own party, to resign since the charges were unveiled on Friday.

Democrats narrowly control the Senate with 51 seats, including three independents who normally vote with them, to the Republicans' 49. Democratic New Jersey Governor Phil Murphy, who would appoint a temporary replacement should Menendez step aside, has also called for him to resign.

The indictment contained images of gold bars and cash investigators seized from Menendez's home. Prosecutors say Hana arranged meetings between the senator and Egyptian officials - who pressed him to sign off on military aid - and in return put Nadine Menendez on the payroll of a company he controlled.

The probe marks the third time Menendez has been under investigation by federal prosecutors. He has never been convicted.

(Reporting by Luc Cohen; Additional reporting by Andrew Goudsward in Washington; Editing by Scott Malone, Timothy Gardner and Jonathan Oatis)
MORE FROM THE
OAF NATION NEWSROOM