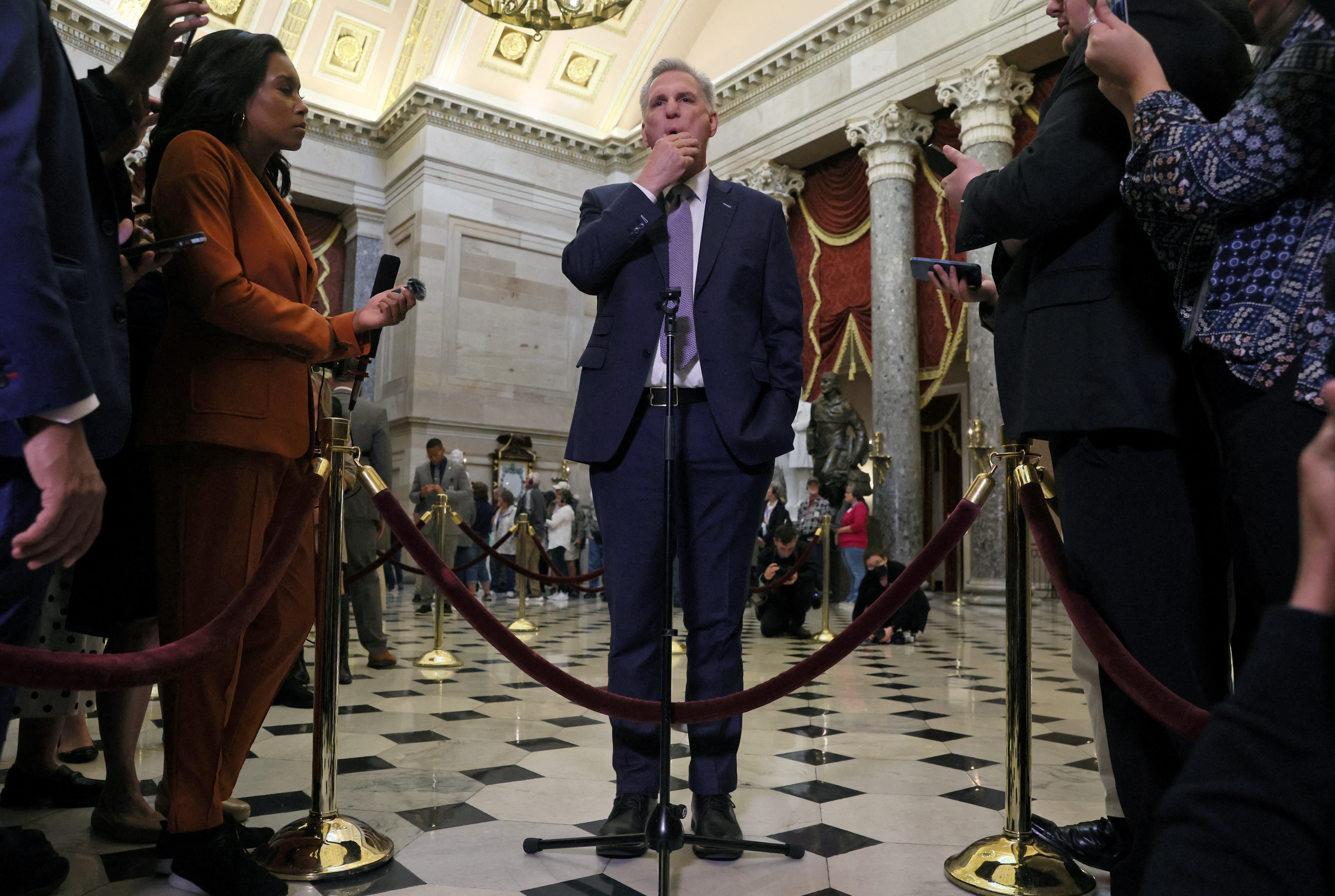 House Republicans reject latest bipartisan funding bill, shutdown deadline in four days
PHOTO CAPTION: U.S. House Speaker Kevin McCarthy speaks to members of the media as the deadline to avert a government shutdown approaches on Capitol Hill in Washington, U.S., September 26, 2023. REUTERS/Leah Millis
By Moira Warburton and David Morgan

WASHINGTON (Reuters) - The fourth partial shutdown of the U.S. government in a decade was four days away on Wednesday, with House Republicans preemptively rejecting a bipartisan bill advancing in the Senate that would fund agencies through mid-November.

Hundreds of thousands of federal workers will be furloughed and a wide range of services, from economic data releases to nutrition benefits, if Congress fails to pass legislation that Democratic President Joe Biden can sign into law by midnight Saturday (0400 GMT on Sunday).

The Senate voted by an overwhelming 77-19 on Tuesday to begin debate on a measure that would fund the government through Nov. 17, as well as authorizing about $6 billion for domestic disaster responses and another $6 billion in aid to Ukraine.

Leading House Republicans dismissed the Senate stopgap measure out of hand, saying any short-term funding measure to pass Congress with their approval must address the flow of migrants across the U.S. border with Mexico.

"The Senate bill really just continues to fund Biden's open border plan. The country wants to address the open border. We need to address the open border," said House Majority Leader Steve Scalise, the chamber's No. 2 Republican.

But Republicans who control the House by a narrow 221-212 margin have not proposed their own measure to fully fund the government and are instead trying to pass a series of bills for the full fiscal year that begins on Sunday.

House Speaker Kevin McCarthy is facing threats from hardline members of his own party who rejected a deal he negotiated with Biden in May for $1.59 trillion in discretionary spending in fiscal 2024, demanding instead another $120 billion in cuts.

A small handful of the hardliners have also threatened to oust McCarthy from his leadership role if he passes a spending bill that requires any Democratic votes to pass.

McCarthy said House Republicans would probably bring their own stopgap measure to the floor on Friday.


REPEATED BRINKMANSHIP

The standoff comes four months after Washington flirted with defaulting on the nation's more than $31 trillion in debt, a move that would have rocked financial markets worldwide. The repeated brinkmanship has worried credit rating agencies, with Moody's this week warning that a shutdown could hurt the nation's creditworthiness.

Another downgrade of the U.S. credit rating could push borrowing costs - and the nation's debt - even higher.

The funding fight focuses on a relatively small slice of the total U.S. budget, which will come to $6.4 trillion for this fiscal year. Lawmakers are not considering cuts to popular benefit programs like Social Security and Medicare, which are projected to grow dramatically as the population ages.

The senior Democrat on the House Appropriations Committee urged her colleagues to consider the Senate's stopgap measure, known as a continuing resolution, or CR.

"The bipartisan continuing resolution introduced by the Senate is a reasonable approach to keeping the government open while we finish our work on final 2024 funding bills," Representative Rosa DeLauro said in a statement. "It is not perfect, but it prevents a catastrophic and avoidable shutdown."

Top Senate Republican Mitch McConnell also urged action: "Government shutdowns are bad news, whichever way you'd look at it."

In a sign of rising concern among senators about the risk of a shutdown, Democrat Michael Bennet and Republican Joni Ernst on Tuesday proposed a bill that would require the 100 senators to remain on or near the Senate floor in the event a shutdown - with the threat of being arrested by the chamber's sergeant-at-arms for absence.

Hardline Republicans, including Donald Trump, frontrunner for the party's 2024 presidential nomination, have dismissed the risks of a shutdown and in some cases actively pushed for one.



(Reporting by Moira Warburton, Richard Cowan and David Morgan; Editing by Scott Malone and Tom Hogue)
MORE FROM THE
OAF NATION NEWSROOM