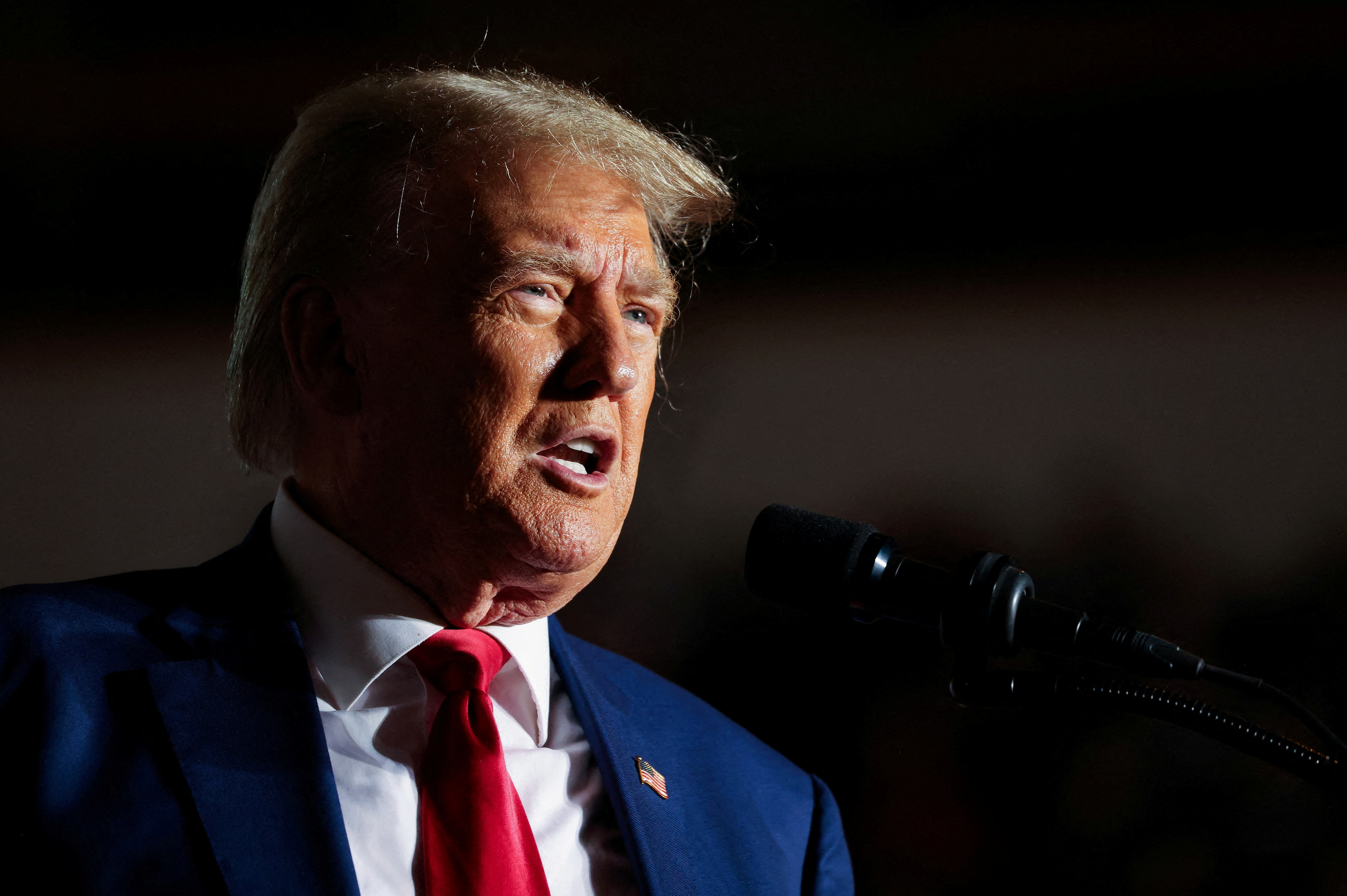 Donald Trump found liable for fraud in New York civil case in latest legal blow
PHOTO CAPTION: Former U.S. President and Republican presidential candidate Donald Trump speaks during a campaign rally in Erie, Pennsylvania, U.S., July 29, 2023. REUTERS/Lindsay DeDario
By Jonathan Stempel and Karen Freifeld

NEW YORK (Reuters) -A New York judge found Donald Trump and his family business fraudulently inflated the value of his properties and other assets, in a major defeat for the former U.S. president that could severely hamper his ability to do business in the state.

The scathing decision by Justice Arthur Engoron of New York state court in Manhattan will make it easier for state Attorney General Letitia James to establish damages at a scheduled Oct. 2 trial.

Engoron also ordered the cancellation of certificates that let some of Trump's businesses, including the Trump Organization, operate in New York, and ordered the appointment of a receiver to manage the businesses' dissolution.

The judge described how Trump, his adult sons Donald Jr. and Eric, the Trump Organization and other defendants made up valuations and inflated Trump's net worth to suit their business needs.

"That is a fantasy world, not the real world," Engoron wrote.

The judge also sanctioned the defendants' lawyers for making "preposterous" legal arguments and fueling their clients' "obstreperous" conduct.

Trump and the other defendants have argued that they never committed fraud, and that the challenged transactions were profitable. They plan to appeal Engoron's decision.

"Today's outrageous decision is completely disconnected from the facts and governing law," Christopher Kise, a lawyer for Trump, said in a statement. "President Trump and his family will seek all available appellate remedies to rectify this miscarriage of justice."

James said she looks forward to presenting the rest of her case at trial.

"It's a devastating ruling," said Bill Black, distinguished scholar in residence for financial regulation at the University of Minnesota Law School. He said cancelling business certificates could hurt Trump's ability to make money.

"If the decision is upheld, they have to liquidate the LLCs which actually hold the enormous bulk of the assets," Black said, referring to limited liability companies.

Trump is seeking the Republican presidential nomination for 2024 and has maintained a commanding lead in the race despite the criminal charges he faces in multiple cases.

In a post on his Truth Social platform, Trump called accusations that he committed fraud "ridiculous and untrue," and blasted Engoron as a "DERANGED" judge doing the bidding of James, a Democrat.

"This is Democrat Political Lawfare, and a Witch Hunt at a level never seen before," Trump wrote. "If they can do this to me, they can do this to YOU!"

Trump has repeatedly asserted without evidence that indictments he faces are "witch hunts."


NOT 'IMMATERIAL'

James sued Trump in September 2022, accusing him, three of his adult children and the Trump Organization of lying for a decade about asset values and his net worth to defraud banks and insurers into providing better terms.

Engoron said James submitted "conclusive evidence" that Trump had overstated his net worth by between $812 million and $2.2 billion.

"Even in the world of high finance, this court cannot endorse a proposition that finds a misstatement of at least $812 million dollars to be 'immaterial,'" he wrote.

The judge said Trump's overvaluations included his Mar-a-Lago estate in Florida, his penthouse apartment in Manhattan's Trump Tower, and various office buildings and golf courses.

He took particular issue with Trump's claim that the penthouse was 30,000 square feet (2,787 square meters), nearly three times its actual size, resulting in an overvaluation of as much as $207 million.

"A discrepancy of this order of magnitude, by a real estate developer sizing up his own living space of decades, can only be considered fraud," Engoron wrote.

The judge said Trump also grossly overvalued Mar-a-Lago, estimating it was worth as much as $612.1 million, though an assessor said its market value was no more than $27.6 million.

Engoron also chided Trump for offering defenses in a deposition that were "wholly without basis," including that there was nothing wrong with how he valued properties in a given year if their values subsequently went up.

"He also seems to imply that the numbers cannot be inflated because he could find a 'buyer from Saudi Arabia' to pay any price he suggests," the judge wrote.


SLEW OF LITIGATION

Engoron's ruling comes three months after a state appeals court said that some of James' claims were too old because statutes of limitations had expired in either July 2014 or February 2016.

Engoron rejected Trump's argument that the decision essentially gutted James' lawsuit, which James has said reflected a series of "continuing wrongs" that she could prove at trial.

The appeals court dismissed one defendant, Trump's daughter Ivanka, from the case.

Trump also faces a slew of other litigation.

He has pleaded not guilty to charges in four indictments accusing him of trying to overturn his 2020 election defeat by Democrat Joe Biden, hoarding classified materials, and covering up hush money payments to a porn star.

Trump also faces a January civil trial over damages he owes for defaming the writer E. Jean Carroll, who claimed he raped her. He has denied wrongdoing.

Engoron's decision does not automatically mean James' fraud case will go to trial next Monday.

Trump has sued to delay the trial, accusing Engoron and James of ignoring the appeals court order to narrow the case.

He and the other defendants have said this made it impossible to prepare for trial because they did not know which claims they would have to defend against.

The appeals court is expected to rule on the request for a delay this week.

(Reporting by Karen Freifeld, Jack Queen and Jonathan Stempel in New York;Editing by Chris Reese, Deepa Babington and Leslie Adler)
MORE FROM THE
OAF NATION NEWSROOM