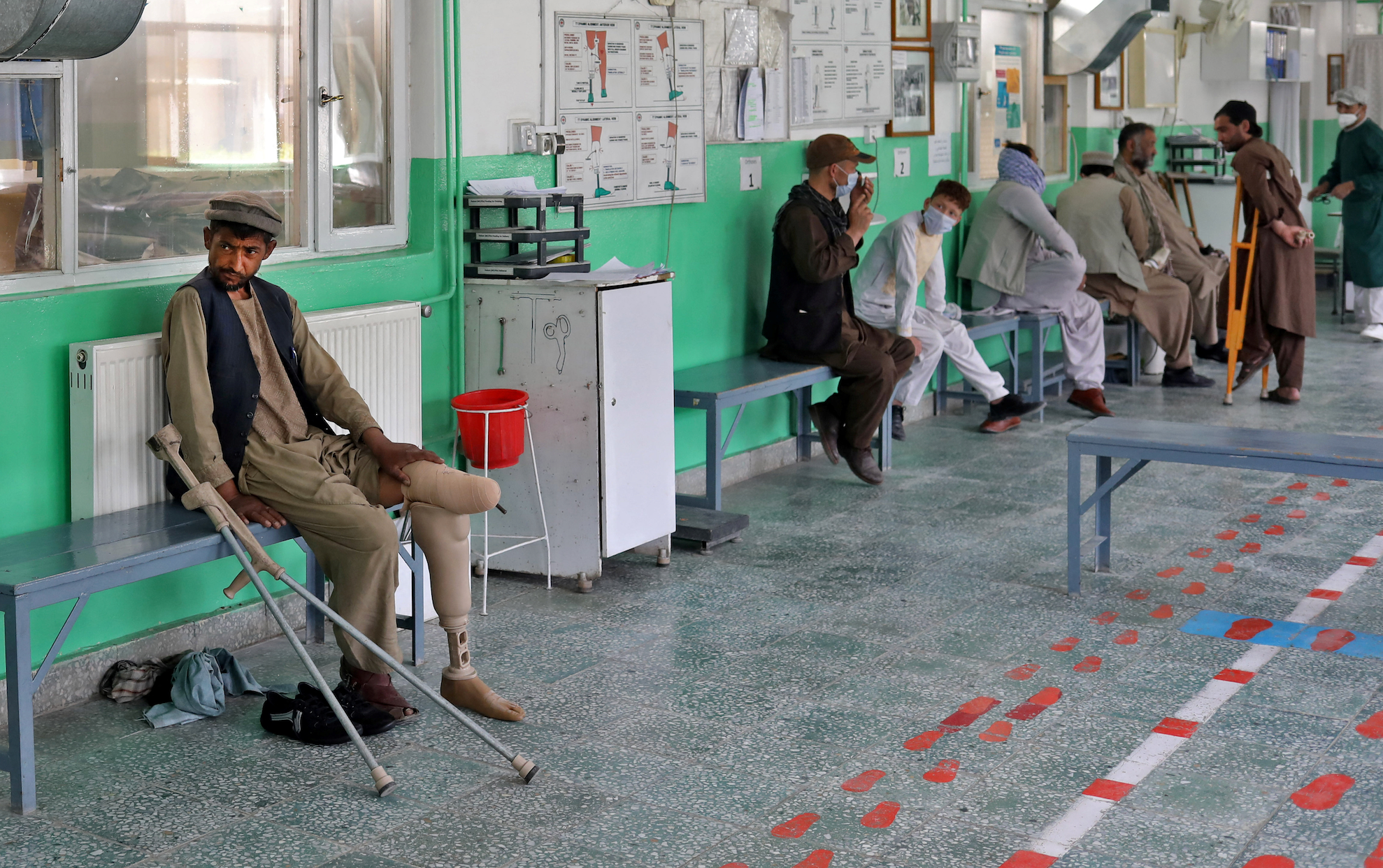 Red Cross set to end funding at 25 hospitals in Afghanistan
PHOTO CAPTION: Amanullah, 25, who lost a leg in a mine blast in Helmand, sits at the Red Cross rehabilitation center in Kabul, Afghanistan, April 9, 2022. Picture taken April 9, 2022. REUTERS/Ali Khara/File Photo
By Charlotte Greenfield

(Reuters) - The International Committee of the Red Cross (ICRC) is likely to end the financial running of 25 Afghan hospitals by the end of August due to funding constraints, a spokesperson told Reuters, amid growing concerns over a plunge in aid to Afghanistan.

"Although we continue to engage with government ministries, donors, and organisations to find alternative sustainable support mechanisms for the hospital sector, the phase-out of the Hospital Program is expected to happen tentatively at the end of August," Diogo Alcantara, ICRC's spokesperson for Afghanistan, told Reuters on Thursday.

"The ICRC does not have the mandate nor the resources to maintain a fully functioning public health-care sector in the longer term," Alcantara said.


In April, ICRC said its governing board approved 430 million Swiss francs ($475.30 million) in cost reductions over 2023 and early 2024 and a rolling back of operations in some locations as budgets for humanitarian aid were expected to decrease.

"The financial difficulties the ICRC is facing have sped up, in transparency with IEA (Islamic Emirate of Afghanistan) authorities, the expected return of the full responsibilities of the health services to the Ministry of Public Health," Alcantara said, referring to the Taliban administration.

The program's end comes amid growing concerns over cuts to Afghanistan's humanitarian aid, two years after the Taliban took over and most other forms of international assistance, which formed the backbone of the economy, were halted.

The Geneva-based organisation would continue its other Afghanistan health programs, including rehabilitation support for people with disabilities.

A spokesman for the Taliban-run Afghan health ministry did not respond to request for comment.


It was not clear how much was needed to pay for the operations, which fund salaries and other costs at many of Afghanistan's major hospitals serving millions of people, and if Taliban authorities could cover that amount from the fiscal budget.

An Afghan finance ministry spokesman said this year's budget had been finalised, but not publicly released.

The hospitals have been supported by ICRC since a few months after foreign forces left in August 2021.

Development funding was cut to Afghanistan as the Taliban - which has not formally been recognised by any country - took over the country. The sudden financial shock imperilled critical public services including health and education.

The ICRC and other agencies including the U.N. stepped in to try to fill gaps.

"The (ICRC) took this decision back then to save the healthcare system from collapsing due to the financial crises that Afghanistan was experiencing and because many development agencies and other organisations left the country while the ICRC stayed," Alcantara said.

The ICRC hospital program had originally covered 33 hospitals, eight of which have already been phased out, paying for the salaries of over 10,000 health workers and some medical supplies. The hospitals provided thousands of beds and served areas encompassing more than 25 million people - over half the population.

Neighbouring Pakistan is closely watching the development, a senior government official told Reuters. Pakistan, a major destination for healthcare for Afghans, routinely has thousands of medical visa applications lodged with its embassy, officials said.

"We are concerned about a further influx of medical patients," said the Pakistani official, who declined to be identified to speak openly about sensitive diplomatic issues.

Pakistan's foreign office did not reply to request for comment.

There is growing alarm over cuts to aid to Afghanistan, where the U.N. humanitarian plan for 2023 is only 25% funded, even after requested budget was downgraded from $4.6 billion to $3.2 billion.

Diplomats and aid officials say concerns over Taliban restrictions on women alongside competing global humanitarian crises are causing donors to pull back on financial support. The Taliban has ordered most Afghan female aid staff not to work, though granted exemptions in health and education.

Almost three-quarters of Afghanistan's population are now in need of humanitarian assistance, according to the aid agencies.



(Reporting by Charlotte Greenfield; Editing by Kim Coghill)
MORE FROM THE
OAF NATION NEWSROOM