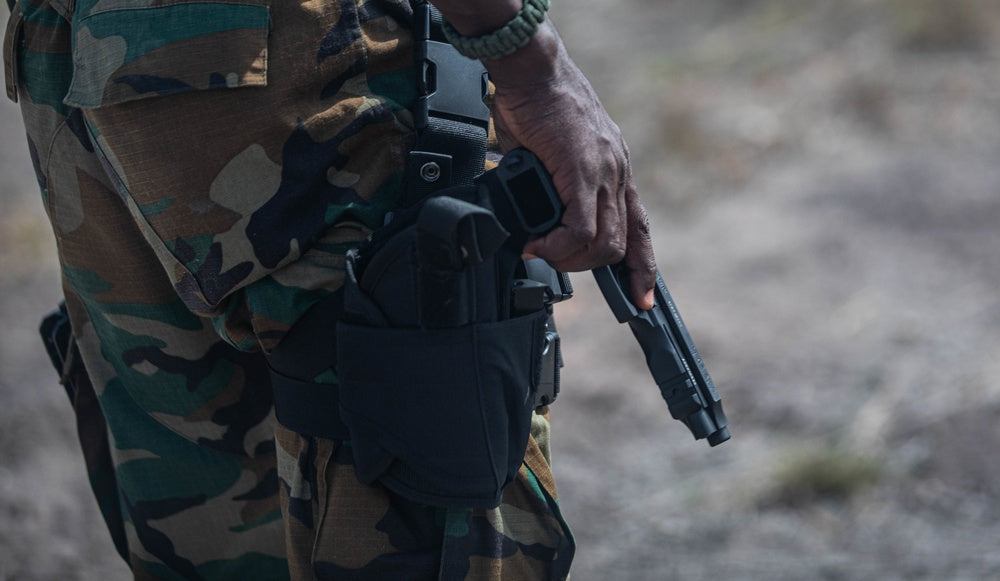 West African bloc says "we are going into Niger" if diplomacy fails
PHOTO CAPTION: A Ghanaian Special Boat Service sailor prepares to reload his weapon for live fire training during Flintlock in Volta, Ghana, March 1, 2023. (U.S. Army photo by Spc. Mario Hernandez Lopez)
By Maxwell Akalaare Adombila and Boureima Balima

ACCRA/NIAMEY (Reuters) -The West African bloc ECOWAS stands ready to intervene militarily in Niger should diplomatic efforts to reverse a coup there fail, a senior official told army chiefs who were meeting in Ghana on Thursday to discuss the details of a standby force.

Niger military officers deposed President Mohamed Bazoum on July 26 and have defied calls from the United Nations, ECOWAS and Western powers to reinstate him, prompting West African heads of state to order the standby force to be assembled.

"Let no one be in doubt that if everything else fails, the valiant forces of West Africa...are ready to answer to the call of duty," ECOWAS Commissioner for Political Affairs, Peace and Security Abdel-Fatau Musah said.

"By all means available, constitutional order will be restored in the country," he told assembled defence chiefs from member countries, listing past ECOWAS deployments in Gambia, Liberia and elsewhere as examples of readiness.


Niger has strategic importance beyond West Africa because of its role as a hub for foreign troops involved in the fight against Islamist insurgents in the Sahel region and its uranium and oil reserves.

Western countries fear the junta could follow the lead of neighbouring Mali, where the military government threw out French troops and instead invited in mercenaries from Russia's Wagner group, which has welcomed the coup in Niger.

In Niger's capital Niamey, where large crowds have taken part in protests against ECOWAS and in favour of the coup leaders, residents rejected the idea of an outside intervention to reinstate the elected president and civilian government.

"I'm not afraid because I know our armed forces are well prepared to deal with any eventuality," said radio technician Omar Yaye.

"ECOWAS is manipulated by foreign powers. When we see the reactions of France since the coup and especially the harshness of ECOWAS I can only think that these are coordinated actions between France and ECOWAS," he said, echoing anti-French rhetoric used by the junta since the coup.


'CAT AND MOUSE'

France, Niger's former colonial ruler, has denied the junta's accusation that it was seeking to destabilise the country or that it had violated its airspace. It has said it supported ECOWAS efforts to restore constitutional order.

French troops, along with U.S., German and Italian forces, are present in Niger as part of international efforts to combat the Islamist insurgents who have caused thousands of deaths and forced millions to flee their homes over the past decade.

Musah rejected the accusation that ECOWAS was being manipulated by France or any other outside power.

"What they forget is that ECOWAS is a rules-based organisation. We have our protocols, we have our norms and we are ready to protect them," he said.

"That's why the heads of state are saying if push comes to shove we are going into Niger with our own contingents, own equipment and our own resources to make sure we restore constitutional order. If other democracy-loving partners want to support us they are welcome," he said.

Musah accused the Niger coup leaders of "playing cat-and-mouse" with ECOWAS by refusing to meet with its envoys and seeking justifications for their takeover of power.

He said most of the bloc's 15 member states were prepared to participate in the standby force that could intervene in Niger. The exceptions were those also under military rule - Mali, Burkina Faso and Guinea - and tiny Cape Verde.

Musah criticised the junta's announcement that it had elements to put Bazoum, who is being detained, on trial for treason. The United Nations, European Union and ECOWAS have all expressed concerns over the conditions of his detention.

"The irony of it is that somebody who is in a hostage situation himself...is being charged with treason. When did he commit that high treason is everybody's guess," Musah said.

(Additional reporting by Francis Kokoroko, Media Coulibaly, Anait Miridzhanian and Edward McAllister; Writing by Estelle Shirbon; Editing by Angus MacSwan)
MORE FROM THE
OAF NATION NEWSROOM