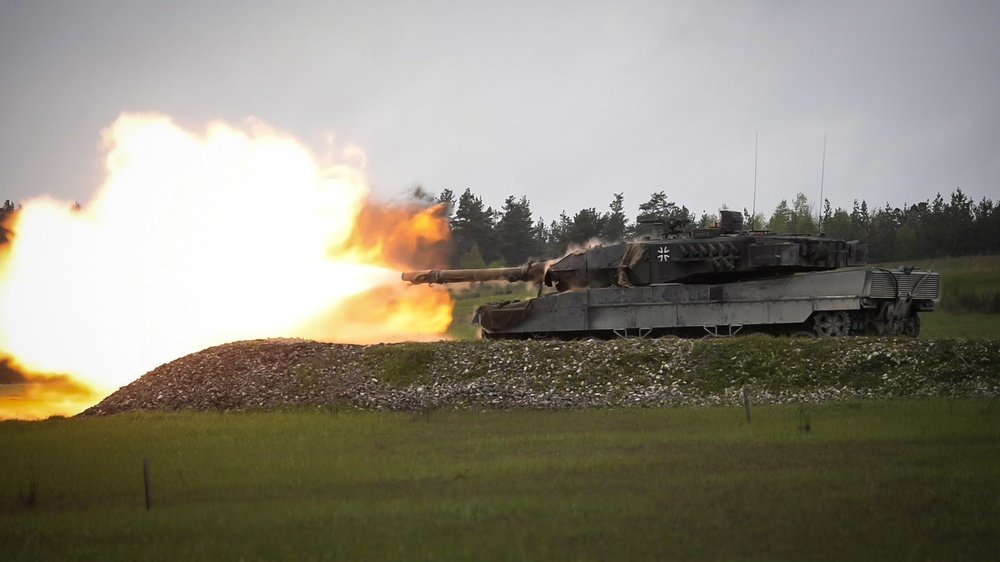 Ramstein summit fails to agree on Leopard tanks for Ukraine
RAMSTEIN AIR BASE, Germany/KYIV (Reuters) -Western allies on Friday dampened Ukraine's hopes for a rapid shipment of battle tanks to boost its firepower for a spring offensive against Russian forces, with the United States urging Kyiv to hold off from mounting such an operation.
The United States' top general, speaking after a meeting of the allies at Ramstein Air Base in Germany, also said it would be very hard for Ukraine to drive Russia's invading forces from the country this year.
The run-up to the Ramstein meeting had been dominated by the issue of whether Germany would agree to send Leopard 2 tanks to Ukraine, or permit other countries that have them to do so.
In the end, no decision on supplying Leopards was reached on Friday, officials said, although pledges for large amounts of other weapons including air defence systems and some other model of tanks, were given.
The United States was also holding fast to its decision not to provide Abrams tanks to Ukraine yet, a senior U.S. official said in Washington. It wanted to see the latest supply of U.S. weaponry in place and training provided, the official said.
In Ramstein, U.S. General Mark Milley, Chairman of the Joint Chiefs of Staff, told a news conference: "From a military standpoint, I still maintain that for this year, it would be very, very difficult to militarily eject the Russian forces from every inch of Russian-occupied Ukraine."
The developments were likely to come as a disappointment to Ukraine as the war unleashed by a Russian invasion last February grinds on with no solution nor let-up in the suffering in sight. President Volodymyr Zelenskiy had specifically requested more battle tanks.
The German-built Leopards are seen as especially suitable for Ukraine as they are widely in use, meaning several countries could each chip in some of their tanks to support Ukraine. They would give Ukraine an edge as it switched from defensive to offensive operations.
U.S. Defense Secretary Lloyd Austin told a news conference at the end of the Ramstein meeting that while time was of the essence in getting Ukraine the equipment and training it needed to take the fight to Russia's forces in the spring, Ukraine was well-equipped even without the Leopards.
"Ukraine is not dependent on a single platform," he said.
NATO Secretary-General Jens Stoltenberg told Reuters Ukraine's backers needed to focus not only on sending new weapons, but supplying ammunition for older systems and helping maintain them.
For its part, the Kremlin said supplying tanks to Ukraine would not help and that the West would regret its "delusion" that Kyiv could win on the battlefield.
GERMANY WARY
Germany has been under heavy pressure from allies to allow Leopard tanks to be sent. Chancellor Olaf Scholz's Social Democrat party is traditionally sceptical of military involvements and wary of sudden moves that could cause Moscow to further escalate in Ukraine.
German Defence Minister Pistorius said he could not say when there would be a decision on the tanks but that Germany was prepared to move fast if there was consensus among allies.
"All pros and cons must be weighed very carefully," Pistorius said, adding that the issue had been discussed on Friday but no decision had been made.
The defence ministers from NATO and other countries met at Ramstein amid concern that Russia will soon reenergise its military campaign to seize parts of Ukraine's east and south that it says it has annexed but does not fully control.
Zelenskiy, speaking at the start of the meeting, thanked allies for their support, but said more was needed and more quickly.
"We have to speed up. Time must become our weapon. The Kremlin must lose," he said.
In his daily evening video address, Zelenskiy said Ukraine would still have to fight to ensure a supply of modern heavy armour.
"Every day we make it more obvious that there is no alternative to taking a decision about tanks," he said.
Fighting has been most intense in Ukraine's industrialised eastern Donbas region, which Russia claimed to have annexed in September along with two regions in the south.
(Reporting by Reuters bureausWriting by Philippa Fletcher and Angus MacSwanEditing by Frank Jack Daniel, Jon Boyle and Frances Kerry)
MORE FROM THE
OAF NATION NEWSROOM