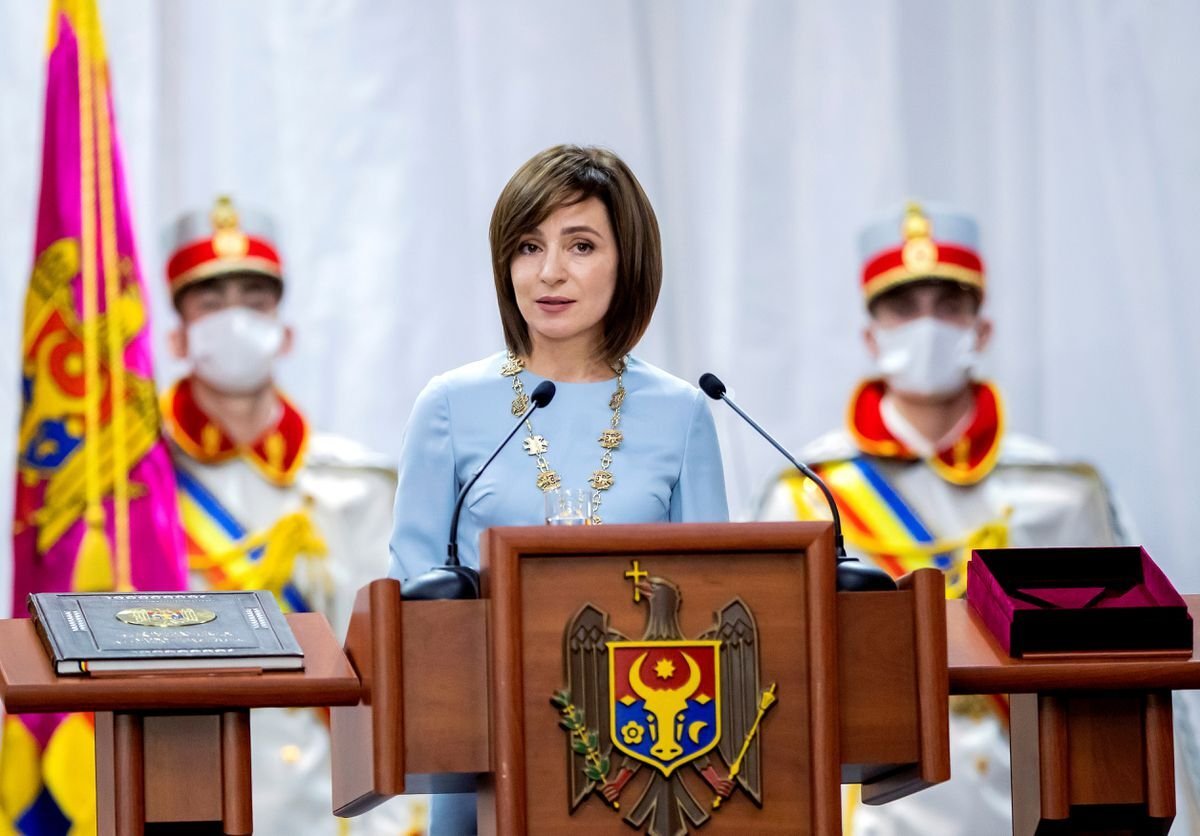 Moldova's Sandu asks allies for air defenses, says Russia trying to destabilize country
DAVOS, Switzerland (Reuters) - Moldova has asked allies to strengthen its air defence capabilities as war rages in neighbouring Ukraine, although what the country calls Russian efforts to destabilise it have so far failed, President Maia Sandu said on Thursday.
"We have requested air surveillance and defence systems," Sandu told Reuters in an interview on the sidelines of the World Economic Forum in Davos, Switzerland. "We understand Ukraine is a priority" but we also hope to receive some, she said.
To Ukraine's west, fellow former Soviet republic Moldova has a tiny defence budget and has long had tense relations with Moscow. Russia has troops and peacekeepers based in Transdniestria, a breakaway statelet of Moldova that has survived for three decades with the Kremlin's support.
Moldova's pro-Western government has strongly backed Kyiv since the Russian invasion and submitted a formal request to join the European Union just a week after Russian troops rolled into Ukraine last February.
Sandu said the country's military budget had been increased and the government was talking to the EU about air defence systems, with talks also on a bilateral basis with allies. She said she felt the country was safe given Ukraine's resistance to Russia.
Moldova has accused Moscow of trying to use its influence over the separatist movement in mainly Russian-speaking Transdniestria to destabilise the rest of the mainly Romanian-speaking country,
Sandu said what she called destabilising efforts had failed so far and that neither side wanted conflict.
"Russia did try to mobilise corrupt groups in Moldova and pro-Russian parties with the objective to take down the government, parliament and presidency and it doesn't mean it has given up, but we have so far been able to maintain stability," she said.
Last year, separatist authorities blamed several blasts on Ukraine, which denied any connection with the incidents. Russia's foreign ministry has said Moscow wanted to avoid a scenario in which it had to intervene in the region
GAS FREEDOM
Moldova has also been striving to wean itself off Russian gas as it deals with power cuts partly caused by Moscow's attacks on neighbouring Ukraine's power infrastructure, but also Russian gas provider Gazprom slashing supplies.
"Today the right bank gets gas from market, while the gas from Gazprom is used in the Transdniestria region so we can say that Moldova is finally freeing itself from the dependency of Russian gas," Sandu said.
She added that while high prices were not helpful, the country had secured supply for winter and would seek long-term contracts with alternative suppliers going forward.
The EU accepted Moldova as a membership candidate in June, when it extended the same status to neighbouring Ukraine. It was a diplomatic triumph for Sandu, whose country is one of Europe's poorest and facing numerous economic struggles.
Sandu said that the country would need at least the same amount - 600 million euros ($649 million) - of budget support from the international community in 2023 as last year, to help shield its population from inflation.
EU entry involves a lengthy and complex process to bring local laws into alignment, including a key reform to the justice aimed at tackling corruption. Sandu said she was confident the change would be completed.
"EU integration is the most important project in the country and our only chance to survive as a democracy at this complicated time and in this complicated region," she said.
($1 = 0.9257 euros)
(Reporting by John Irish; Editing by Jon Boyle and Frank Jack Daniel)
MORE FROM THE
OAF NATION NEWSROOM