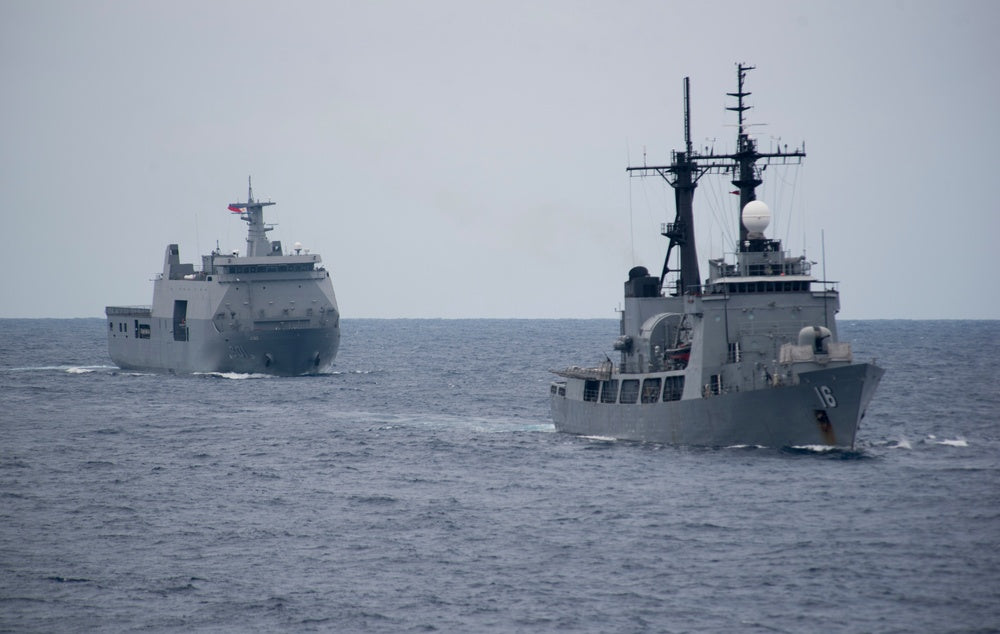 Philippines, allies kick off naval drills amid Asia-Pacific tension
PHOTO CAPTION: Philippine Navy ships BRP Tarlac (LD-601) and BRP Ramon Alcaraz (FF-16) sail in formation with the USNS Millinocket (T-EPF 3) during the at-sea portion of Maritime Training Activity (MTA) Sama Sama 2018. (U.S. Navy photo by Mass Communication Specialist 2nd Class Joshua Fulton via U.S. Defense Visual Information Distribution Service)
MANILA (Reuters) - Forces from Manila, Britain, Canada, Japan and the United States kicked off on Monday two weeks of joint naval exercises in Philippine waters as a "show of force", amid flaring regional tension.

With more than 1,800 participants, the drills follow last week's move by Beijing to block Philippine fishermen from Asia's most contested maritime feature, the Scarborough Shoal, held by China in the South China Sea.

This year's "Sama Sama" drills are being held in the southern part of the island of Luzon, featuring naval exercises in areas such as anti-submarine warfare, air defence and search and rescue, the Philippine navy said.

"With this show of force and active engagement of our allies and partners, 'Sama Sama' transcends mere military exercises," Philippine navy chief Rear Admiral Toribio Adaci said at the opening event.


"It is a symbol of our enduring partnerships and our shared commitment to security and stability in the Asia-Pacific region."

In his remarks, Vice Admiral Karl Thomas, the commander of the U.S. Navy's Seventh Fleet, said, "It is important that all nations have a right to sail and operate in the West Philippine Sea, free from ... being coerced, free from being intimidated."

The West Philippine Sea refers to the portion of the South China Sea claimed by Manila.

Five vessels, two from the United States, and one each from Britain, Canada and Japan, joined the Philippine-hosted drills that will run until Oct. 13.

The navies of Australia, France, Indonesia and New Zealand also joined in by sending observers and experts.

"I am confident that no potential aggressor should be under any illusion other than this is a strong team of nations, a strong team of navies ... one navy sailing and operating together," Thomas added.



(Reporting by Karen Lema and Mikhail Flores; Editing by Clarence Fernandez)
MORE FROM THE
OAF NATION NEWSROOM