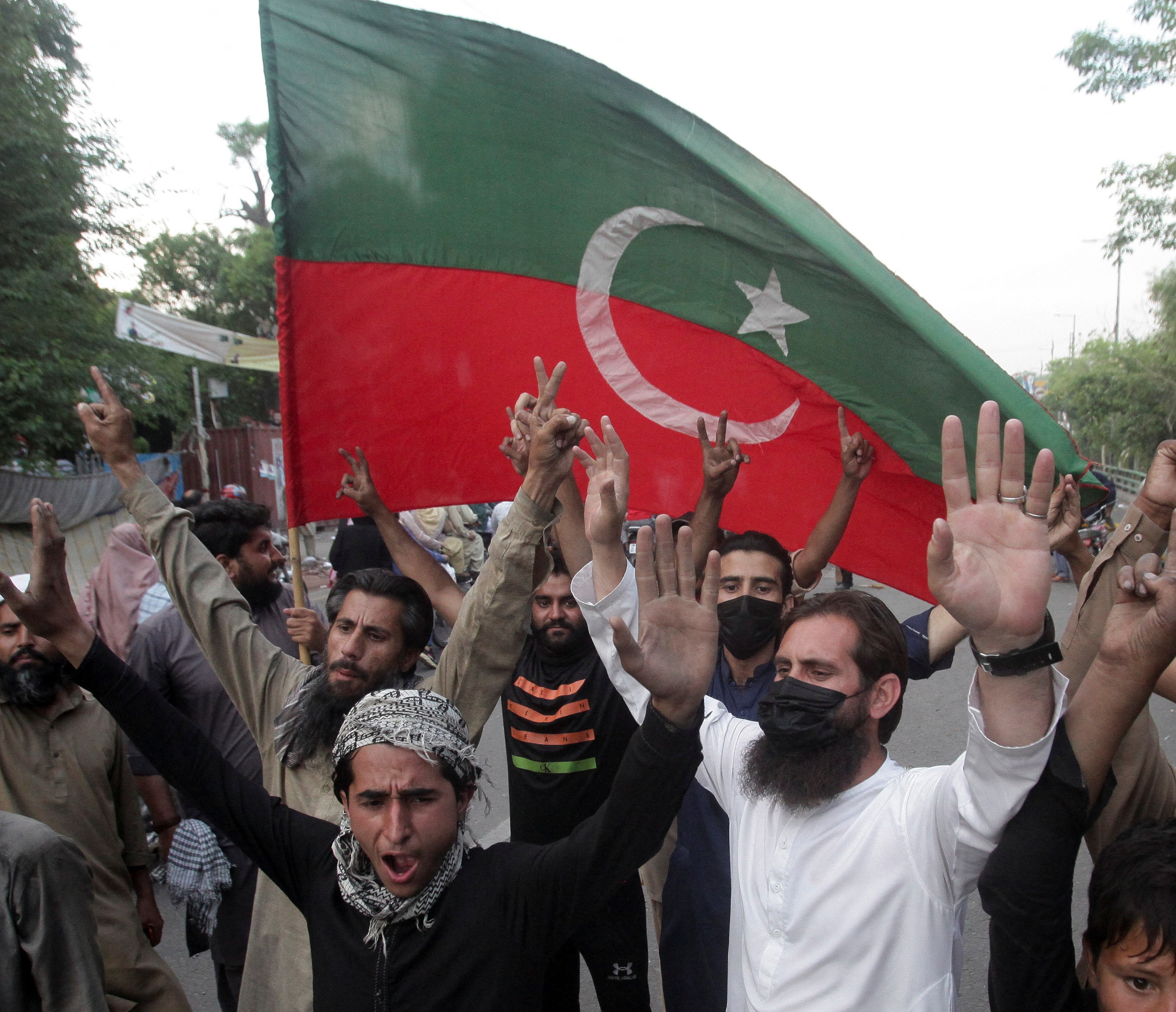 Pakistan court orders Imran Khan's release on bail, lawyer says
Supporters of Pakistan's former Prime Minister Imran Khan celebrate, as according to Khan's lawyer the Supreme Court ruled that his arrest was illegal, outside of Khan's house, in Lahore, Pakistan May 11, 2023. REUTERS/Mohsin Raza
ISLAMABAD (Reuters) -A Pakistani court ordered former Prime Minister Imran Khan's release on bail for two weeks, his lawyer said on Friday, after his arrest ignited deadly protests and a tussle with the military.
The arrest, which the Supreme Court ruled "invalid and unlawful" a day earlier, has fuelled instability in the nation of 220 million at a time of economic crisis, with record inflation, anaemic growth and delayed IMF funding.
"They had no justification to arrest me. I was abducted. It seems as if there was a law of jungle," Khan told British news outlet The Independent at the Islamabad High Court.
Khan, 70, is a cricket hero-turned-politician who was ousted as prime minister in April 2022 in a parliamentary no-confidence vote and who is Pakistan's most popular leader according to opinion polls.
Many cities in Pakistan saw violent protests following his arrest by the anti-graft agency in a land fraud case on Tuesday.
His supporters have stormed military establishments, set ablaze a state broadcaster building, smashed buses, ransacked a top army official's house and attacked other assets, leading to nearly 2,000 arrests and the army being deployed for help.
"The Islamabad High Court has given a two week bail and also ordered the (anti-graft body) not to arrest Imran Khan during this period," his lawyer Faisal Chaudhry told Reuters.
At least eight people have been killed in the violence that has worsened the country's instability and doused hopes of resumption of a crucial International Monetary Fund bailout.
The army, which remains Pakistan's most powerful institution, having ruled it directly for close to half its 75-year history through three coups, has warned against further attacks on its assets and has called the violence "pre-planned".
Khan was expected to walk out of court soon, broadcaster ARY news reported, with his Pakistan Tehreek-e-Insaaf (PTI) party workers expecting him to deliver a speech following his release.
The former premier entered court earlier on Friday wearing dark glasses and a sky blue shalwar kameez - the loose shirt and trousers popular in Pakistan - and a dark waistcoat, surrounded by lawyers and security forces, TV footage showed.
He was seen in footage waving at cameras and making a victory sign with his fingers as he walked into court. Meanwhile his supporters clashed with police elsewhere in the capital, where a police van was set ablaze, broadcaster Geo TV reported.
After the court order was announced, Interior Minister Rana Sanaullah said: "We have instructed our forces out there that court orders should be followed and there shouldn't be any violation of the court ruling".
(Reporting by Asif Shahzad, Ariba Shahid; Writing by Shivam Patel; Editing by Clarence Fernandez, William Maclean)
MORE FROM THE
OAF NATION NEWSROOM