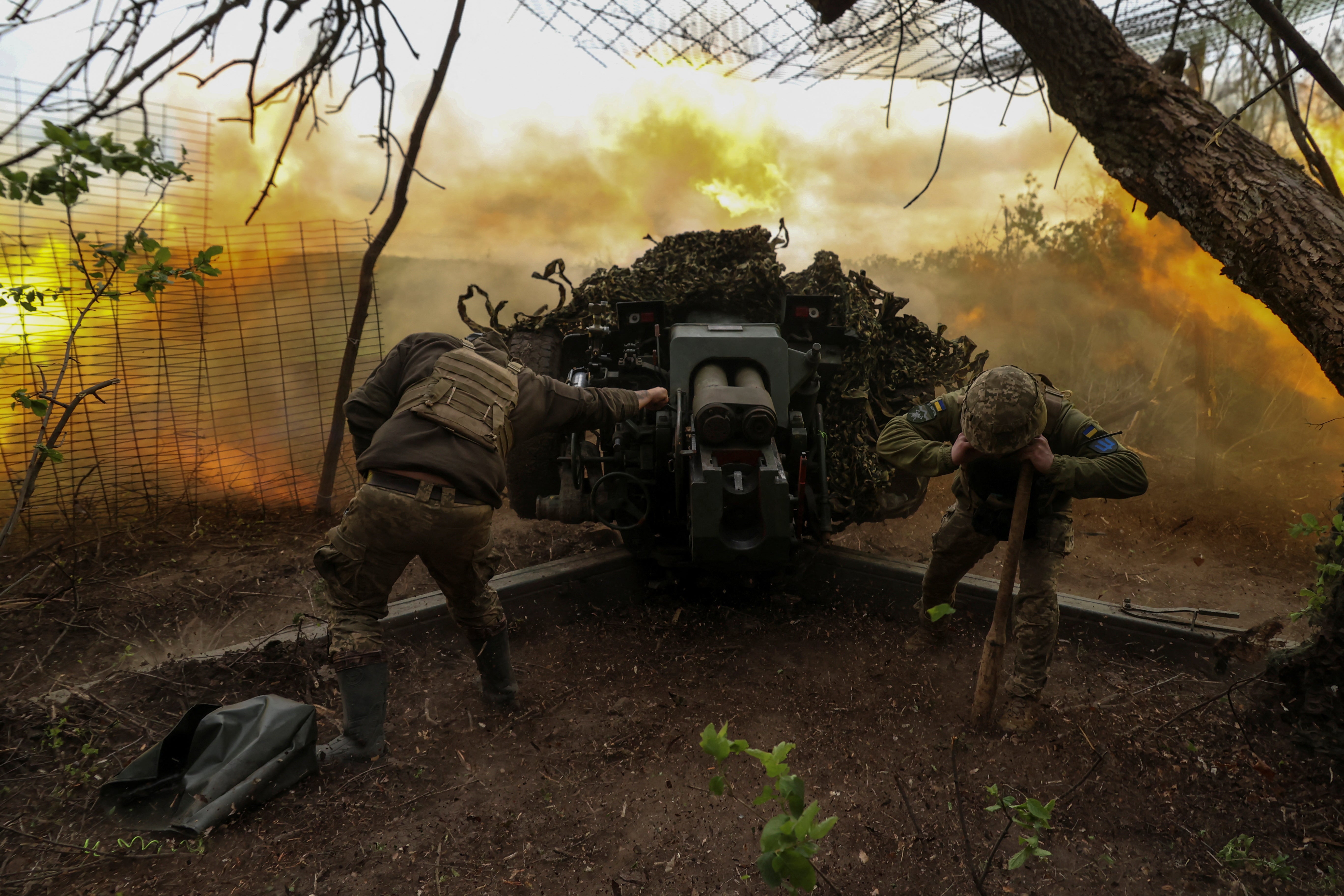 Russia says it repelled surge of Ukrainian attacks in the east
FILE PHOTO: Ukrainian servicemen of the 10th Mountain Assault Brigade 'Edelweiss' fire a D-30 howitzer towards Russian troops at a position in a front line, amid Russia's attack on Ukraine, near the town of Soledar, Donetsk region, Ukraine May 6, 2023. REUTERS/Sofiia Gatilova
MOSCOW (Reuters) -Russia's defence ministry said on Friday its forces had repelled a surge of attempted Ukrainian attacks against its positions in eastern Ukraine and indicated that its troops had fallen back in one area for what it said were tactical reasons.
The ministry said in a statement that Ukraine had deployed more than a thousand troops and up to 40 tanks in 26 attempted attacks across a frontline extending over 95 kilometres. It said the attacks had taken place in the direction of the town of Soledar, which is held by Moscow's forces.
"All the attacks by Ukrainian army units were rebuffed," the ministry said. "No breakthroughs in the defensive lines of Russian forces were allowed to take place."
The same statement did indicate however that Russian forces had fallen back a bit in one area of the front, taking up what it described as "more favourable positions" near the Berkhivka reservoir northwest of Bakhmut.
Wagner Group founder Yevgeny Prigozhin, whose troops have done the bulk of the fighting in and around Bakhmut, said via his press service that what the defence ministry had described was in fact a "rout".
Prigozhin, who has been openly feuding with the Defence Ministry for months, has repeatedly accused the top brass of sabotaging Wagner's push for Bakhmut and this week accused them of doing too little to protect Bakhmut's flanks thus allowing Ukrainian forces to retake some ground.
The shattered city of Bakhmut has been the focus of fierce fighting for months.
The defence ministry said on Friday that Russian assault units, a reference to Wagner mercenary fighters, were continuing to fight in western Bakhmut - backed by paratroopers.
Ukrainian attempts to counter-attack Bakhmut's flanks were being repelled, it added.
Ukrainian Deputy Defence Minister Hanna Maliar said earlier on Friday that Ukrainian forces had advanced by about 2 km around Bakhmut this week and had not given up any positions there in that time.
Reuters was unable to verify the situation on the battlefield.
(Reporting by Reuters reportersAditional reporting by Felix LightEditing by Andrew Osborn and Frank Jack Daniel)
MORE FROM THE
OAF NATION NEWSROOM