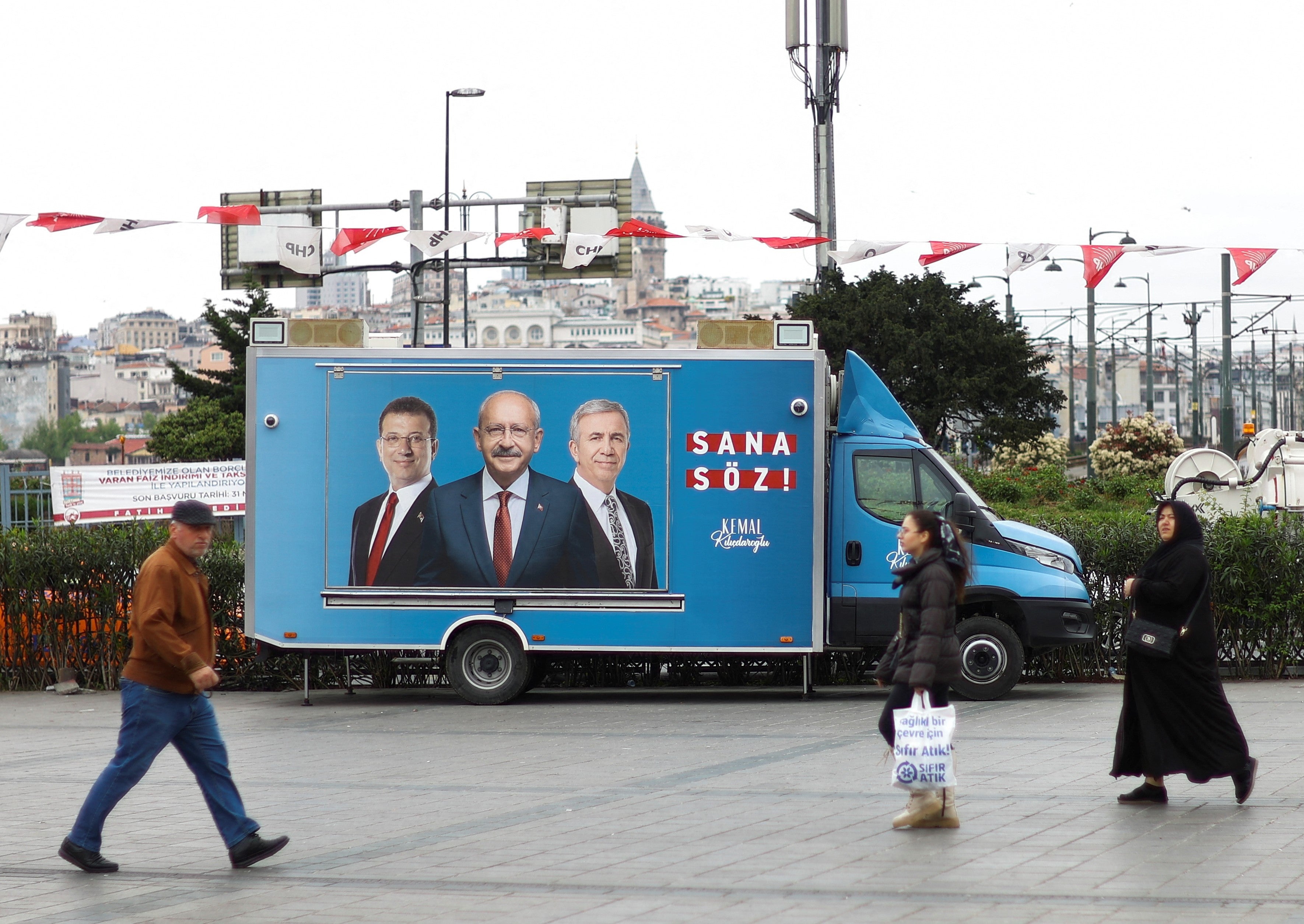 Erdogan rival claims to have evidence of Russian influence on Turkey vote
People walk past a campaign car of Kemal Kilicdaroglu, presidential candidate of Turkey's main opposition alliance, Istanbul Mayor Ekrem Imamoglu and Ankara Mayor Mansur Yavas, ahead of the May 14 presidential and parliamentary elections, in Istanbul, Turkey May 12, 2023. REUTERS/Hannah McKay
ANKARA (Reuters) -Kemal Kilicdaroglu, main challenger of Turkish President Tayyip Erdogan, said on Friday his party has concrete evidence of Russia's responsibility for the release of "deep fake" online content ahead of Sunday's presidential elections.
Asked why he tweeted on Thursday that Russia was responsible, he told Reuters: "If we did not have it [concrete evidence], I wouldn't have tweeted." The party did not contact the Russian embassy in Turkey over the issue, he added.
He did not elaborate on what the online content was.
Russia has been accused in the past of meddling in foreign polls, including in United States elections, which it denies.
    "We find it unacceptable for another country to interfere in Turkey's election process in favour of a political party. I wanted the whole world to be aware of this, that is why I made this call openly by a tweet," he said in an interview.
Kilicdaroglu's comments were made ahead of a statement by the Kremlin which denied Russia's interference in the Turkish presidential election.
Kremlin spokesman Dmitry Peskov said the people who had passed on such allegations to Kilicdaroglu were liars and that Russia valued its ties with Turkey enormously.
In his office in Ankara, Kilicdaroglu - who is leading Erdogan in most opinion polls - reiterated his confidence that he would "replace an authoritarian rule" on Sunday.  
The 74-year-old former bureaucrat stressed that Turkey has close economic links with Russia and signalled that he would pursue a fine balance in foreign policy over relations with Moscow.
    "We want to maintain our relations, we don't want to break our friendly relations but we will not allow interference in our internal matters," he said.
Kilicdaroglu also said he would push for another peace initiative between Russia and Ukraine once he wins the Sunday vote.
    "It is very important for us, and for the whole world, if we succeed to reach a peace agreement between Russia and Ukraine. But we should make it clear that we do not find it right for any country to occupy another country," he said.
    When asked whether he would support NATO enlargement if he is elected as president, he said: "Of course," without elaborating.
    "NATO is not only solely a military organisation in the 21st century, it is also an organisation that defends democracy. We will maintain our relations with NATO within the same framework as we had in the past," Kilicdaroglu added.
Kilicdaroglu said a fundamental problem of Turkey's foreign policy in Erdogan's AK Party (AKP) tenure was the exclusion of the foreign ministry in the policy making process.
"We would pursue a peace-oriented foreign policy that prioritises Turkey's national interest. Our priority our national interests and to act in line with the modern world," Kilicdaroglu added.
ECONOMY
Kilicdaroglu said gains in Turkish assets on Thursday indicated markets believe his alliance will win on Sunday. On Thursday, Turkey's main stock index jumped, while credit default swaps dropped.
"We already see that there is a relief inside and outside the country as it has become clear that I will be elected as the president," Kilicdaroglu said, adding that this was because markets trusted his alliance would rule the country with rational policies.
"This gives great confidence to domestic and foreign financial circles. [The market moves on Thursday] were the first steps of this trust. Turkey's borrowing costs will also decrease," Kilicdaroglu said.
"We need to appoint someone who is trusted by financial circles as the head of the central bank. This is the first thing foreign investors will see. Plus, we will ensure the independence of the central bank."
(Reporting by Orhan Coskun, Ece Toksabay and Huseyin Hayatsever; Editing by Jonathan Spicer, Samia Nakhoul, Alexandra Hudson)
MORE FROM THE
OAF NATION NEWSROOM