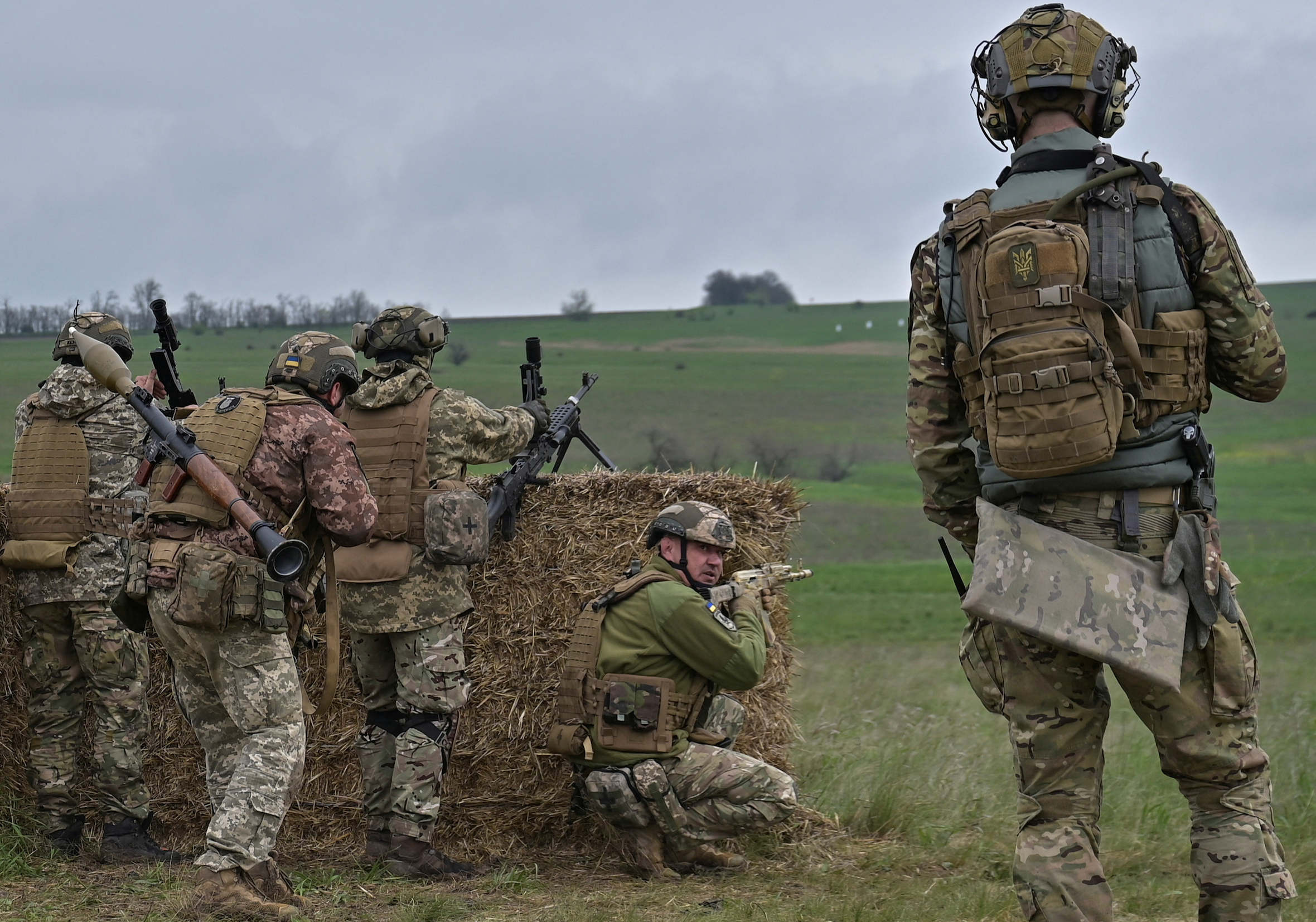 Kyiv says its troops advancing gradually south, set to get 1,700 drones
PHOTO CAPTION: Ukrainian troops train during a military exercise on April 28, 2023. (Stringer/Reuters)
KYIV (Reuters) - Ukrainian troops are gradually advancing in the south and the military is about to receive a consignment of 1,700 strike and reconnaissance drones to help with the counteroffensive, officials said on Wednesday.

Hanna Maliar, the deputy defence minister, reported advances towards the southern, occupied cities of Melitopol and Berdyansk which is on the Sea of Azov and said Kyiv's troops were also successfully attacking in the east on the flanks of occupied Bakhmut.

Russia, which sent tens of thousands of troops into Ukraine in February 2022, holds swathes of territory in the south and east. Ukraine launched a big push to recapture land this summer, but progress has been slow against entrenched Russian positions.

Maliar reported Ukrainian "successes" in the southeast, including near Staromayorske, a village near a cluster of hamlets that Ukraine recaptured in the Donetsk region this summer.

"Battles continue near Staromayorske, our defenders have successes, they were gaining a foothold on the reached frontiers," she said.

In the east, Maliar said Ukrainian forces continued to repel Russian advances in the direction of Kupiansk and Lyman, which Ukraine liberated last year.

Fierce fighting raged, she said, near the villages of Klishchiivka, Kurdyumivka and Andriivka on the southern flank of Bakhmut, a small city reduced to ruins in a bloody, months-long battle that gave Russian forces control of the area for now.


Despite steady Western military aid, Ukrainian military officials have said Russia still has an advantage in artillery, tanks and manpower.

Mykhailo Fedorov, a deputy prime minister, said 1,700 drones were on their way to the front lines to help the offensive.

"All of them are now going to the front to protect the lives of our soldiers, to make our artillery even more accurate, to destroy the enemy," Fedorov said in a video that showed hundreds of drones laid out in rows on a field.

Kyiv has tried different tactics to take out Russian artillery, air defences, munition warehouses and logistic routes.

Ukrainian producers have sharply increased domestic drone production and more than 10,000 drone operators have been already trained with another 10,000 currently receiving training, Fedorov said.



(Reporting by Olena Harmash; editing by Jonathan Oatis)
MORE FROM THE
OAF NATION NEWSROOM