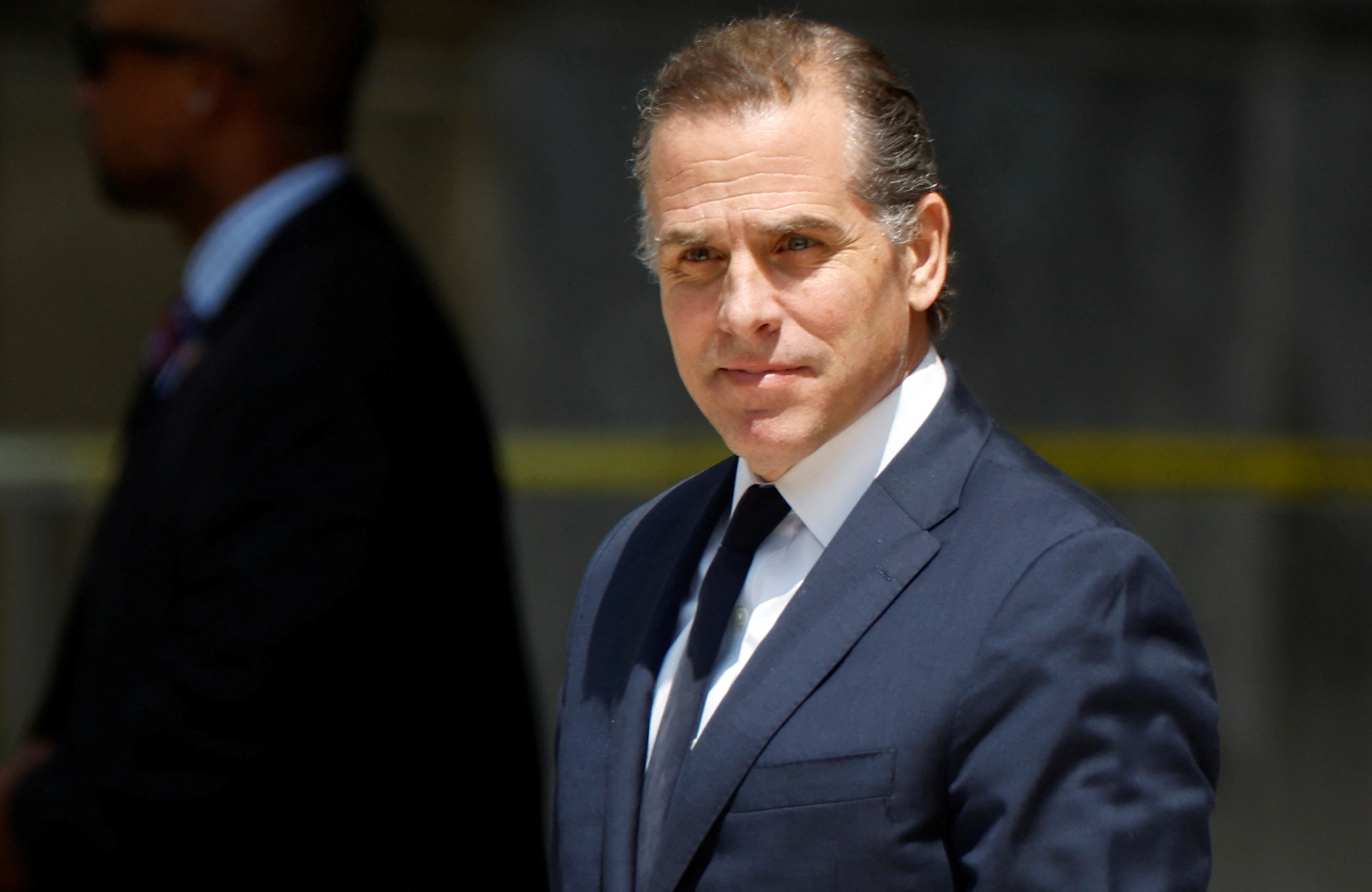 Hunter Biden judge says can't accept plea deal in surprise turn
PHOTO CAPTION: Hunter Biden, son of U.S. President Joe Biden, departs federal court after a plea hearing on two misdemeanor charges of willfully failing to pay income taxes in Wilmington, Delaware, U.S. July 26, 2023. REUTERS/Jonathan Ernst
By Jack Queen

WILMINGTON, Delaware (Reuters) -U.S. President Joe Biden's son Hunter Biden's proposed deal with prosecutors to plead guilty to tax charges and avoid a gun charge hit a snag on Wednesday when the judge in the case said she needed more time to review their agreement.

The news means that the younger Biden's legal woes will continue to dog the president as he campaigns for re-election in 2024. His leading rival, former President Donald Trump, and Trump's Republican allies in Congress had criticized the deal as unfairly favoring the president's son.

The stunning turnabout came after what was expected to be a routine plea hearing turned into a three-hour affair featuring hushed negotiations between lawyers and pointed questions from U.S. District Court Judge Maryellen Noreika.

"I cannot accept the plea agreement today," she said, asking the parties to brief her on why she should accept it, meaning that Hunter Biden's lawyers and prosecutors may yet persuade her to approve the deal as it was previously negotiated, or to alter it to a form she can accept. She said she did not want to "rubber stamp" a plea deal.

Hunter Biden at the hearing pleaded not guilty to charges of failing to pay taxes on more than $1.5 million in income in 2017 and 2018 despite owing more than $100,000, prosecutors allege.

He did not enter a plea in a separate case where he is charged with unlawfully owning a firearm while addicted to and using a controlled substance, a felony.

Hunter Biden's lawyers and prosecutors disagreed in court over whether the deal they had reached would have prevented the younger Biden from being charged with any other crimes, with defense lawyer Chris Clark at one point saying the deal was "null and void."

Biden said he would not plead guilty to the tax charges without a deal in place to avoid prosecution on the gun charge, but changed course after extensive negotiations between his lawyers and prosecutors while Noreika waited in her chambers.

The parties ultimately agreed that the deal would only grant Biden immunity on a limited set of tax, drug and firearm offenses.


POLITICALLY CHARGED CASE

Republicans have for years accused Hunter Biden of leveraging his father's political power for personal gain in his dealings in Ukraine and China, though the probe by U.S. Attorney David Weiss of Delaware, a Trump appointee, has not turned up any evidence to support those claims.

News of the plea deal in June sparked accusations of favorable treatment for the president's son from Trump and his Republican allies, who have for years accused the younger Biden of influence-peddling abroad, among other things.

Those allegations spurred the criminal investigation by Weiss, who in a departure from typical practice was allowed to remain in office to continue the probe after Biden defeated Trump in the 2020 election.

Weiss was present in court on Wednesday but did not speak.

White House spokesperson Karine Jeane-Pierre said the president supported his son, adding, "Hunter Biden is a private citizen and this was a personal matter for him."

U.S. Attorney General Merrick Garland has denied allegations of special treatment and said Weiss was given full autonomy to investigate Hunter Biden. Weiss has also said he faced no interference.

Hunter Biden has worked as a lobbyist, lawyer, consultant, investment banker and artist. He has publicly discussed his struggles with addiction, including alcoholism and crack cocaine use.

Trump, who was indicted in New York for allegedly falsifying business records to cover up hush money payments to a porn star and faces federal criminal charges in Florida for his handling of classified documents upon leaving office in 2021, has criticized Hunter Biden's deal with prosecutors as a mere "traffic ticket."

(Reporting by Jack Queen; Additional reporting by Trevor Hunnicutt; Editing by Scott Malone, Noeleen Walder and Jonathan Oatis)
MORE FROM THE
OAF NATION NEWSROOM