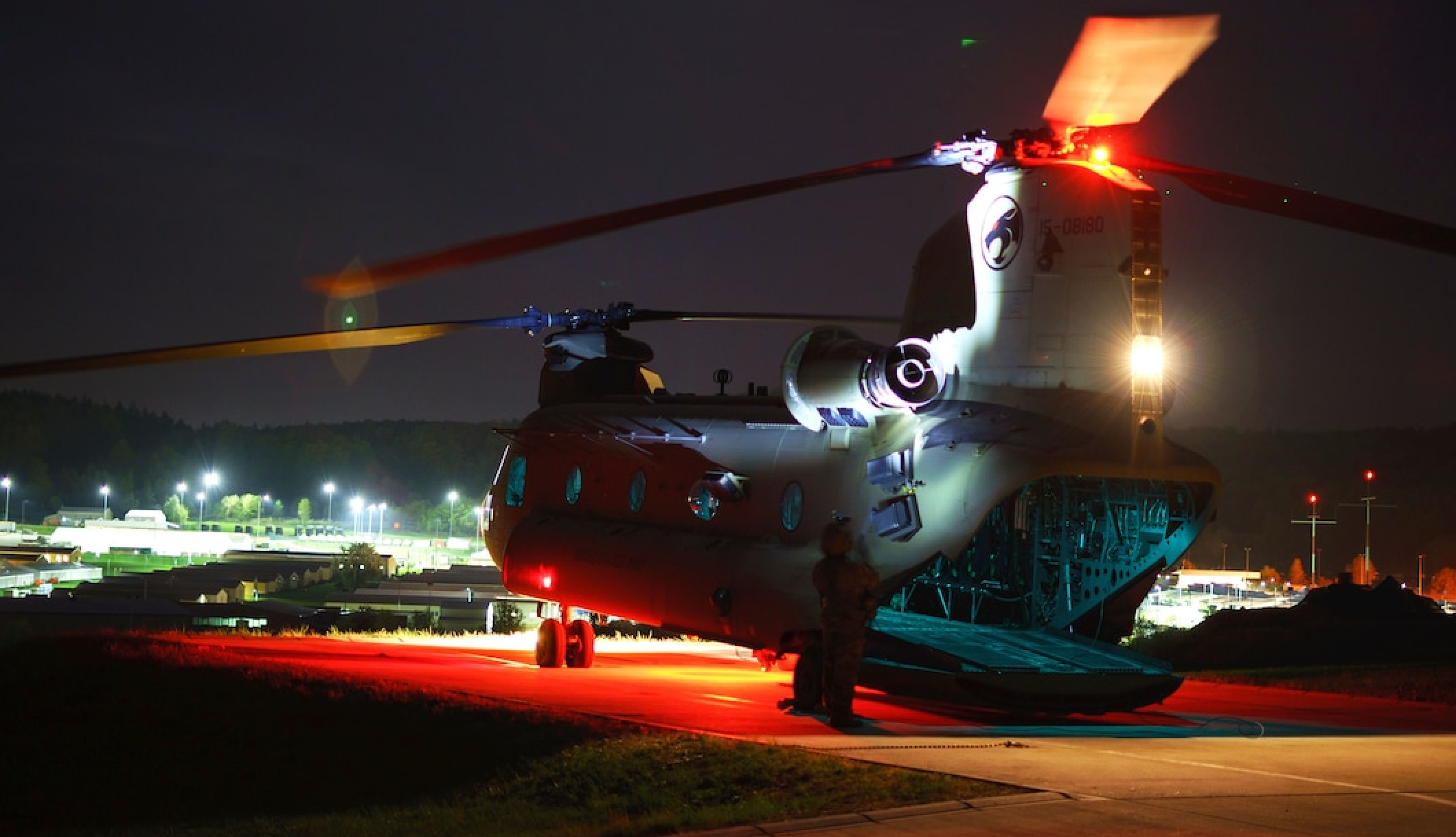 Germany plans to buy 60 Chinook helicopters, source says
PHOTO CAPTION: Illustrative photo — U.S. Army Staff Sgt. Fitz Hall shines a light on the tail of a CH-47 Chinook helicopter during pre-flight checks before a night assault mission at Hohenfels Training Area, Germany, April 23, 2018. (U.S. Army photo by Sgt. Gregory T. Summers via U.S. Department of Defense website)
BERLIN (Reuters) - Germany aims to purchase 60 Chinook helicopters from Boeing in a package that would cost up to 8 billion euros ($8.71 billion), including necessary infrastructure for the aircraft, a parliamentary source told Reuters on Friday.
The sum includes the procurement of the CH-47 heavy-lift helicopters for 6.27 billion euros, 700 million euros for service, 240 million euros for national contracts and 750 million euros for the infrastructure, the source said, confirming reports by other media.
The deal still needs approval by the German parliament's budget committee, which is set to discuss the contract before the summer break.
Germany announced its intent to buy 60 Chinook heavy-lift helicopters from Boeing last year to replace its ageing CH-53 fleet. Originally, six billion euros had been budgeted for the helicopters.
Germany's Chancellor Olaf Scholz shifted policy in February 2022 after Russia invaded Ukraine, sharply increasing defense spending and committing 100 billion euros for the Bundeswehr, Germany's armed forces.
($1 = 0.9181 euros)
(Reporting by Sabine Siebold; editing by Maria Sheahan and Tom Sims)
MORE FROM THE
OAF NATION NEWSROOM