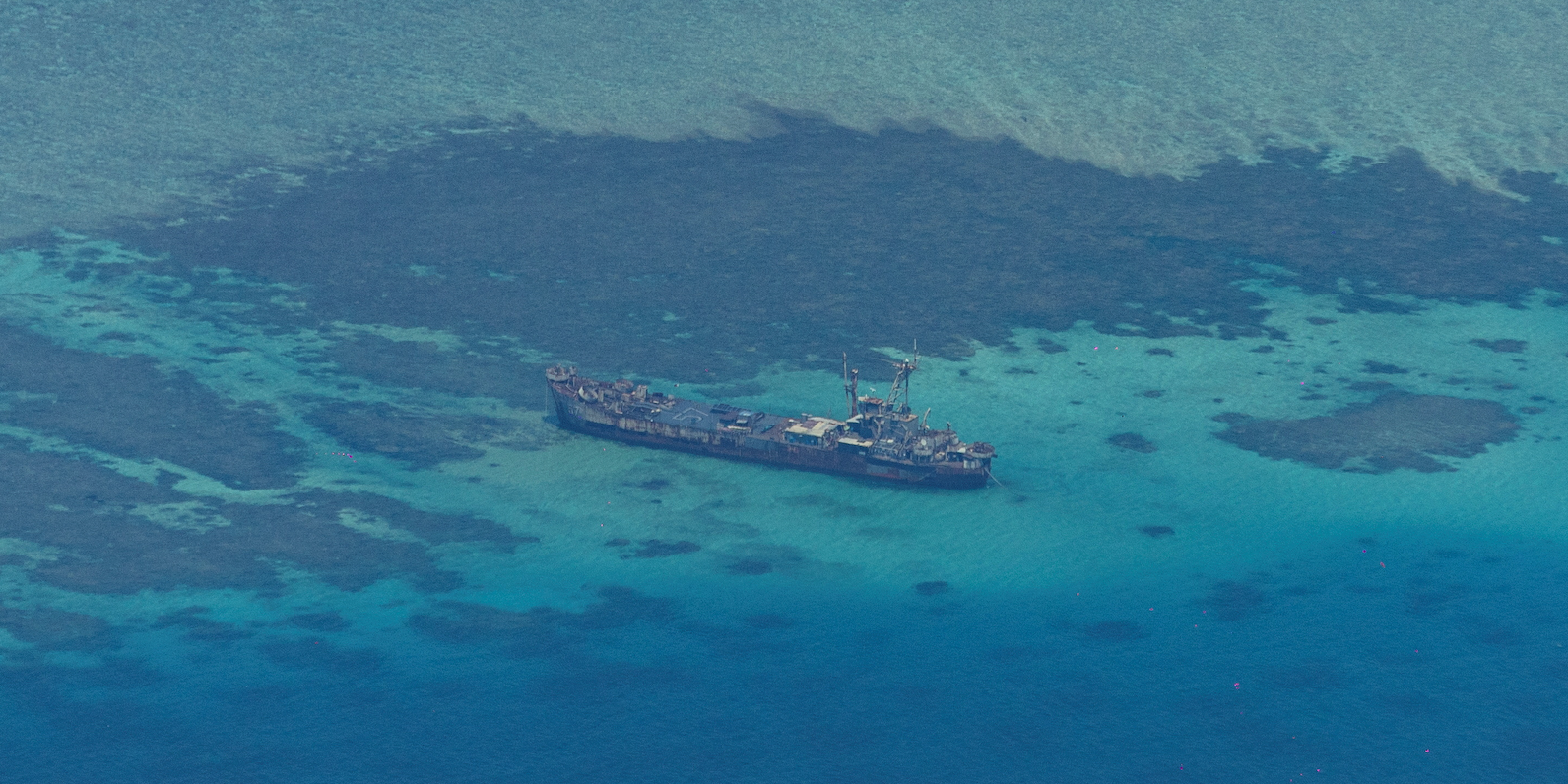 China, Philippines renew dispute over static warship
PHOTO CAPTION: Representational photo — A PLA-N Luyang-class guided missile destroyer and a PLA-N Yuzhao-class amphibious transport dock vessel leave the Torres Strait and enter the Coral Sea February 18, 2022. Picture taken February 18, 2022. Australian Defence Department/Handout via REUTERS
By Ella Cao, Liz Lee and Karen Lema

BEIJING/MANILA (Reuters) - China again asked the Philippines to tow away a grounded warship - a World War Two-era vessel now used as a military outpost - from a disputed shoal on Tuesday, after Manila rejected Beijing's earlier demand.

Tensions have soared between the two neighbours over the South China Sea under Philippine President Ferdinand Marcos Jr, with Manila pivoting back to the United States, which supports the Southeast Asian nation in its maritime disputes with China.

China's embassy in Manila criticised Washington for "gathering" its allies to continue "hyping up" the South China Sea issue and the boat incident.

"South China Sea is not a 'safari park' for countries outside the region to make mischief and sow discord," the embassy said in a statement on Tuesday.

The Second Thomas Shoal, which lies within the Philippines exclusive economic zone, is home to a handful of troops living aboard the former warship Sierra Madre. Manila deliberately grounded the vessel in 1999 to reinforce its sovereignty claims.


Manila has repeatedly accused the Chinese coastguard of blocking resupply missions to its troops there, as it did on Aug. 5 when it sprayed a Philippine vessel with a water cannon.

China maintains the Philippines' occupation of the shoal is illegal.

The Philippine military described the Chinese coastguard's actions on Saturday as "excessive and offensive". China said the incident was a "warning" and that it has exercised "rational restraint" at all times.

China's defence ministry on Tuesday urged Manila to stop all "provocative" actions, and vowed to continue taking necessary measures to safeguard sovereignty and maritime rights.


CONTROL

Security experts say China's actions around the atoll point to one thing - Beijing wants to take control of Second Thomas Shoal, also known in China as Renai Reef, and Ayungin in Manila.

"We must reestablish sea control around the shoal because if we don't control it, our resupply is vulnerable to their coercive tactics," said Rommel Ong, a maritime security expert and retired vice commander of the Philippine Navy.

It was not the first time the Chinese coastguard has directed a water cannon at a Manila boat, having done the same in November 2021.

No one was hurt during the Aug. 5 incident, but Philippine officials said on Monday one of Manila's two boats did not complete its resupply mission. Both were back in a Philippine port.

China claims sovereignty over almost the entire South China Sea, which overlaps with the exclusive economic zones of Malaysia, Vietnam, Brunei, Taiwan and the Philippines.

Both Ong and Collin Koh, a security fellow at Singapore's S. Rajaratnam School of International Studies, believe China would think twice about using outright force to occupy the shoal lest it triggers a 1951 U.S.-Philippines mutual defence treaty.

"There's probably no question about whether China has the means to up the ante here, but more about its willingness over those political risks," said Koh.

Jonathan Malaya, assistant director general of the Philippines National Security Council, urged China "not to escalate matters" and put lives at risk.

Japan and France, through their embassies in Manila, have expressed concern over China's recent actions and repeated their support for a 2016 arbitral ruling that invalidated Beijing's expansive South China Sea claims.

The Philippine foreign ministry said on Monday it had been unable to reach its counterpart for several hours during the water cannon incident.



(Editing by Bernadette Baum and Alex Richardson)
MORE FROM THE
OAF NATION NEWSROOM