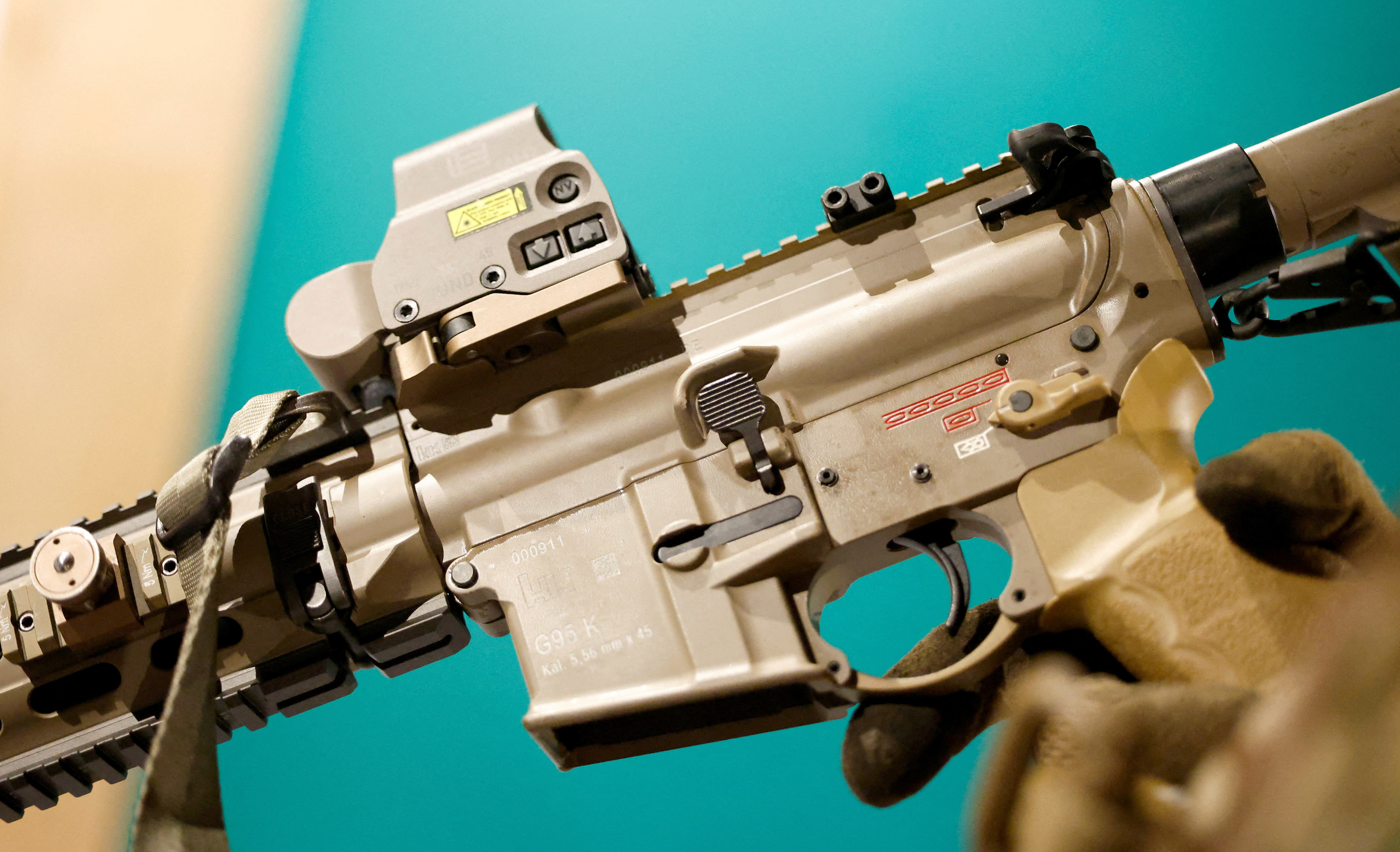 Heckler & Koch takes Finland to market court over rifle choice
PHOTO CAPTION: A soldier of the special forces unit KSK of Germany's army Bundeswehr holds a Heckler & Koch assault rifle G95/HK416 during a training exercise in Calw, Germany, October 24, 2022. REUTERS/Heiko Becker/File Photo
By Anne Kauranen

HELSINKI (Reuters) - German gun maker Heckler & Koch has filed a complaint with the Finnish Market Court over Finland's direct arms purchase from a local manufacturer, bypassing competition rules, court documents seen by Reuters showed on Tuesday.

The German company accuses the Finnish defence forces of breaching Finnish and EU competition rules with a ten-year agreement, made in March jointly with Sweden, to buy assault rifles and other handguns from the Finnish arms maker Sako Ltd, owned by Italy's Beretta.

"The direct procurement in question means that the Finnish Defence Forces may not invite tenders for the procurement of handguns until 2053 and may acquire them from Sako," Heckler & Koch writes in its complaint, referring to three seven-year extension options until 2053 in the agreement between the defence forces and Sako.


Both Finland and Sweden need to renew the standard weaponry of their armies, Finland its RK 62 and RK 95 assault rifles made mostly by Sako, and Sweden its AK 4 and AK 5s, the former being a Swedish-made version of a battle rifle by Heckler & Koch.

Finland has not revealed how many handguns it intends to acquire under the agreement but altogether it has hundreds of thousands of handguns in storage for its war-time strength of 280,000 troops.

The two Nordic nations decided to join NATO military alliance together last year, in response to Russia's February 2022 invasion of Ukraine, and have also stepped up their mutual defence cooperation in the form of joint equipment purchases to increase interoperability.

Finland's defence forces said the procurement followed Finnish and EU exceptions to competition rules on the basis of national security interests.


"The procurement has been carried out as a direct procurement, so that the necessary damage repair capability, maintenance and production know-how is available under all conditions within a certain response time," it said in an emailed statement to Reuters, adding Sako was the only industrial manufacturer of handguns in Finland with sufficient manufacturing capacity.

Contacted by Reuters, Heckler & Koch GmbH declined to comment on the proceeding and did not reveal if it had filed a similar complaint in Sweden.

The Swedish Market Court or Stockholm's Administrative Court found no pending complaints by the German company in their registries.



(Reporting by Anne Kauranen; editing by Christina Fincher)
MORE FROM THE
OAF NATION NEWSROOM