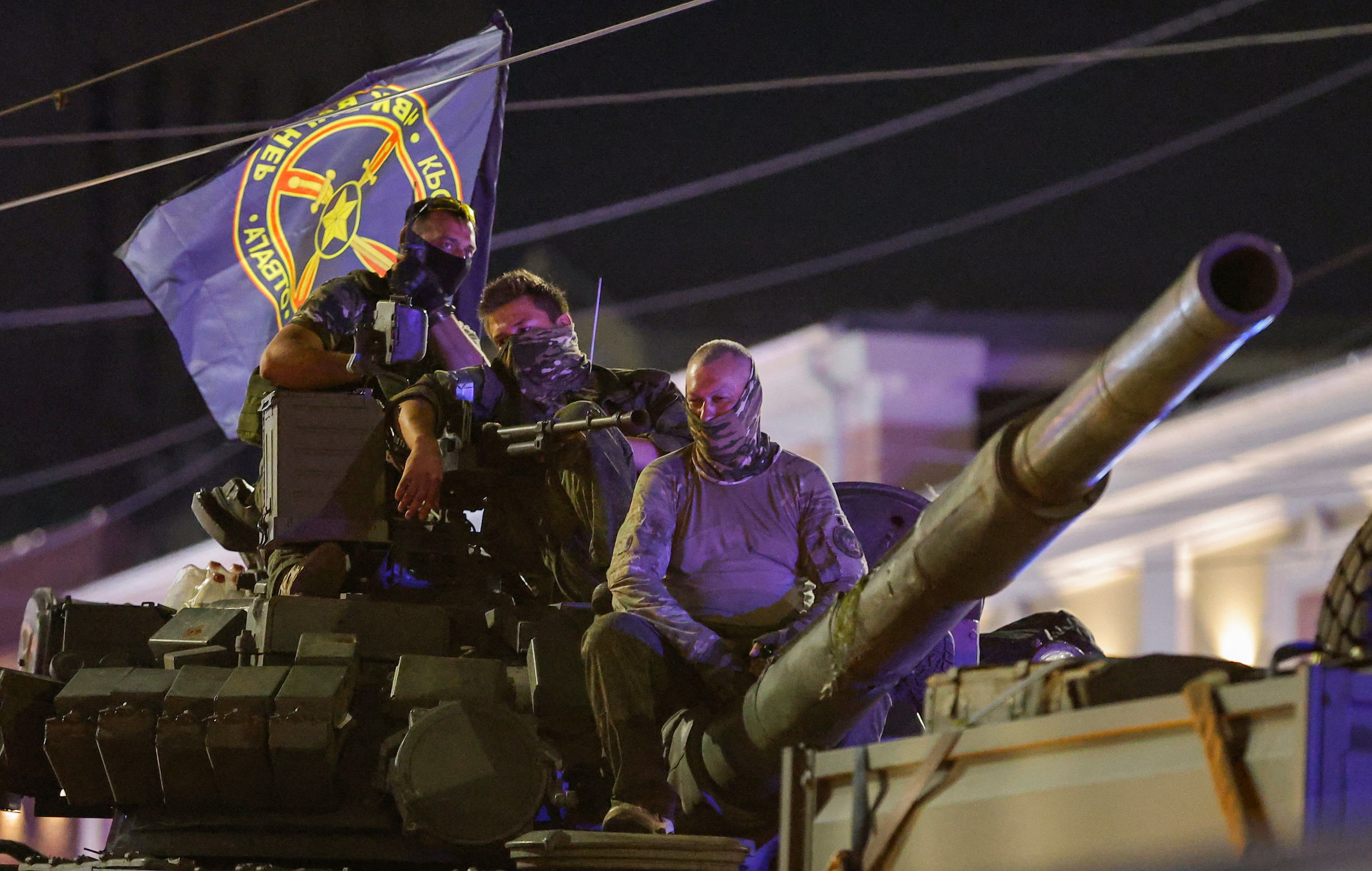 Analysis: What happens to Wagner mercenary group after Prigozhin plane crash?
PHOTO CAPTION: Representational photo — Fighters of Wagner private mercenary group pull out of the headquarters of the Southern Military District to return to base, in the city of Rostov-on-Don, Russia, June 24, 2023. REUTERS/Alexander Ermochenko
(Reuters) -A day before mercenary boss Yevgeny Prigozhin's plane crash, a Russian official visited Libya to reassure allies that fighters from the Wagner Group would remain in the country -- but under Moscow's control.

Meeting in Benghazi, Russian Deputy Defence Minister Yunus-Bek Yevkurov told eastern Libyan commander Khalifa Haftar on Tuesday that Wagner forces would report to a new commander, a Libyan official with knowledge of the meeting said.

There's no indication the timing was anything but coincidental. Yet, Yevkurov's visit "suggests that - if anything - the Russian footprint in Libya might deepen and expand rather than shrink," said Libya researcher Jalel Harchaoui of the Royal United Services Institute.

The military meeting, which followed an aborted mutiny by Prigozhin and Wagner forces against Russian President Vladimir Putin in June, was a sign that Moscow does not mean to relinquish the global network the mercenary group built up.


Now with Prigozhin believed dead, the fate of the complex, lucrative web of military and commercial operations he and Wagner created for Russia across Europe, the Middle East and Africa hangs in the balance.

Wagner has waged major battles in Ukraine, fought in civil wars and insurgencies in Syria, Libya, the Central African Republic and Mali and taken control of gold mines and oil fields along the way.

Putin had already rolled up Wagner operations in Syria. After the mutiny, Wagner's Ukraine forces handed over a base to Russia's regular military and began relocating to an army camp in Belarus, though it is unclear how many of them are there.

In Africa, Wagner may stay more or less intact under new management or be subsumed by another Russian mercenary group. But its ability to operate in places where Moscow may have no formal or legal presence makes it an invaluable tool of Kremlin foreign policy.

"Wagner is a going concern. There are contracts, it is a business, it needs to continue," said John Lechner, a U.S.-based researcher who is writing a book about Prigozhin.

"From a credibility perspective, (Wagner) will try to give the appearance that things are going on normally, that they are still a partner," he said.


'REPLACE A DEAD LEADER'

After the June mutiny, Prigozhin intensified his efforts to bolster Wagner's presence in Africa. In a video on Monday from an unnamed African country, he said: "The Wagner PMC makes Russia even greater on all continents, and Africa - more free".

That push may not have been welcomed in Moscow and there have been reports of the Kremlin creating alternative companies to take over Wagner operations - though none appear capable of doing so yet.

In countries where Wagner operates through an official agreement with Moscow, analysts do not expect much to change - for now.

In Libya since 2019, as many as 2,000 Wagner guns-for-hire helped Haftar's faction in his assault on Tripoli until a 2020 ceasefire and have guarded military and oil installations according to independent analysts and Human Rights Watch.

As Russia has no official military role in Libya and could not intervene directly without breaking a U.N. arms embargo, its involvement there would still have to be through Wagner or a similar outfit, Harchaoui said.

A Haftar spokesperson did not respond to questions about the meeting with the Russian official, but earlier said the men discussed military cooperation including coordination on training in Russian weapons. Russia's Defence Ministry had said the talks would look at cooperation in fighting terrorism.

In CAR, President Faustin-Archange Touadera's political adviser Fidele Gouandjika lamented Prigozhin's death as "a great sadness" because his men "helped save democracy" in their role helping the government in its civil war.

But as Wagner was there through a state-level agreement with Russia, "nothing will affect the presence of these instructors" he said. Prigozhin is "a dead leader, we can replace him" Gouandjika added.

Still, the uncertainty created risks in Africa, said Burkina Faso political analyst Ousmane Pare.

"We can already imagine the operational difficulties the movement could now face, and it goes without saying that there will be repercussions for the African countries in which it is involved," he said.

The fate of Wagner's purely economic - rather than security assets - may be even harder to determine. There has been no information on the fate of Evro Polis, a company Wagner is said to own with oil assets in Syria.

There is little information on how much it makes from its mining and logging businesses in CAR and other African countries. But trying to bring such assets under direct Russian control, or handing them to another contractor, would be difficult.

"You can't buy a company and fire all the employees and expect things to run the same way. Maybe how the pie is divided changes, but the pie is still there," said Lechner.

(Reporting by Reuters Libya newsroom, Filip Lebedev in Tblisi, Ed McAllister in Dakar, Judicael Yongo in Bangui, Thiam Ndiaga in Ouagadougou, Tiemoko Diallo in Bamako and Suleiman al-Khalidi in Amman; Writing by Angus McDowall; Editing by Cynthia Osterman)
MORE FROM THE
OAF NATION NEWSROOM