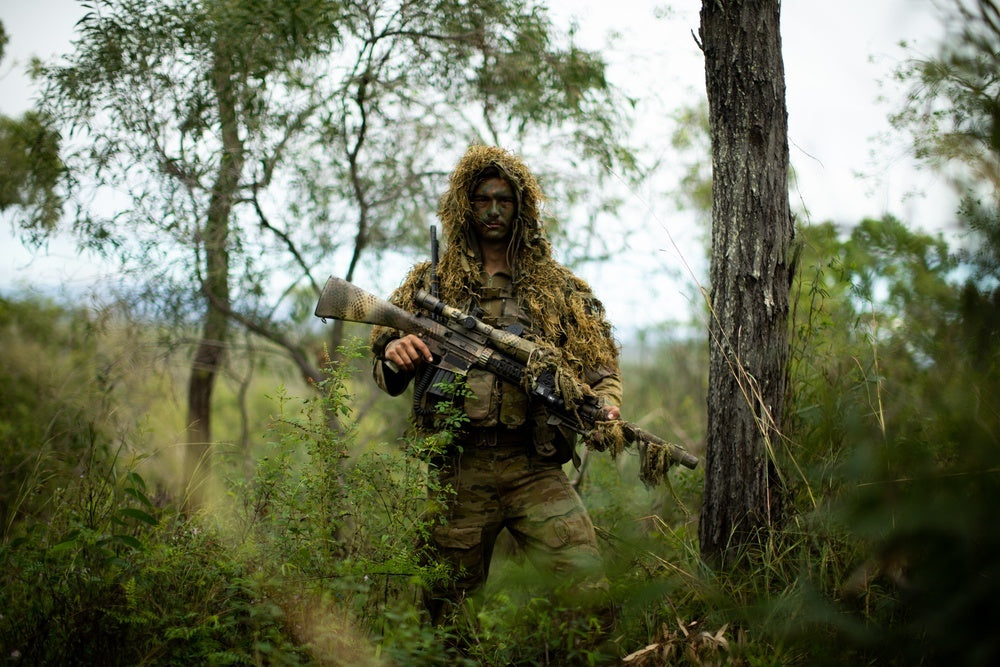 Analysis: Australia taking more assertive military stance to deter conflict
Representational photo: Australian Army Lance Cpl. Brendan Bond, a sniper with 6th Battalion, Royal Australian Regiment, 7th Brigade, poses for a photograph during exercise Southern Jackaroo 22 at Shoalwater Bay Training Area, Queensland, Australia, May 18, 2022. (U.S. Marine Corps Photo by Cpl. Cedar Barnes via U.S. Defense Visual Information Distribution Service)
SYDNEY (Reuters) -Australia will outline its defence plans on Monday, and its leaders are previewing a more assertive posture - in which it can strike farther, faster - while working with mid-size allies to reduce tensions as the United States and China square off.
The Labor government of Anthony Albanese will lay out those proposals on Monday in response to a wide-ranging and secret defence review of Australia's investment in modern military systems and logistics, and how they would fare in a sudden conflict.
The review examined how Australia could better integrate with its AUKUS partners the United States and Britain, as well as other allies, the government has said. The AUKUS countries last month announced Australia would spend A$368 billion on nuclear-powered submarines, and will jointly develop hypersonic weapons to catch up to China.
British and U.S. nuclear submarines will also start rotations through a Western Australian naval base in advance of the joint production of the AUKUS nuclear submarine in the next decade.
Excerpts of the review released to media on Friday evening show it warns of increased costs and severe workforce pressure. It also says spending should be focused on weapons such as amphibious landing vehicles, anti-ship missiles and mobile long-range rocket systems.
Foreign Minister Penny Wong and Chief of the Defence Force Angus Campbell have said in recent days that Australian forces need to be capable of responding to potential adversaries whose weapons are faster, can strike farther and are more precise than in the past.
Changing that equation is crucial to the future of Australia's military, they said.
In an address to the National Press Club on Monday, Wong said the region should not be reduced to a binary competition between the United States and China; Australia wanted to work with other middle-sized countries, including in Southeast Asia, to deter aggression, she said.
"America is central to balancing a multipolar region... We cannot just leave it to the U.S.," she said.
Since 2017, after Australia's top trading partner, China, began militarising islands in the South China Sea along vital trade routes, and the Trump presidency called into question the United States commitment to U.S. international engagement, Australia's foreign policy has focused on building a mesh of middle-sized democracies to balance China's rise.
It revived the Quad of Japan, India and the United States, which will in August hold its Malabar naval exercise off the Western Australia coast for the first time. Australia's largest joint land military exercise will be held in July involving 30,000 troops from 11 nations, with Philippines, Singapore and Thailand observing.
Campbell said Australia's defence forces would enhance how they could operate alongside partners, but has ruled out foreign bases on its soil and will always retain control of its forces. The military will focus not just on territorial defence but national interests, including trade routes and submarine cables that connect the island to international telecommunications.
Wong said Australia must avert war, and would not speculate on Taiwan, other than to say a conflict would be "catastrophic for all".
The most important new assumption in the review is that Australia could come under attack with no warning from Chinese missiles and that Chinese ships will operate far from their home shores, said Michael Green, chief executive of the U.S. Studies Centre at the University of Sydney.
Australia must be able "to ensure sovereign decision making but be ready to fight tonight," Green said.
Even as it beefs up its military, Australia says China will remain an important trade partner.
The Labor government, elected last year, has stabilised its diplomatic relationship with China, and trade blocks imposed by Beijing on about a dozen Australian exports from coal to timber are easing.
Two-way trade worth A$285 billion a year is dominated by Australian iron ore exports that China cannot easily replace.
Wong has warned Australian exporters to diversify their markets, and said ties with China would not return to the heights of 15 years ago, nor would Australia be able to separate its strategic relationship with the United States from its economic relationship with China.
Australia, which supplies nearly half the world's lithium, is seeking investment from allies, including Japan and India, for its emerging critical minerals industry to reduce global reliance on China, ministers have said.
One of the world's top LNG exporters, Australia's top gas customers last year were Japan, China and South Korea.
(Reporting by Kirsty Needham. Editing by Gerry Doyle)
MORE FROM THE
OAF NATION NEWSROOM