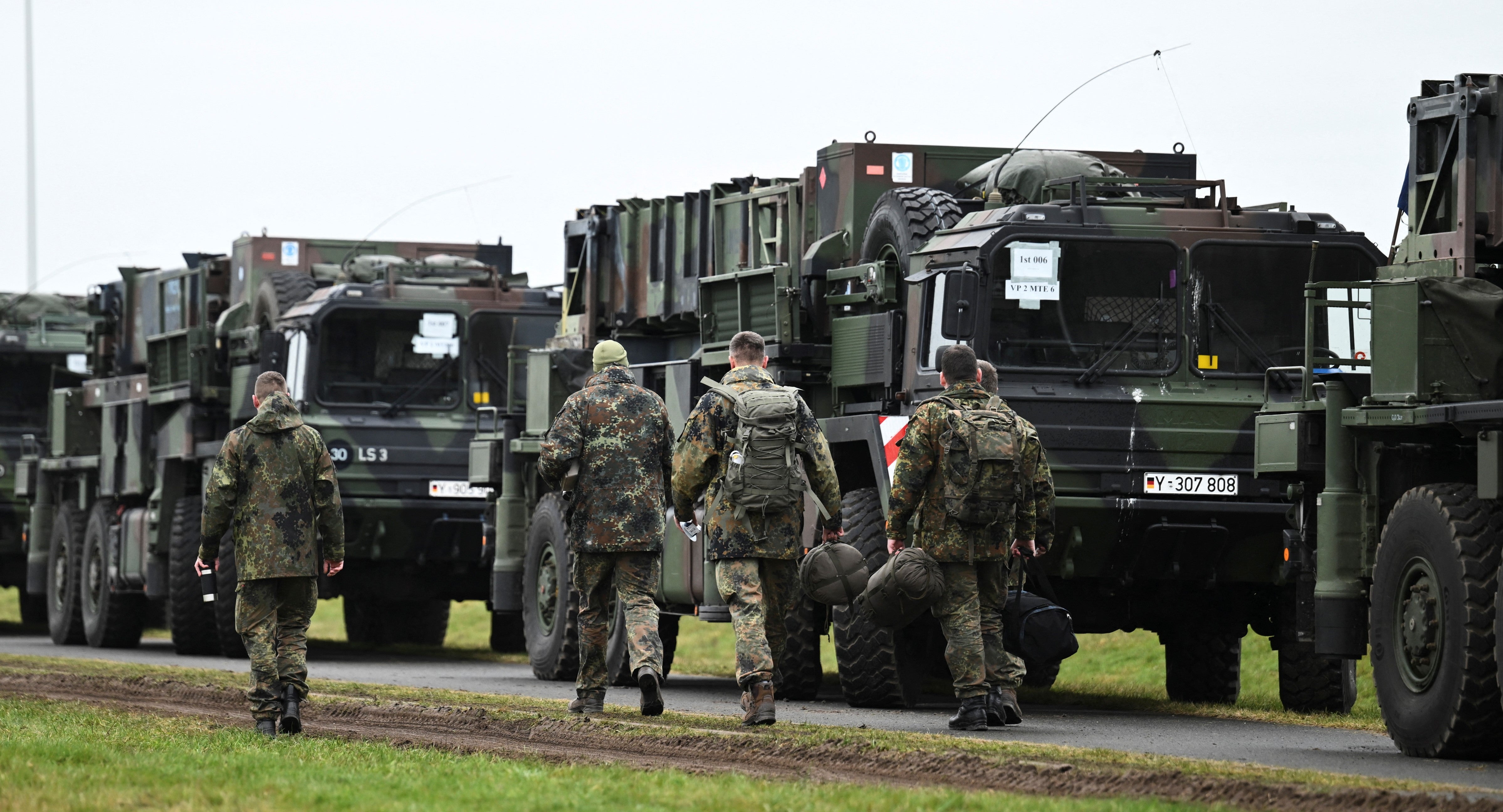 Germany to end Patriot air defense deployments in Poland, Slovakia
German Air Force soldiers walk near the convoy vehicles, as the mobile defense surface-to-air missile systems, Patriots, are transported to Poland from Gnoien, Germany, January 23, 2023. REUTERS/Annegret Hilse
BERLIN (Reuters) - The German military will end its Patriot anti defence units in fellow NATO members Slovakia and Poland this year, a spokesperson for the defence ministry was quoted as saying, as Berlin tries to make the best use of its limited military resources.
"The nations have been informed about the plans," a spokesperson for the Ministry of Defence was quoted as saying by Funke media group.
The deployment in Poland should end in June while the one in Slovakia will expire by the end of year, the spokesperson added.
Berlin offered to deploy three of its Patriot units to Poland to help secure its air space last year after two men were killed by a stray Ukrainian missile that struck the Polish village of Przewodow last November.
Germany dispatched the first two of the three units to Poland in January while the Patriot air defence system started arriving in Slovakia from NATO partner countries last March, shortly after the start of the war in Ukraine, to help reinforce the defence of NATO's eastern flank.
The German government has also delivered a Patriot system from army stocks will also be delivered to Ukraine this year.
Germany had 36 Patriot units when it was NATO's frontline state during the Cold War. Today, the German forces are down to 11 Patriot units.
"If the situation allows it, it makes sense to change the situation. We need the flexibility because we don't have an infinite amount of equipment," Marie-Agnes Strack-Zimmermann, the head of the German parliament's defence committee was quoted as saying by Funke.
(Reporting by Riham Alkousaa and Sabine Siebold; Editing by Hugh Lawson)
MORE FROM THE
OAF NATION NEWSROOM