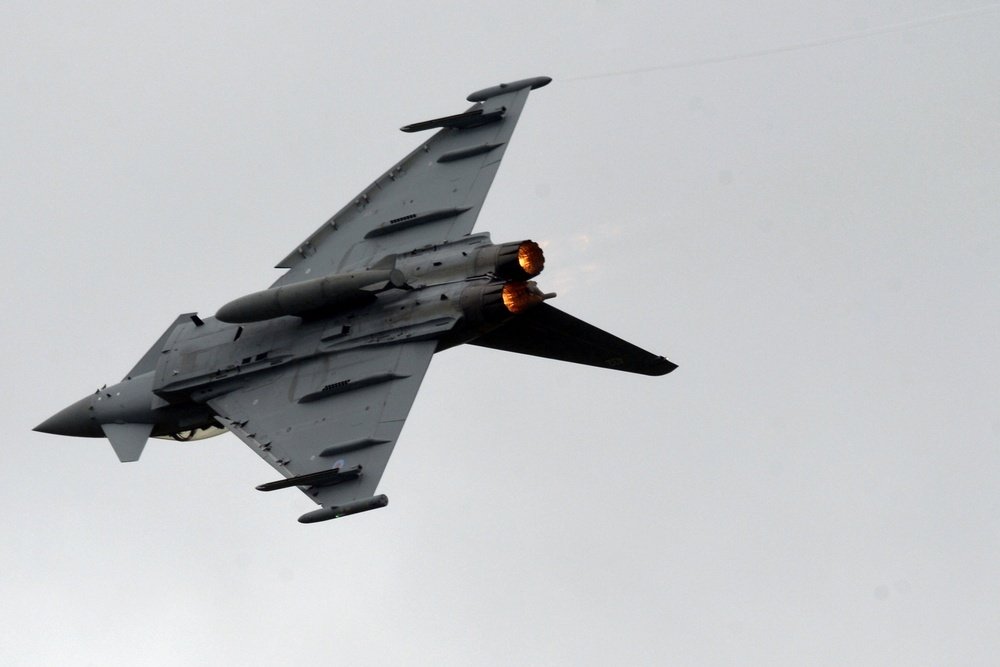 Zelenskiy, in London, wins pledge to train pilots on NATO jets
KYIV/LONDON (Reuters) -Ukraine's President Volodymyr Zelenskiy visited Britain on Wednesday to drum up aid, winning a pledge to train Ukrainian pilots on advanced NATO fighter jets, a big symbolic step up in Western military support.
On just his second trip abroad since Russia invaded Ukraine on Feb. 24, he met Prime Minister Rishi Sunak and addressed the British parliament, calling for "combat aircraft for Ukraine. Wings for freedom".
Western countries have so far held back from giving planes or other weapons capable of striking deep into Russia and Britain's training pledge gave no time frame and stopped short of a commitment to provide Ukraine with any actual jets.
But it appeared to signal a notable shift in support and could pave the way for other countries to send jets.
Zelenskiy said two years ago he had left the British parliament thanking lawmakers for delicious English tea. Now he intended to leave "thanking you in advance for powerful English planes".
He is expected to travel on Thursday to Brussels, where leaders of EU countries are gathering for a summit.
Greeted by Sunak on the steps of his office at Number 10 Downing Street to applause from onlookers, Zelenskiy thanked Britain for its support "from the first days of the full-scale invasion".
Sunak later appeared in parliament where he told lawmakers Britain would give Ukraine the support it needs "to ensure a decisive military victory on the battlefield this year".
Zelenskiy was also due to meet King Charles III and visit Ukrainian troops training in Britain.
During the visit, Britain announced the addition of new names to its Russia sanctions blacklist, as well as plans to accelerate the supply of military equipment to Kyiv, including unspecified longer range weapons.
A British training programme for Ukrainian troops would be extended to include Ukraine's air force, which "will ensure pilots are able to fly sophisticated NATO-standard fighter jets in the future," Sunak's office said.
Last month Britain was the first Western country to offer battle tanks, soon followed by the United States and European allies.
German Chancellor Olaf Scholz, publicly more cautious than some other Western leaders on arms deliveries, told lawmakers in Berlin decisions on weapons were best when coordinated behind the scenes, rather than announced separately by countries in a "public competition to outdo each other".
Scholz also said he expected strong demonstrations of support for Ukraine from this week's EU summit, and a new round of European sanctions on Russia around the anniversary of the invasion.
SCALED-UP PLEDGES
Western countries have dramatically scaled up their pledges of military support for Ukraine since the start of the new year, culminating with the offer of tanks. Kyiv still wants longer range missiles as well as warplanes.
After major Ukrainian gains in the second half of 2022, Russia has recovered momentum, with tens of thousands of freshly mobilised troops reaching the front.
Russian forces have made incremental progress in Ukraine's east in recent weeks, in relentless winter battles which both sides describe as some of the bloodiest fighting of the war.
Kyiv says it expects Moscow to broaden that offensive with a big push as the Feb. 24 first anniversary of the invasion approaches.
"They need to have something to show before their people, and have a major desire to do something big, as they see it, by this date," Ukraine's national security chief Oleksiy Danilov told Reuters on Tuesday in an interview.
He predicted Russia, which has focused lately on the Donetsk region in the east, would try new attacks on Kharkiv further north or Zaporizhzhia further south.
"How successful they'll be will depend on us."
Russia launched its "special military operation" to combat what it describes as a security threat from Ukraine's ties to the West and claims to have annexed four Ukrainian provinces last year. It says Western supplies of weapons to Kyiv will only prolong the war.
Ukraine says the only way to end the fighting is for the West to give it the capability to drive Russian forces out.
Western fighter jets are at the top of Ukraine's wishlist. Neither Moscow nor Kyiv enjoys air superiority over Ukraine, limiting the use of piloted air craft on both sides so far.
U.S. President Joe Biden said last month that Washington would not send U.S. F-16s to Ukraine, and British officials have said Britain's jets require too much training to be useful now. But France and Poland were among countries that kept the door open to sending jets as part of a collective decision by Western allies.
The United States is expected to announce a $2 billion weapons package in coming days that would include new rockets with gliding bombs that double the range of rockets it sent last year. That would put all of Russia's supply lines in mainland Ukraine as well as parts of the Crimean peninsula within firing distance of Russian troops.
(Reporting by Reuters bureausWriting by Peter GraffEditing by Philippa Fletcher)
MORE FROM THE
OAF NATION NEWSROOM