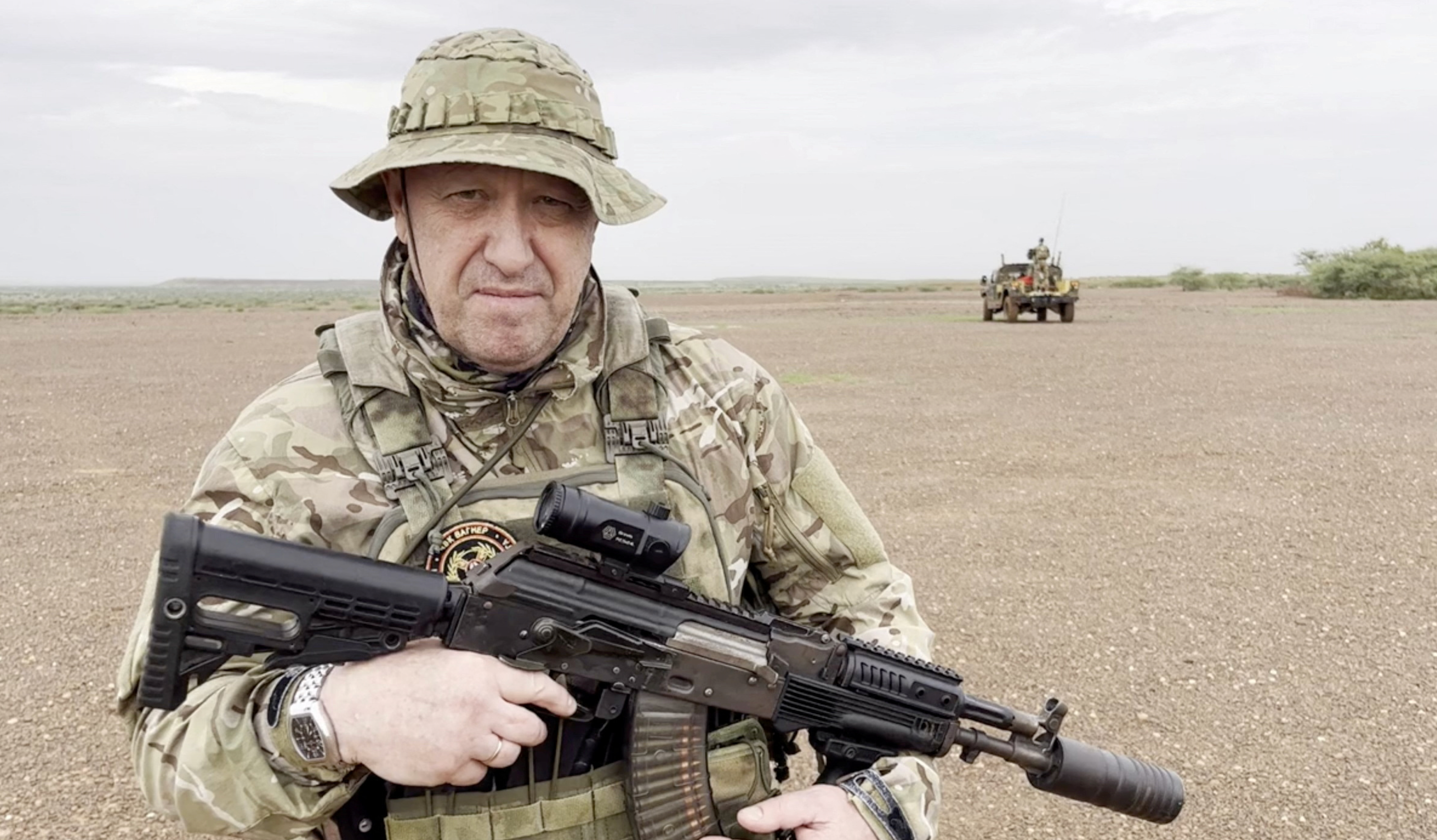 Wagner's Prigozhin posts first video since mutiny, hints he is in Africa
PHOTO CAPTION: Yevgeny Prigozhin, chief of Russian private mercenary group Wagner, gives an address in camouflage and with a weapon in his hands in a desert area at an unknown location, in this still image taken from video published August 21, 2023. Courtesy PMC Wagner via Telegram via REUTERS
(Reuters) -Russian mercenary chief Yevgeny Prigozhin posted his first video address since leading a short-lived mutiny in late June, appearing in a social media clip which he suggested was shot in Africa.

In the video, posted on Telegram channels affiliated with the Wagner group on Monday, Prigozhin speaks of making Russia greater on all continents and Africa more free. It is likely to exacerbate Western fears that Wagner could expand its African operations after a coup in Niger that has taken on anti-Western overtones.

Prigozhin is seen standing in a desert area in camouflage with a rifle in his hands. In the distance are armed men and a pickup truck.


Reuters was not able to geolocate or verify the date of the video. Prigozhin's comments and some posts in the pro-Wagner channels suggested it was filmed in Africa.

"The temperature is +50 - everything as we like. The Wagner PMC (private military company) makes Russia even greater on all continents, and Africa - more free," Prigozhin says in the video.

"Justice and happiness - for the African people, we're making life a nightmare for ISIS and al Qaeda and other bandits," he says.

He then says Wagner is recruiting people and the group "will fulfil the tasks that were set". The video is accompanied by a telephone number for those who want to join the group.


Wagner is already present in Niger's neighbour Mali, where its fighters were hired in 2021 by a military junta which has ordered out French troops and U.N. peacekeepers who had been helping the Malian army battle Islamist insurgents for a decade.

U.N. sanctions monitors alleged in a report in August that Malian troops and their Russian partners were using violence against women and other grave human rights abuses to spread terror.

Wagner and Mali have denied this, as well as accusations that they executed at least 500 people in a village last year.

In Niger, where U.S., French, German and Italian troops are stationed as part of international efforts to contain the Islamists, a junta that seized power on July 26 has been using anti-French rhetoric in its broadcasts. Mali's military government has given support to Niger's coup leaders.

Pro-coup demonstrators in Niamey have waved Russian flags, adding to Western countries' fears that Niger could follow Mali's lead and replace their troops with Wagner fighters.

Russian President Vladimir Putin has called for a return to constitutional order in Niger, while Prigozhin has welcomed the coup.

Prigozhin's video appeared on the eve of a BRICS summit in South Africa where efforts by some members to strengthen and possibly expand the bloc as a counterweight to the West are on the agenda. Putin will take part virtually, while Russian Foreign Minister Sergei Lavrov is expected in person.

The future of Wagner and Prigozhin has been unclear since he led a short mutiny against the Russian defence establishment in late June and the Kremlin said he and some of his fighters - who have fought in some of the fiercest battles of the Ukraine war - would leave for Belarus.

Since the mutiny, some Wagner fighters have moved to Belarus and started training the army there. In comments published in late July, Prigozhin also said Wagner was ready to further increase its presence in Africa.

As well as Mali, Wagner is active in Central African Republic and Libya. Western nations say it is also present in Sudan, though it denies this.

(Reporting by Maxim Rodionov and Estelle Shirbon; Editing by Hugh Lawson and Angus MacSwan)
MORE FROM THE
OAF NATION NEWSROOM