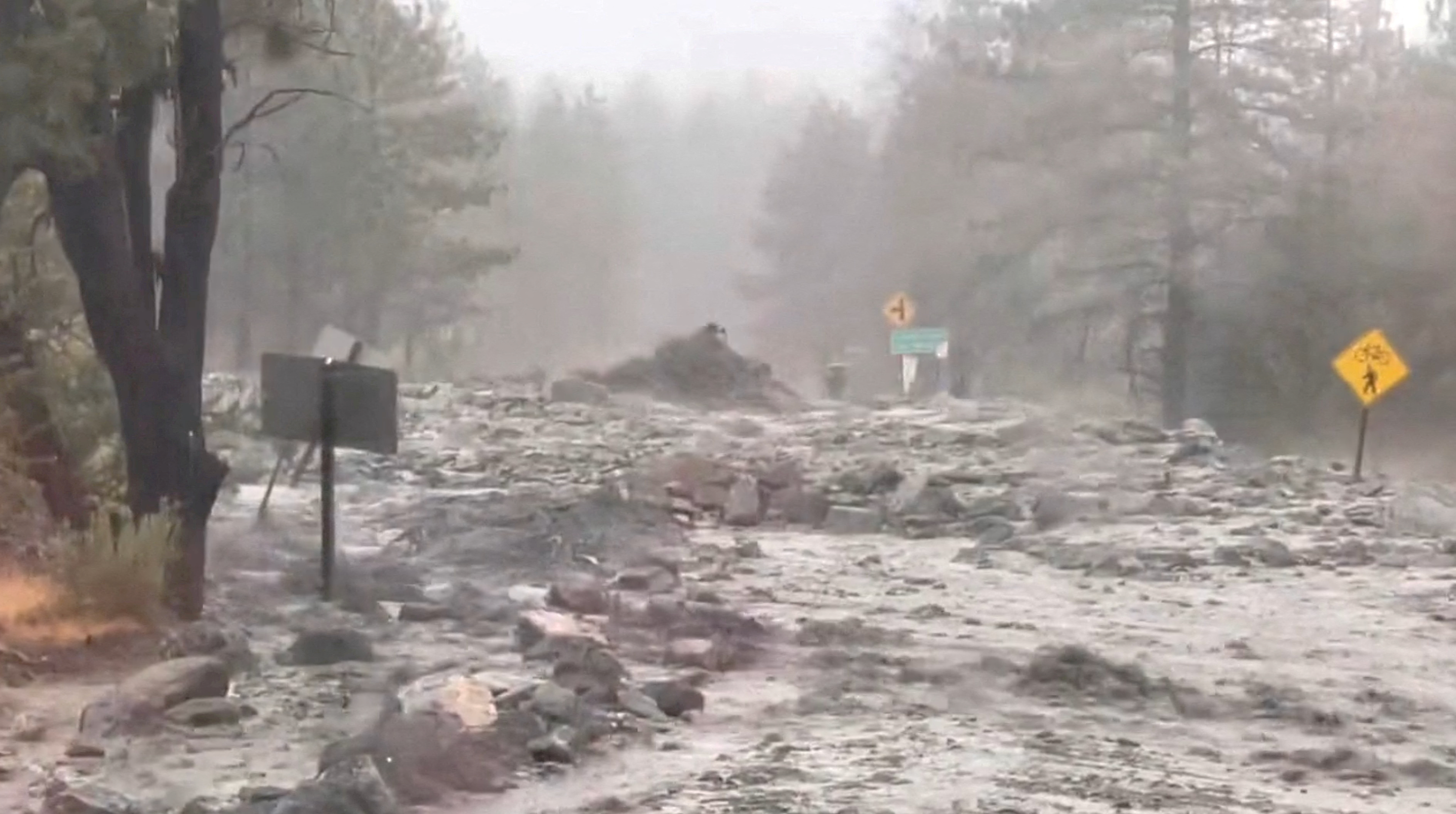 Storm Hilary moves north after drenching Southern California, Southwest
PHOTO CAPTION: Flood water and debris are seen during Tropical Storm Hilary, in Angeles National Forest, California, U.S. August 20, 2023 in this screengrab from a handout video. CALTRANS/Handout via REUTERS
LOS ANGELES (Reuters) -Storm Hilary flooded streets and downed power lines across Southern California and the U.S. Southwest on Monday after unleashing record-breaking downpours overnight, but there were no deaths reported in the United States and fears of widespread damage were dissipating.

Rain clouds were giving way to clear skies midday in densely populated Southern California as the storm -- which had reached hurricane strength off Mexico -- moved north, the National Weather Service said.

Remnants of Hilary were expected to dump heavy rains in Nevada and Utah and into the Northwest, where more than 4 million people remained under the threat of flooding until Monday night, the service said.

Forecasters issued a flash flood warning for an area just northwest of Las Vegas until Monday afternoon, saying there was potential for life-threatening runoff along rivers and streams.


No fatalities or significant injuries in the United States have been reported due to Hilary, the first tropical storm to hit Southern California in more than seven decades. It was downgraded to a post-tropical cyclone overnight.

"Fortunately, Californians listened to their local officials and took the necessary preparedness actions to help protect themselves and their families," FEMA administrator Deanne Criswell told reporters aboard Air Force One.

Before striking the United States, the storm passed through Mexico's Baja California peninsula. In Mexico, it killed at least one person, triggered flash flooding and swept away roads.

On Sunday evening and overnight, the storm clobbered U.S. areas with torrential downpours. One of the hardest hit communities was Palm Springs, California, where video footage posted on social media showed flooded streets and debris flows.


The storm knocked out the city's 911 emergency system and washed out a several roadways including I-10 Freeway, the municipality said on social media.

"Right now we have flooding on all of our roads. There's no way in or out of Palm Springs, and that's the case for the majority of the Coachella Valley. We're all stuck," Palm Springs Mayor Grace Garner said during an interview on CNN on Monday morning.

Records rains for the Aug. 20 date fell across Southern California in places like downtown Los Angeles and at airports in Burbank and Santa Barbara on Sunday, the weather service said.

Some mountain and desert areas could see rain accumulation totals reaching 5 to 10 inches (12 to 25 cm) from the storm, as much as the deserts typically see in a year, forecasters said.

Trees and power lines were downed and streets flooded in some neighborhoods of Los Angeles, the second-most populous city in the United States, officials said on Monday.

Some 450 flights in and out of airports across the Southwest were canceled or delayed on Monday morning, including more than 120 landing at and taking off from San Diego International Airport, according to Flightaware.com.

California Governor Gavin Newsom declared a state of emergency for much of Southern California while President Joe Biden ordered federal agencies to move personnel and supplies into the region.

The storm crossed from Mexico into the United States on Sunday afternoon, hitting San Diego County with its first tropical storm ever recorded and becoming the first to pelt Los Angeles County since 1939.

As people in the region hunkered down for the storm on Sunday, a magnitude 5.1 earthquake hit Southern California north of Los Angeles.

(Reporting by Reuters staff; Writing by Daniel Trotta; Editing by Clarence Fernandez, Alistair Bell and Jonathan Oatis)
MORE FROM THE
OAF NATION NEWSROOM