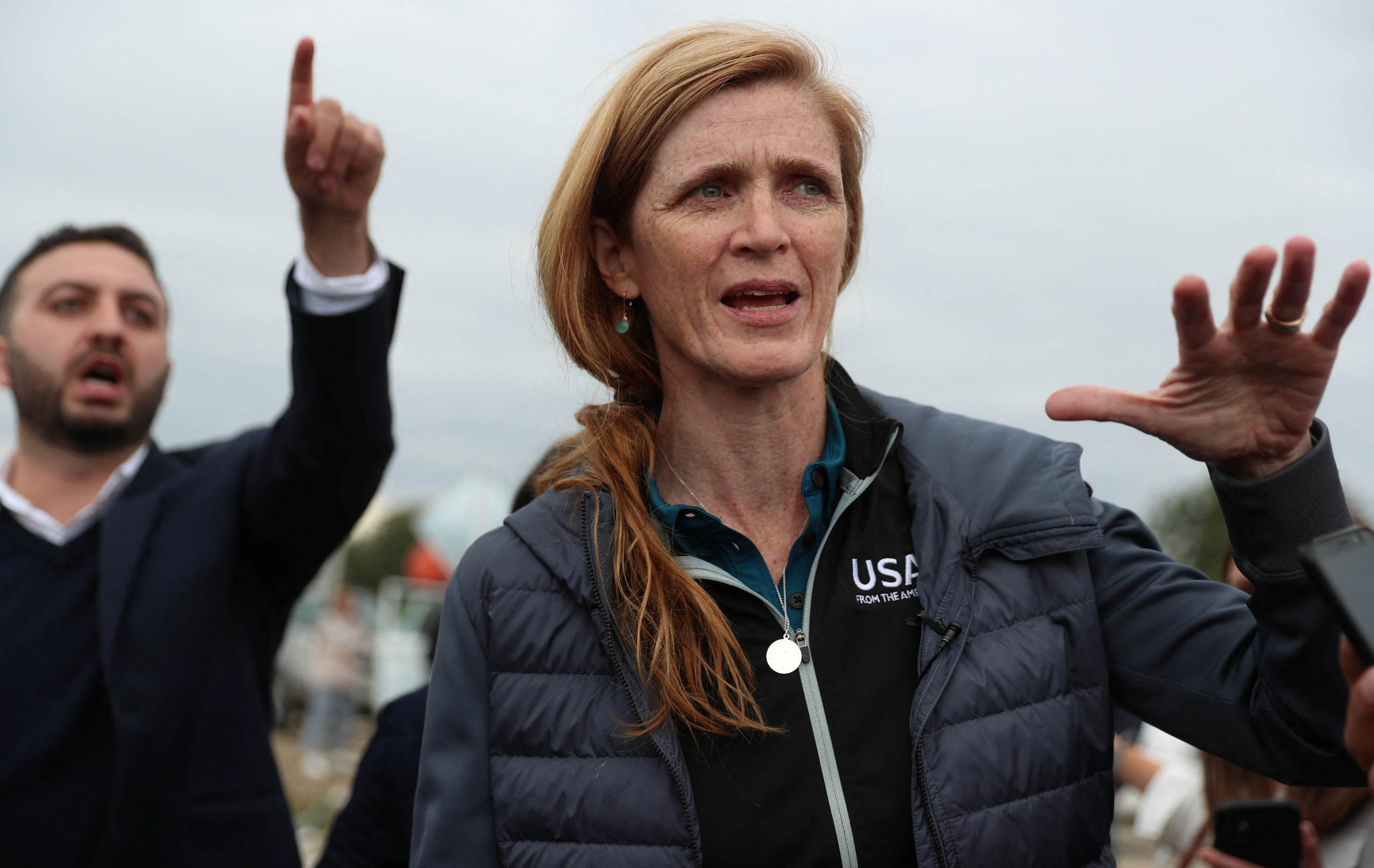 US to announce disaster response team for South Caucasus amid Karabakh crisis
PHOTO CAPTION: U.S. Agency for International Development (USAID) Administrator Samantha Power speaks to the media as she visits the aid centre for refugees from Nagorno-Karabakh region in the border village of Kornidzor, Armenia September 26, 2023. REUTERS/Irakli Gedenidze
By Daphne Psaledakis

WASHINGTON (Reuters) - The United States on Thursday will announce it has deployed a Disaster Assistance Response Team in the South Caucasus region to coordinate the U.S. humanitarian response to the crisis after Azerbaijan took back control of Nagorno-Karabakh last week.

The team, first reported by Reuters, will assess the situation, identify priority needs to scale up assistance, and work with partners to provide urgently needed aid, U.S. Agency for International Development (USAID) chief Samantha Power will say in a statement seen by Reuters.

"The United States is deeply concerned about the safety of vulnerable populations in Nagorno-Karabakh and the more than 50,000 people who have fled to Armenia," Power said in the statement.

Power traveled to Armenia and Azerbaijan this week following Azerbaijan's defeat of the breakaway region's fighters in a conflict dating from the Soviet era.


She said Washington would stand in solidarity with Armenia and that it was essential the international community gained access to Karabakh, amid reports of unknown numbers of people being injured and requiring evacuation, or lacking food and other essentials.

"Last week's unacceptable military operation has made an already dire humanitarian situation even worse," Power said, calling on the Lachin Corridor that connects the region to Armenia to remain fully and permanently open.

The Armenians of Karabakh - part of Azerbaijan that had been beyond Baku's control since the 1991 dissolution of the Soviet Union - began fleeing this week after their forces were routed in the operation by Azerbaijan's military.

The Armenians are not accepting Azerbaijan's promise to guarantee their rights as the region is integrated. The Nagorno-Karabakh leadership told Reuters the region's 120,000 Armenians did not want to live as part of Azerbaijan for fear of persecution and ethnic cleansing.

Armenia said that by Thursday morning, 65,036 people had crossed into its territory.

Azerbaijan's President Ilham Aliyev has pledged to guarantee the safety of Karabakh's Armenians but said his "iron fist" had consigned the idea of the region's independence to history.

"Azerbaijan must protect civilians, uphold its obligations to respect the human rights and fundamental freedoms of all individuals in its country, and ensure its forces comply with international humanitarian law," Power said.



(Reporting by Daphne Psaledakis; Editing by Peter Graff)
MORE FROM THE
OAF NATION NEWSROOM