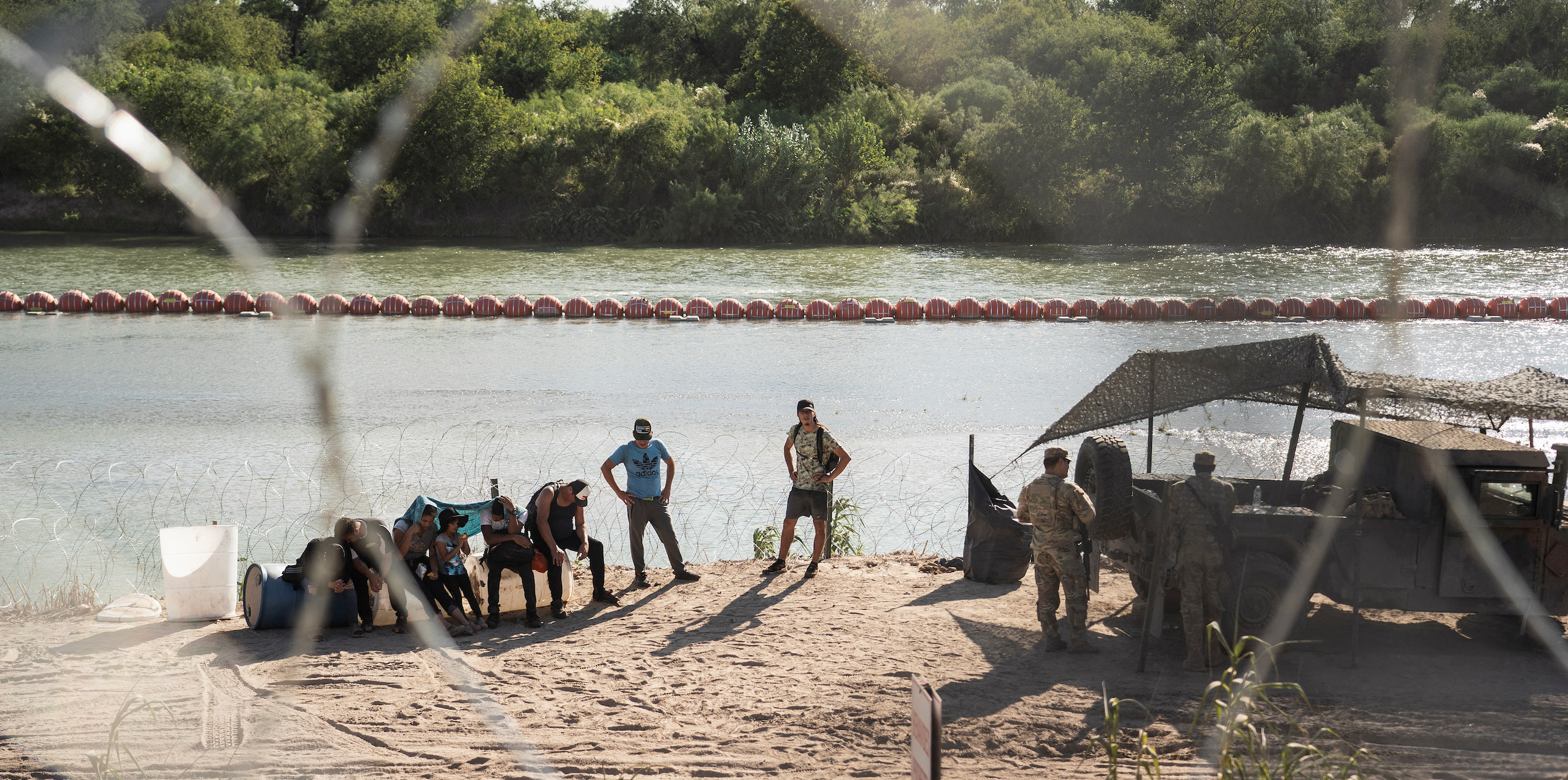 US sues Texas over floating border barriers
PHOTO CAPTION: Asylum-seeking migrants walk in the Rio Grande river between floating fence and the river bank as they look for an opening on concertina wire fence to lad on the U.S. soil in Eagle Pass, Texas, U.S. July 24, 2023. REUTERS/Go Nakamura
By Eric Beech and Kanishka Singh

WASHINGTON (Reuters) -The U.S. Justice Department on Monday sued Texas over floating barriers installed by the state in the Rio Grande river to block migrants crossing from Mexico.

Texas authorities began installing the string of buoys in the middle of the river near Eagle Pass, Texas, last week, part of Texas Republican Governor Greg Abbott's initiative dubbed Operation Lone Star to deter migrants.

"We allege that Texas has flouted federal law by installing a barrier in the Rio Grande without obtaining the required federal authorization," Associate Attorney General Vanita Gupta said in a statement. "This floating barrier poses threats to navigation and public safety and presents humanitarian concerns."

The lawsuit, filed in the U.S. District Court in the Western District of Texas, seeks "to remove all structures and obstructions, including a floating barrier and all infrastructure related to the floating barrier, in the Rio Grande," according to the court filing.

The U.S. attorney for the Western District of Texas, Jaime Esparza, had threatened to take legal action in a letter sent to Abbott last week.


In response to the Justice Department's legal warning, Abbott sent a letter on Monday to Democratic President Joe Biden, accusing him of failing to enforce immigration laws and causing a "record-breaking level of illegal immigration."

Abbott, in an interview on Fox News, said the barriers have potentially prevented hundreds of thousands of people from entering the country illegally and argued the Biden administration's lawsuit is based on an obscure statute.

"We believe we have the right to do so, and we will take this lawsuit all the way to the United States Supreme Court," he said.

Mexico has also complained about the barrier, saying it violates a water treaty and may encroach on Mexican territory.

In addition to the border barrier, Abbott's Operation Lone Star also has included the deployment of thousands of National Guard troops and a campaign to bus migrants to Democratic-led cities further north.

In recent months, National Guard troops have strung up razor wire to block migrants from crossing the Rio Grande.

The number of migrants caught crossing the U.S.-Mexico border illegally has dropped since Biden implemented a restrictive new asylum policy in May. Even so, roughly 100,000 were apprehended in June.

(Reporting by Eric Beech, Kanishka Singh and Tyler Clifford; Editing by Tim Ahmann, Bill Berkrot and Sonali Paul)
MORE FROM THE
OAF NATION NEWSROOM