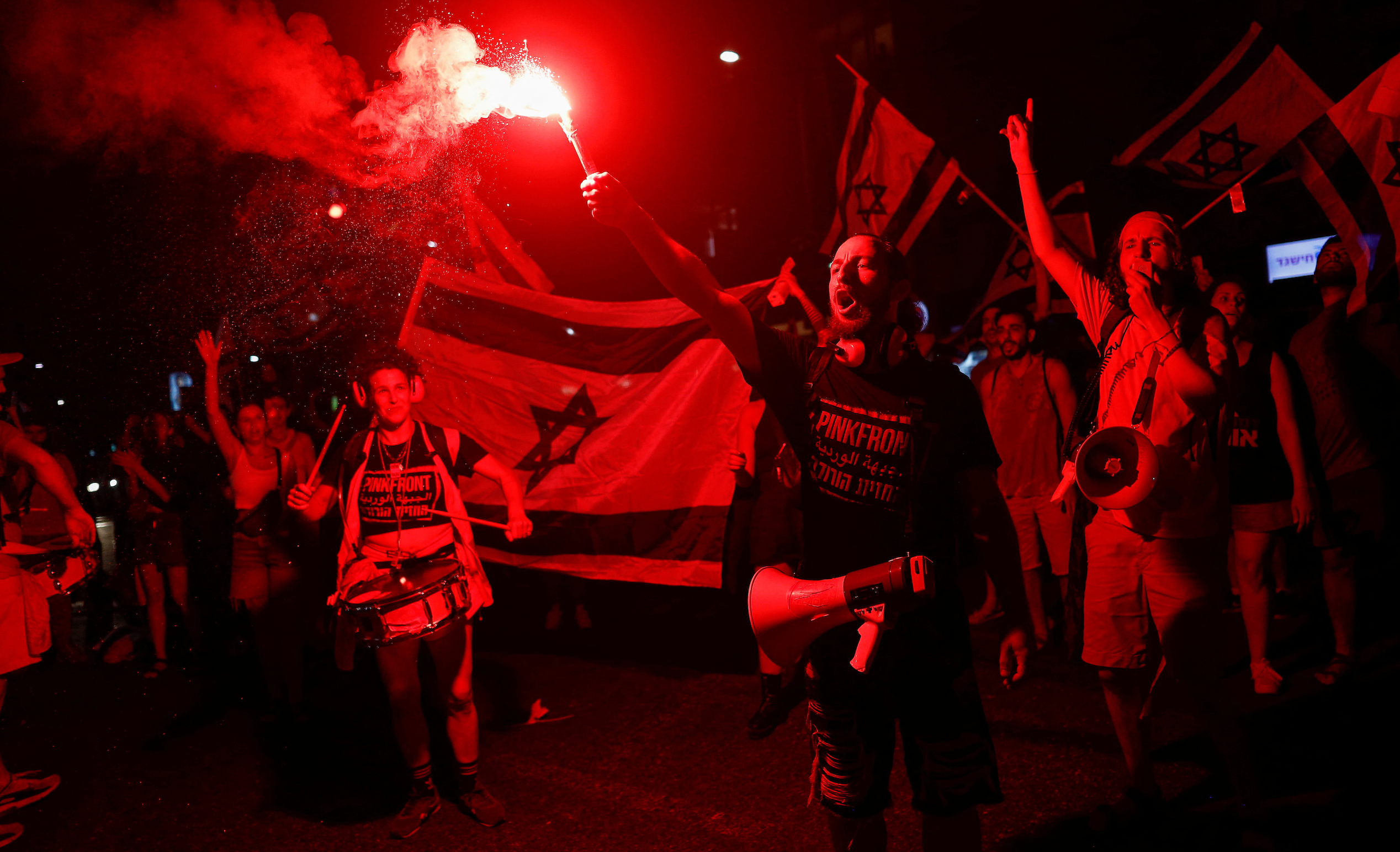 Anti-Netanyahu protests mount after Israel passes judicial bill
PHOTO CAPTION: People take part in a demonstration against Israeli Prime Minister Benjamin Netanyahu and his nationalist coalition government's judicial overhaul, in Tel Aviv, Israel, July 22, 2023. REUTERS/Corinna Kern
By Ari Rabinovitch

JERUSALEM (Reuters) -Israel's parliament on Monday ratified the first bill of a judicial overhaul sought by Prime Minister Benjamin Netanyahu, after last-gasp compromise efforts collapsed and failed to ease a constitutional crisis convulsing the country for months.

The amendment limiting the Supreme Court's powers to void some government decisions if it deemed them "unreasonable" passed by a 64-to-0 vote after opposition lawmakers abandoned the session in protest, some of them shouting: "For shame!"

Demonstrations against the amendment began early in the day with police dragging away protesters who had chained themselves to posts and blocked the road outside parliament. By evening, thousands had taken to the streets across the country, blocking highways and scuffling with police. Israeli police said at least 19 people had been arrested on Monday.

But the government held firm. Justice Minister Yariv Levin, an architect of the legislative package cast by Netanyahu as needed to create more balance among branches of government, called Monday's vote a "first step".

The amendment is part of broader judicial changes the government announced in January, soon after it was sworn in, which it says are needed to push back against what it describes as overreach by a Supreme Court that it says has become too politically interventionist.

Critics say the changes will open the door to abuses of power by removing effective checks on the executive's authority. The planned changes have caused months of unprecedented nationwide protests and stirred concern among allies abroad for Israel's democratic health.

Within minutes of the vote, a political watchdog group and the centrist opposition leader said they would appeal against the law at the Supreme Court.

Netanyahu, in televised remarks after sundown as the protests raged, said he would seek dialogue with the opposition with the aim of reaching an all-inclusive agreement by the end of November.

"We all agree that Israel must remain a strong democracy, that it must continue protecting individual rights for everyone, that it will not become a state of (Jewish law), that the courts will remain independent," said Netanyahu, who had been discharged from hospital in the morning fitted with a pacemaker.

The crisis has caused a deep divide in Israeli society and has seeped into the military, with protest leaders saying thousands of volunteer reservists would not report for duty if the government continues with the plans and former top brass warning that Israel's war-readiness could be at risk.


Protesters who had converged on Jerusalem blocked a highway near parliament and were cleared by police dragging them across the asphalt and using water cannons, including one that sprayed a foul-smelling substance.

"It's a sad day for Israeli democracy... We're going to fight back," said Inbar Orpaz, 36, speaking among the crowd outside parliament.

In Tel Aviv, horse-mounted police tried to disperse a crowd on the main highway, where protesters lit small fires.

Outside the city, a driver rammed into a small crowd that was blocking a road, lightly wounding three people, police said, adding that the car's owner was later arrested.

After the law passed, the White House repeated its call for Israel's leaders to work toward "as broad a consensus as possible" through political dialogue.

Tel Aviv's main share indices tumbled as much as 2.5% after the vote in Knesset and the shekel slid 1% against the dollar.

Opposition leaders pledged to challenge the change.

The head of the Histadrut labour federation, after failing to mediate a compromise between the religious-nationalist coalition and opposition parties, threatened to declare a general strike if the government pursued "unilateral" measures.

A senior member of the opposition, Benny Gantz, promised to roll back the legislation while opposition leader Yair Lapid said: "This government can win the battle, but not the war."

(Additional reporting by Maayan Lubell, Dan Williams, Steven Scheer, Henriette Chacar, Matt Spetalnick and Rami Ayyub; Editing by Miral Fahmy, Tomasz Janowski, Nick Macfie and Rosalba O'Brien)
MORE FROM THE
OAF NATION NEWSROOM