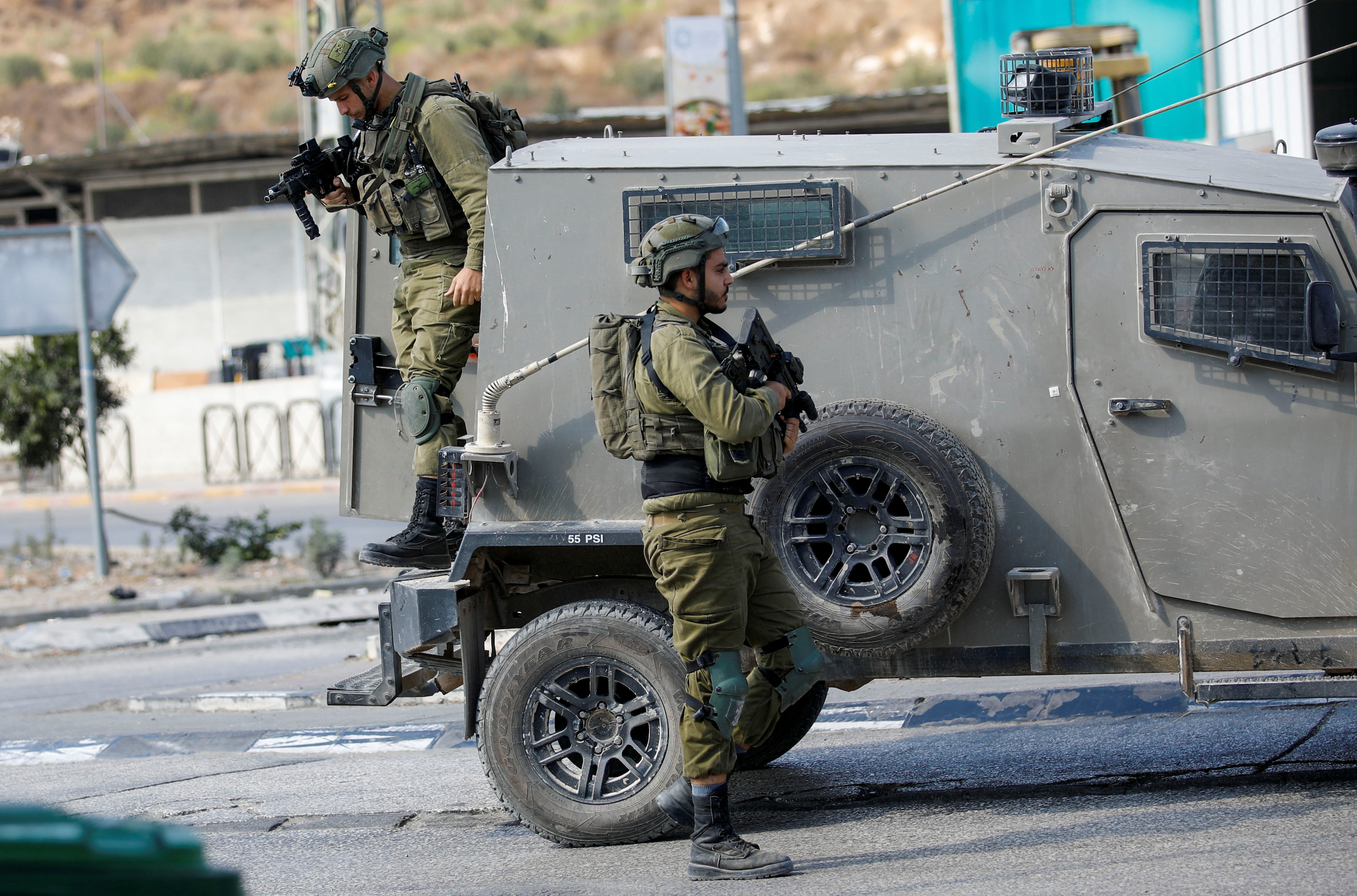 US seeks information from Israel over decision in death of Palestinian-American
PHOTO CAPTION: Illustrative photo: Israeli soldiers patrol near the site of a shooting incident, near Nablus in the Israeli-occupied West Bank October 11, 2022. REUTERS/Raneen Sawafta
WASHINGTON (Reuters) - The United States is seeking more information from the Israeli government about the decision that soldiers will not be criminally prosecuted over the death of a Palestinian-American man, the State Department said on Wednesday.
Israel's military advocate general said on Tuesday that soldiers who left Omar As'ad outside overnight after detaining him, and who was later found dead, will not be criminally prosecuted, but will face disciplinary measures.
"Since Mr. As'ad's tragic death, we have continued to discuss this troubling incident with the Israeli government," State Department spokesperson Matthew Miller told reporters on Wednesday. "We're aware of the conclusion of the investigation, and we are at this time seeking more information from the Israeli government about it."
Israeli forces detained 78-year-old As'ad at a makeshift checkpoint in his West Bank hometown of Jiljilya last January. The soldiers left him supine and unresponsive at a construction site, saying they assumed he had fallen asleep. As'ad was later found dead in the early morning with a plastic zip-tie still around one wrist.
Following an initial probe, the military dismissed two officers and reprimanded a battalion commander over As'ad's death, which it said resulted from "a moral failure and poor decision-making."
On Tuesday, the army's chief legal body said in a statement that its decision was made "following the hearings and after a thorough examination of the investigation materials, which indicated no causal link was found between the errors in the conduct of the soldiers and (As'ad's) death."
A Palestinian autopsy found that As'ad, a former Milwaukee, Wisconsin, resident who had a history of heart problems, had suffered cardiac arrest caused by stress. Palestinian officials attributed this to his having been manhandled by the Israeli soldiers.
The Military Advocate General said a military medical official found it impossible to determine that As'ad's death was caused specifically by the soldiers' conduct and that the soldiers could not have been aware of his medical condition.
Washington at the time said it was "deeply concerned" and expected "a thorough criminal investigation and full accountability."
(Reporting by Simon Lewis, Jasper Ward and Daphne Psaledakis; editing by Jonathan Oatis and Leslie Adler)
MORE FROM THE
OAF NATION NEWSROOM