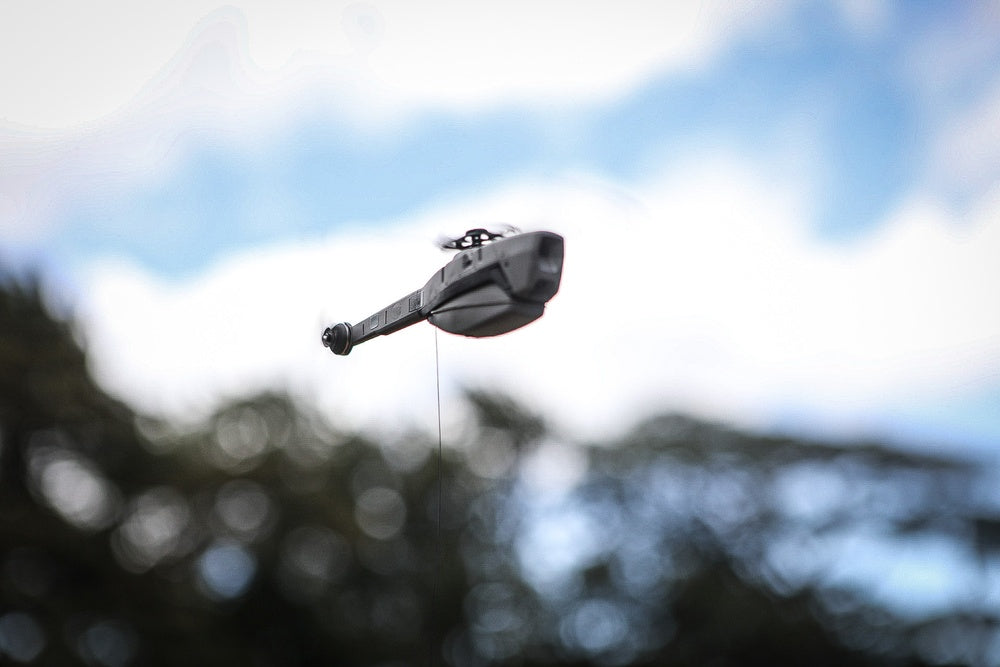 US military aid for Ukraine for first time includes Black Hornet spy drone
PHOTO CAPTION: U.S. Army Soldiers assigned to Alpha Company "Sapper" 2nd Infantry Brigade Combat Team, 25th Infantry Division, training with a Black Hornet drone. (U.S. Army photo by 1SG Lekendrick Stallworth via U.S. Defense Visual Information Distribution Service)
By Mike Stone and Patricia Zengerle

WASHINGTON (Reuters) -The U.S. Department of Defense announced $400 million in additional security assistance for Ukraine on Tuesday, including air defense missiles, armored vehicles and small drones, as Ukraine's counteroffensive against Russia grinds on.

The new aid package, which was first reported by Reuters, will include for the first time U.S. furnished Black Hornet surveillance drones made by Teledyne FLIR Defense, part of Teledyne Technologies.

The Norwegian-built Hornet is being used in Ukraine through donations by the British and Norwegian governments, the company said. FLIR Unmanned Aerial Systems was awarded a $93 million contract in April to provide the small reconnaissance drones to the U.S. Army.

In addition, the weapons aid package includes munitions for Patriot air defense systems and National Advanced Surface-to-Air Missile Systems (NASMS), Stinger anti-aircraft systems, more ammunition for High Mobility Artillery Rocket Systems (HIMARS), Stryker Armored Personnel Carriers and a variety of other missiles and rockets.

The assistance is funded using Presidential Drawdown Authority, or PDA, which authorizes the president to quickly transfer articles and services from U.S. stocks without congressional approval during an emergency. The material will come from U.S. excess inventory.


This is the 43rd security assistance package approved by the United States for Ukraine. More than $43 billion in U.S. military aid has been provided since Russia's invasion in 2022.

Commenting on the aid announcement, Secretary of State Antony Blinken noted Russia's attacks on Ukraine ports and Ukrainian infrastructure since withdrawing from the Black Sea Grain Initiative last week.

"Russia could end this war at any time by withdrawing its forces from Ukraine and stopping its brutal attacks against Ukraine's cities and people. Until it does, the United States and our allies and partners will stand united with Ukraine, for as long as it takes," Blinken said in a statement.

The Black Sea grain deal was brokered by the United Nations and Turkey a year ago to combat a global food crisis worsened by Russia's invasion. Ukraine and Russia are both leading grain exporters.

Russia, whose invasion of Ukraine has resulted in the deaths of thousands and the displacement of millions of civilians, denounced the new U.S. package.

"The actions by Washington ... are beyond morality and common sense," Russia's ambassador to the United States, Anatoly Antonov said in a post on the embassy's Telegram messaging app.

Britain said on Tuesday it had information indicating Russia's military might start targeting civilian shipping in the Black Sea, while the European Union pledged to help Ukraine export almost all its farm produce via rail and road.

(Reporting by Mike Stone and Patricia Zengerle in Washington; Additional reporting by Ismail Shakil in Ottawa, Katharine Jackson in Washington and Lidia Kelly in Melbourne; Editing by Grant McCool and Stephen Coates)
MORE FROM THE
OAF NATION NEWSROOM