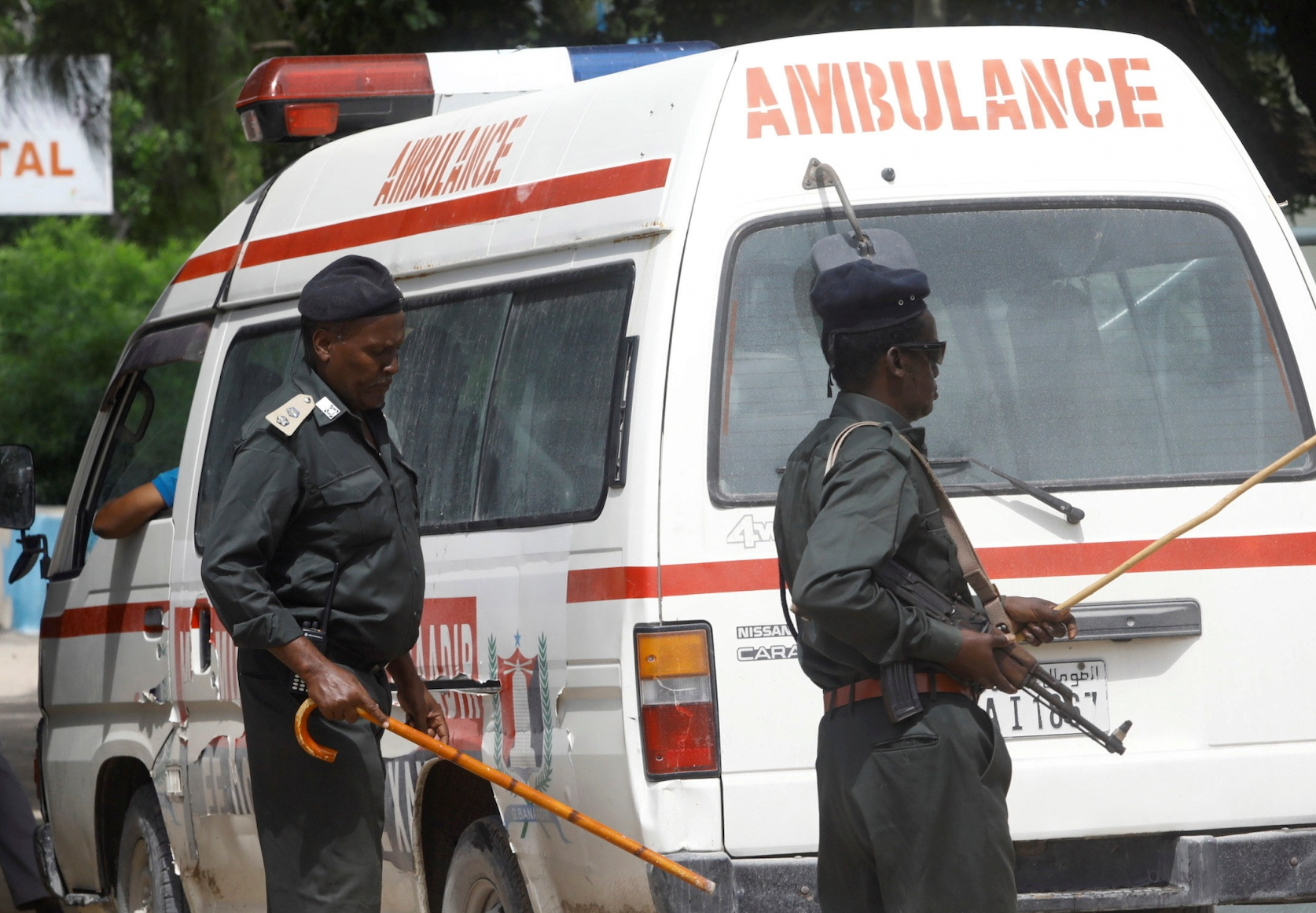 Somalia authorities arrest officers accused of abetting suicide bombing
PHOTO CAPTION: Illustrative photo — An ambulance carrying wounded from a suicide bombing attack at a military base arrives at the Madina Hospital in Mogadishu, Somalia June 15, 2021. (Feisal Omar/Reuters)
MOGADISHU (Reuters) - Somali authorities have arrested several military officers for allegedly helping a suicide bomber gain entry to a military academy in the capital Mogadishu this week and kill at least 30 soldiers, an officer said on Wednesday.

The Al Qaeda-linked al Shabaab group, which has been waging an insurgency against Somalia's national government since 2006, claimed responsibility for the attack at the Jale Siyaad military academy.

The attack was one of the deadliest the group has carried out in years against a military target in Mogadishu.

Colonel Abdullahi Dabow, an infantry operations officer, has been arrested and accused of bringing the suicide bomber into the academy in his car, Captain Hussein Farah told Reuters.

He said other officers had also been arrested in connection with the attack, without naming them.

Reuters was not able to reach Dabow or a representative for comment.


Many Somalis have long suspected that al Shabaab operatives have infiltrated parts of the government and military, but arrests had been rare until recently.

In the past few months, the authorities have arrested dozens of police and military officers on suspicion of helping al Shabaab to carry out attacks against soldiers and civilians, local government officials have told Reuters.

The central authorities have not commented on these arrests, and government officials did not respond to requests for comment.

After Monday's attack, parliament speaker Aden Mohamed Nur Madobe called on the security services to investigate and arrest al Shabaab collaborators.

"The idea that a suicide bomber just comes in a military queue in a military base is not something that can be accepted. This is killing the confidence of the people," he said in comments broadcast on local television.

A military campaign by government forces and allied militiamen against al Shabaab since last year has pushed the militants out of large swathes of territory, but the group continues to stage frequent attacks.



(Reporting by Abdi Sheikh; Writing by George Obulutsa; Editing by Toby Chopra)
MORE FROM THE
OAF NATION NEWSROOM