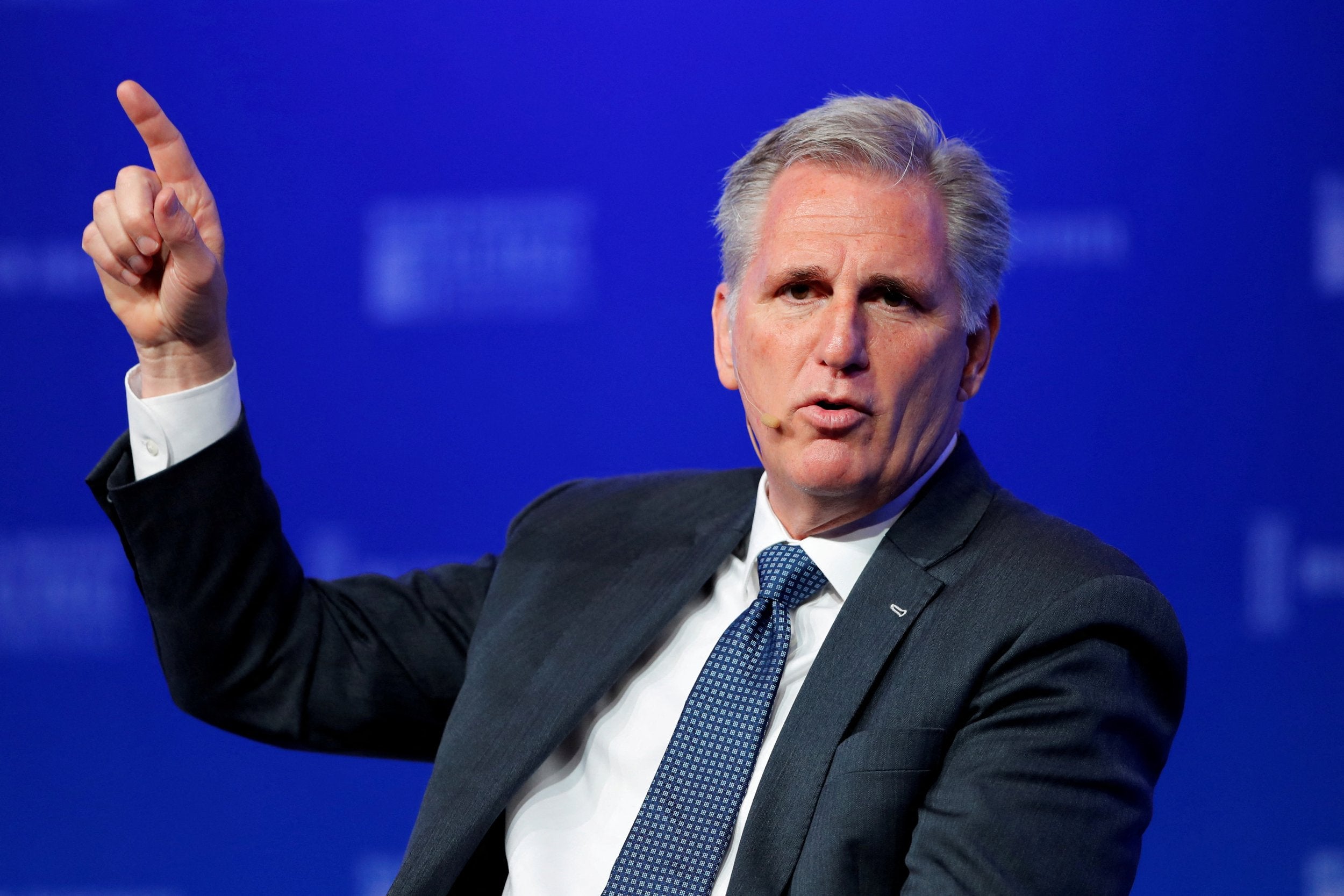 US House GOP faces stalemate as McCarthy seeks speakership
WASHINGTON (Reuters) -Republican Kevin McCarthy's bruising quest to become speaker of the U.S. House of Representatives entered a second day on Wednesday, with the party's new majority fractured by a revolt among hardline members of his party who oppose his candidacy.
McCarthy weathered three failed votes for speaker on Tuesday as about 20 hardliners representing less than 10% of the caucus blocked his path to the powerful post that is second in line to the presidency. It was the first time in 100 years that the House has not elected a speaker on its first day.
The standoff has raised fears among party members of a longer-term rift that could hobble their ability to move forward on economic, energy, spending and immigration priorities in the run-up to the 2024 presidential election.
The slim 222-212 Republican majority gives greater clout to a small group of hard-right lawmakers, who want rule changes that would give them greater control over the speaker and more influence over the party's approach to spending and debt. Supporters of McCarthy, who has served as House Republican leader since 2019, accuse some hardliners of conducting a "Never Kevin" campaign aimed solely at stopping him.
A second day of voting was expected to get under way when the House meets at noon (1700 GMT) on Wednesday.
McCarthy late Tuesday vowed to stay in the race and said he continued to have the backing of former President Donald Trump, who remains a powerful figure in the party.
Trump weighed in early Wednesday, with a post on his social media site Truth Social urging Republicans to back McCarthy.
"It's now time for all of our GREAT Republican House Members to VOTE FOR KEVIN," Trump wrote.
McCarthy said no other Republican was in a position to win a majority of votes and warned against letting chaos rule.
"It will turn out that either someone will make a mistake and elect a Democrat, or we're going to find a way to work together, to be able to govern," McCarthy said on Tuesday.
In contrast to intraparty brawl going on among House Republicans, the top Republican in the Senate, Minority Leader Mitch McConnell, was due to appear with Democratic President Joe Biden in Kentucky on Wednesday to highlight infrastructure investments included in a bipartisan bill passed in 2021.
The House hardliners blasted that deal and another one cut in late December to keep the government funded, vowing to block legislation backed by any Senate Republicans who voted in favor of the latter bill. That has raised fears about Congress' ability to prevent default when the federal government approaches its debt ceiling later this year.
ALTERNATES
McCarthy's opponents selected conservative Representative Jim Jordan as their candidate, despite the fact that Jordan backs McCarthy and has not put himself forward in the speaker's race.
"Right now our candidate is Jim Jordan. He is a fighter. He is a leader. He may not want it right now, but George Washington did not want to be president," Representative Lauren Boebert told Fox News.
Incoming Majority Leader Steve Scalise from Louisiana also was seen as a possible alternative for speaker.
Tuesday's session, which involved about five hours of failed votes, made Republicans a target of ridicule by Democrats. McCarthy drew only 202 votes on the final ballot, before the House adjourned. The last time the House failed to elect a speaker on the first ballot was 1923.
"Republicans have shown their hand and unveiled the clown car caucus with which they expect to govern," Democratic Representative Raul Grijalva said in a statement.
House Minority Leader Hakeem Jeffries, who bested McCarthy in the three ballots on Tuesday by garnering all 212 Democratic votes, took a more somber view of the day's chaos.
"It's a sad day for the House of Representatives as an institution, sad day for democracy. It's a sad day for the American people," Jeffries told reporters.
The conservative rebellion also ratcheted up frustrations among Republicans, who said McCarthy's opponents were stalling party plans to push forward with its legislative priorities and to investigate Democratic President Joe Biden and his administration.
Republicans who back McCarthy accuse the hardliners of playing into claims that the party is incapable of governing.
"Exasperation is growing among members because they have had a hard time figuring out exactly what the holdouts want," Republican Representative Dusty Johnson told reporters.
Some Republicans warned that continued obstruction could lead them to work with Democrats to elect a moderate Republican as speaker. But Jeffries told reporters that Republicans had not approached Democrats about supporting a consensus candidate to end the stalemate and that Democrats were not going to solve Republicans' problem for them.
If elected, McCarthy would succeed Democrat Nancy Pelosi as speaker, making him second in the line of presidential succession after Vice President Kamala Harris.
(Reporting by Makini Brice, Moira Warburton and Gram Slattery, writing by David Morgan; Editing by Colleen Jenkins, Scott Malone and Chizu Nomiyama)
MORE FROM THE
OAF NATION NEWSROOM