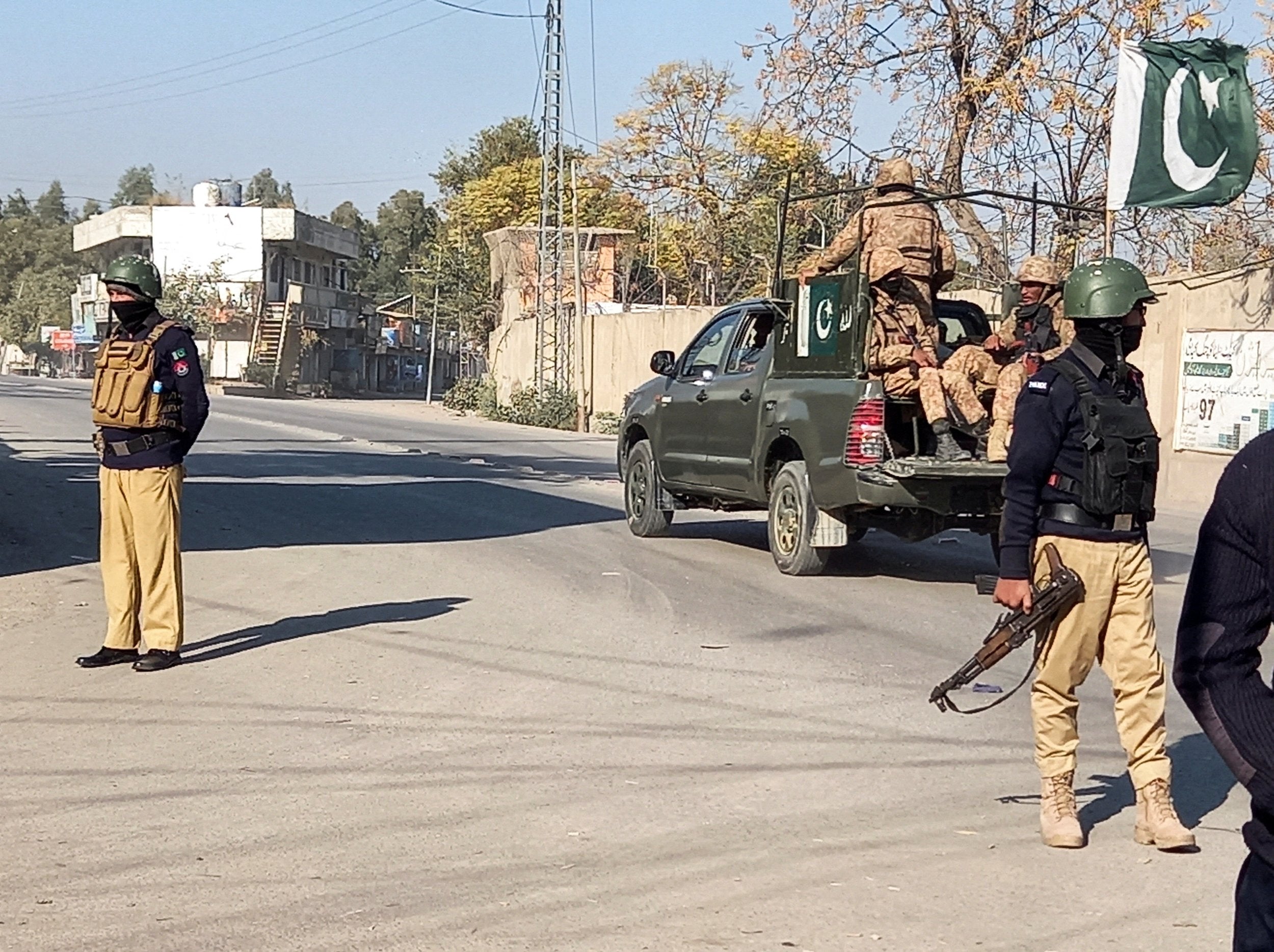 Pakistani Taliban claim killing of two intelligence officials
DERA ISMAIL KHAN, Pakistan (Reuters) - Islamist militant group Tehreek-e-Taliban on Wednesday claimed the killing of a senior official of Pakistan's premier intelligence agency and another officer, the latest in a resurgence of jihadist violence shaking the country.
The Inter-Services Intelligence (ISI) officers were shot dead outside a hotel in Punjab province on Tuesday, police said.
The TTP, an umbrella group of militants that associates itself with Afghanistan's ruling Taliban, ended a months-old ceasefire with the Pakistani government last year and launched a spate of attacks across the country.
"Yesterday, a secret squad of TTP killed ISI Deputy Director Multan Naveed Sadiq along with his colleague Inspector Nasir Butt at Bismillah Highway in Khanewal District of Punjab," TTP spokesman Muhammad Khorasani said in a statement to media.
The Counter-Terrorism Department (CTD), in a statement on Wednesday, confirmed the killings but not the TTP's role. It said the two officers had met the suspected killer at the hotel and had a cup of tea with him.
After tea, the suspect shot the two officers in the hotel parking lot and fled on a motorcycle, the CTD added, releasing security camera footage of the incident.
The incident occurred a day after Pakistan's top civilian and military leaders pledged to use "full force" to deal with militants.
In recent weeks TTP attacks have included a suicide bombing in the capital Islamabad that failed to hit its target.
Pakistani authorities have said the TTP is operating out of neighbouring Afghanistan - an accusation that the Taliban administration has denied.
On Tuesday, a spokesman for Afghanistan's Taliban administration, Zabihullah Mujahid, said the Pakistani accusations were "baseless" and "provocative".
He said the Taliban administration was doing its best not to let anyone use Afghan territory for attacks in other countries.
The TTP emerged to fight the Pakistani state and enforce its radical brand of Islam in the years after U.S.-led forces invaded Afghanistan in 2001 to oust the then-ruling Taliban and drive them over the border into Pakistan.
The Afghan Taliban regained power when U.S.-led foreign forces completed a withdrawal from the country in August 2021.
(Reporting by Saud Mehsud in Dera Ismail Khan and Mubasher Bukhari in Lahore; additional reporting by Jibran Ahmad in Peshawar and Mohammad Yunus Yawar in Kabul; writing by Gibran Peshimam; editing by Mark Heinrich)
MORE FROM THE
OAF NATION NEWSROOM