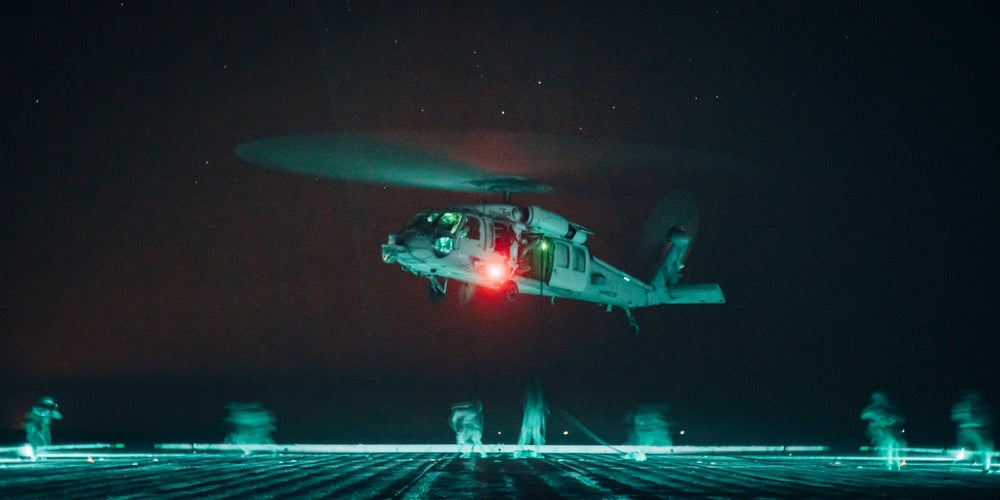 US Coast Guard seeks bigger role to search, board vessels in Pacific
PHOTO CAPTION: Coast Guardsmen with Maritime Security Response Team East, Advanced Interdiction Team Detachment 1, secure the flight deck of the amphibious transport dock ship USS John P. Murtha (LPD 26) during a joint visit, board, search and seizure (VBSS) training exercise with the Maritime Raid Force, 11th Marine Expeditionary Unit (MEU). (U.S. Marine Corps photo by Staff Sgt. Donald Holbert via U.S. Defense Visual Information Distribution Service)
By Kirsty Needham

SYDNEY (Reuters) - The United States Coast Guard is in talks with Pacific Island countries to expand its maritime law enforcement role by allowing U.S. officers to board and search vessels suspected of illegal activity within their economic zones, officials said.

The push to expand the role of U.S. Coast Guard across millions of kilometres of ocean could see U.S. officials board Chinese vessels and comes after an intensification of rivalry in the Pacific between the U.S. and China, which is also seeking to increase its security and fisheries roles.

Papua New Guinea (PNG), which U.S. Defense Secretary Lloyd Austin will visit this week, the first by a U.S. defence chief, struck the 12th maritime law enforcement agreement between a Pacific Island nation and the U.S. Coast Guard in May.

PNG is the furthest country from a U.S. Coast Guard home port to reach such a pact.

So-called ship riders, or law officers from PNG, will join the U.S. Coast Guard on patrols of PNG's 2.7 million square km (1 million square miles) exclusive economic zone (EEZ) to combat illicit activity.

"We provide the legs, if you will, to get out to the further reaches of their EEZ and enforce laws over their sovereign rights," U.S. Coast Guard Lieutenant Commander Megan Willmann said in an interview on Wednesday.

"Whenever PNG wants us, we will try to accommodate that," she said, adding that the goal was for an annual patrol.

PNG Prime Minister James Marape has told parliament the U.S. agreement would "establish an expedited mechanism" for consent to board and search vessels suspected of illicit activity, ranging from drug trafficking to fishing.

The U.S. announced plans a year ago to battle illegal fishing in the Pacific as part of increased engagement with the region to counter China's security ambitions.

U.S. Coast Guard Pacific Area Commander, Vice Admiral Andrew Tiongson, said on Wednesday a cutter would be relocated to Honolulu this year to focus on the Indo-Pacific, and would start with building partner capacity with Pacific countries.

This year, the U.S. Coast Guard patrolled nine of the 12 Pacific Island nations with which it has a ship rider agreement.

"We are definitely looking at states that have distant water fleets, and China is one of them," Willmann said of illegal fishing.


BOARDING AGREEMENTS

Some Pacific Island nations are in talks to go further than ship rider agreements, to allow U.S. officials to board and search foreign vessels in their waters without a local official present, Willmann said.

"Ship boarding agreements" would reduce the diplomatic hurdles, and time constraints, the U.S. Coast Guard faces to enter port to pick up ship riders, she said.

"A lot of Pacific Island nations are interested in that and so are we. The logistics of picking up a ship rider is complicated," said U.S. Coast Guard captain Angela Cook, legal adviser on the expanded agreements.

Federated States of Micronesia (FSM) is the first nation to agree to the U.S. Coast Guard boarding vessels on its behalf. FSM's previous president, who stepped down in May, had complained about Chinese research vessels conducting unauthorised surveillance in its waters.

Palau also said it had asked the U.S. to step up patrols after apparent surveillance activity by Chinese vessels, which China denied.

Solomon Islands and Vanuatu, with closer ties to China, have declined recent U.S. Coast Guard port calls, however.

Willmann said the U.S. Coast Guard was waiting for diplomatic clearance to enter Vanuatu, after being unable to refuel there in January on a patrol for illegal fishing.

The Chinese navy visited Vanuatu in April to deliver relief supplies.

The U.S. is in the process of establishing an embassy in Vanuatu, after recently opening a mission in Solomon Islands, which last year struck a security pact with China that alarmed Washington and its allies.

Austin is expected to meet Marape on Thursday to discuss the next steps in the law enforcement deal, and a separate defence agreement.

Marape has told parliament the defence deal allows the U.S. to refurbish and develop PNG ports and airports for civilian and military use.



(Reporting by Kirsty Needham)
MORE FROM THE
OAF NATION NEWSROOM