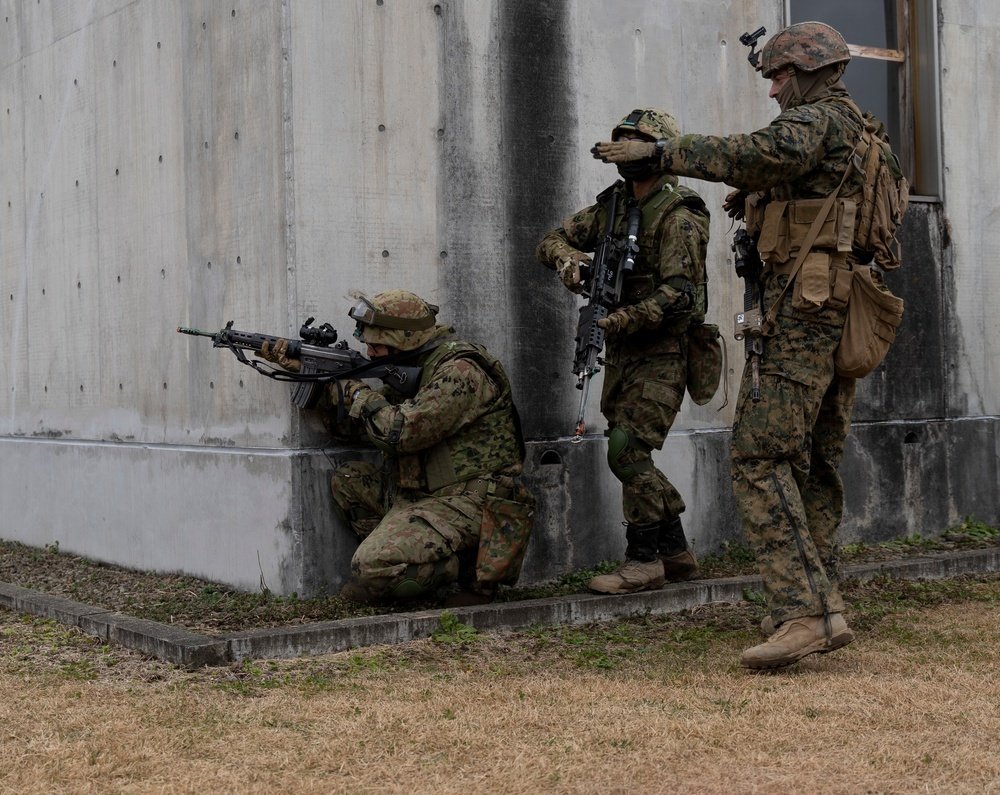 US and Japan agree to step up security cooperation amid China worries
WASHINGTON (Reuters) -The United States and Japan on Wednesday announced stepped-up security cooperation in the face of shared worries about China, and Washington strongly endorsed a major military buildup Tokyo announced last month.
A joint statement issued after a meeting between their foreign and defense ministers in Washington said the two countries "provided a vision of a modernized Alliance postured to prevail in a new era of strategic competition."
"We agree that the PRC is the greatest shared strategic challenge that we and our allies and partners face," U.S. Secretary of State Antony Blinken told a joint news conference after the meeting, referring to the People's Republic of China.
At the briefing, U.S. Defense Secretary Lloyd Austin announced plans to introduce a Marine Littoral Regiment in Japan, which would bring significant capabilities, including anti-ship missiles. Blinken said that two sides also agreed to extend the terms of their common defense treaty to cover space.
The joint statement said that given "a severely contested environment," the forward posture of U.S. forces in Japan should be upgraded "by positioning more versatile, resilient, and mobile forces with increased intelligence, surveillance, and reconnaissance, anti-ship, and transportation capabilities."
Austin is to meet Japanese Defense Minister Yasukazu Hamada again on Thursday at the Pentagon ahead of a meeting between U.S. President Joe Biden and Japanese Prime Minister Fumio Kishida on Friday.
A senior administration official told Reuters that Biden and Kishida are expected to discuss security issues and the global economy and that their talks are likely to include control of semiconductor exports to China after Washington announced strict curbs last year.
Although the total number of U.S. troops in Japan will not change, the new deployments could be the first of several announcements this year on military forces in Asia aimed at making Beijing think twice before initiating any conflict.
The agreement follows nearly a year of talks and comes after Japan last month announced its biggest military build-up since World War Two - a dramatic departure from seven decades of pacifism, fueled by concerns about Chinese actions in the region.
That five-year plan will double Japan's defense spending to 2% of its gross domestic product and see it procure missiles that can strike ships or land-based targets 1,000 km (600 miles) away.
Asked about the Japanese reforms, Blinken said:
"It's very simple, we heartily welcome the new strategies especially because there is ... a remarkable convergence between our strategy and strategies and Japan's.
"We applaud the commitment to increase investment, to enhanced roles, missions and capabilities ... to closer cooperation not only between the United States and Japan but as well with other allies and other partners," he said. "We already have a strong foundation that's only going to grow."
The anti-ship missiles will arrive in Japan under a revamped Marine Corps regiment of 2,000 troops that will focus on advanced intelligence, surveillance and transportation, U.S. officials told Reuters. The move is expected to be completed by 2025.
The officials added that a separate U.S. Army company of about 300 soldiers and 13 vessels would be deployed by this spring to help transport U.S. and Japanese troops and equipment, allowing for the rapid dispersal of forces.
Japan has watched with growing concern China's belligerence toward Taiwan as Beijing seeks to assert its sovereignty claims over the island.
Austin noted ramped-up Chinese military activities near the Taiwan Strait, but said he seriously doubted they were a sign of plans for an imminent invasion of the island by Beijing.
Japan hosts 18,000 U.S. Marines, the biggest concentration outside the United States. Most are on the main Okinawan island, which is part of a chain that stretches along the edge of the East China Sea to within about 100 km (62 miles) of Taiwan.
The large U.S. presence has fueled local resentment, with Okinawa's government asking other parts of Japan to host some of the force. In total, there are about 54,000 U.S. troops in Japan.
(Reporting by Idrees Ali and Phil Stewart; Additional reporting by Humeyra Pamuk, David Brunnstrom and Eric Beech; Writing by David Brunnstrom; Editing by Don Durfee, Leslie Adler and Gerry Doyle)
MORE FROM THE
OAF NATION NEWSROOM