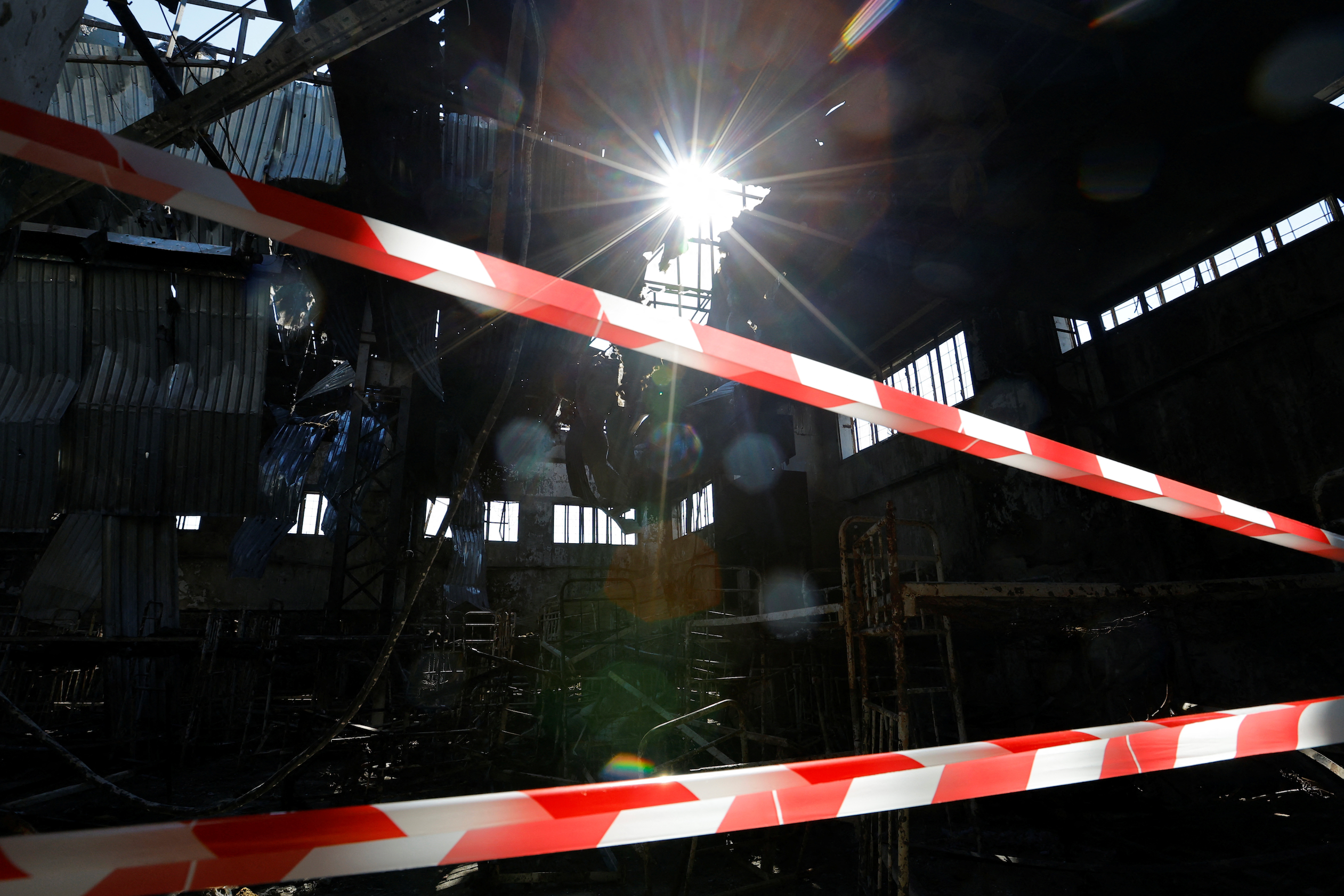 UN says Ukrainian POWs in Donetsk not killed by rocket, as Russia claimed
PHOTO CAPTION: An interior view of the prison building which was damaged by shelling in July in the course of Ukraine-Russia conflict, in the settlement of Olenivka in the Donetsk Region, Ukraine August 10, 2022, in this picture taken during a media tour organised by the Russian Defence Ministry. REUTERS/Alexander Ermochenko/FILE PHOTO
GENEVA (Reuters) - The U.N. human rights chief on Tuesday called for accountability for the deaths of at least 50 Ukrainian prisoners of war last year in an explosion in a Donetsk region detention facility, rejecting Moscow's claim that they were killed by a rocket.

The prisoners being held in a Russian-controlled detention facility in Olenivka, in the eastern Donetsk region, were killed by an apparent explosion July 28-29 2022. Unverified Russia media video footage showed the burned out remains of the prison and charred bodies.

Russia's defence ministry said at the time that a missile strike by a U.S.-made HIMARS rocket was responsible. Kyiv, which frequently raises the incident, has maintained that Russia conducted the explosion at the Olenivka prison in order to hide mistreatment of the Ukrainian captives held inside.

Russia's defence ministry did not immediately respond to an emailed request for comment. Moscow has previously denied maltreating POWs.

"The prisoners of war who were injured or died at Olenivka, and their family members, deserve the truth to be known, and for those responsible for breaches of international law to be held accountable," said High Commissioner for Human Rights Volker Turk in a statement sent to journalists.


The UN rights body, which said it has conducted extensive interviews with survivors and analysed additional information, added that the incident "was not caused by a HIMARS rocket".

It said that it has not identified the source of the explosion but would continue to follow up on the incident. Russia has not granted requests to access parts of Ukraine under temporary Russian control nor given the satisfactory safety assurances for a site visit, the statement added.

The U.N. rights office has previously said both Russia and Ukraine have abused prisoners of war during the conflict, although the former has done so on a bigger scale.



(Reporting by Emma Farge; additional reporting by Max Hunder in Kyiv; editing by Jonathan Oatis)
MORE FROM THE
OAF NATION NEWSROOM