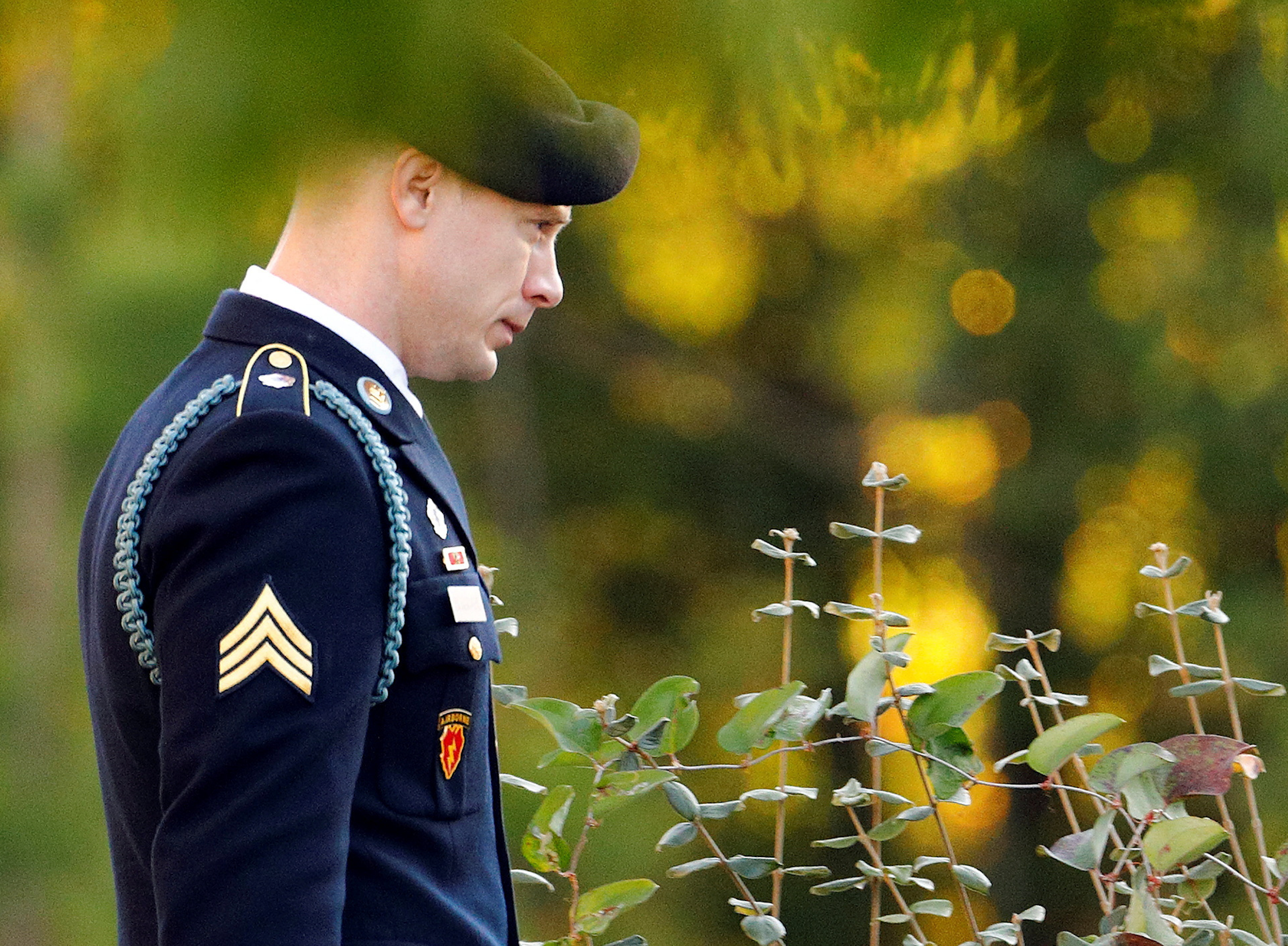 Bowe Bergdahl's court-martial conviction voided by US judge
PHOTO CAPTION: U.S. Army Sergeant Bowe Bergdahl walks out of the courthouse after the judge said he would continue deliberating on his sentence during Bergdahl's court martial at Fort Bragg, North Carolina, U.S., November 3, 2017. REUTERS/Jonathan Drake/File Photo
By Phil Stewart

WASHINGTON (Reuters) - A U.S. federal judge on Tuesday voided a 2017 court-martial conviction against Bowe Bergdahl, an Army sergeant who walked off his post in 2009 only to be captured by the Taliban and spend five years as their prisoner.

Bergdahl's conviction in 2017 left him with a dishonorable discharge, reduction in rank to the lowest enlisted pay grade and an effective fine of $10,000. Tuesday's ruling, which is subject to appeal, vacates that court-martial conviction.

Reggie Walton, a U.S. district judge, said the military judge who presided over Bergdahl's court martial proceedings failed to disclose his application at the time to become a federal immigration judge.

That could create the appearance of potential bias, given then-President Donald Trump's denunciations of Bergdahl, Walton ruled. The court noted that there was no finding of actual bias.

"This case presents a unique situation where the military judge might be inclined to appeal to the president's expressed interest in the plaintiff's conviction and punishment when applying for the immigration judge position," Walton wrote.


The Army did not immediately respond to a request for comment. The military judge who handed down Bergdahl's conviction, Jeffrey Nance, could not be reached for comment.

Geoffrey Corn, a retired Army officer and military law expert at Texas Tech University School of Law, said the ruling left a big question for the U.S. Army.

"Do they bring him back to active duty and retry him? I highly doubt that will happen, but it might," Corn told Reuters.

Bergdahl was freed in a prisoner swap in May 2014 involving the release of five Taliban leaders held by the United States in a deal that drew heavy criticism from Republicans. Bergdahl said he left his post on June 29, 2009, hoping to report leadership issues in his unit. His disappearance triggered a risky search by fellow soldiers.

Walton noted that Nance, then an Army colonel, had stated during proceedings that he was a "a terminal Colonel, which means I'm not going anywhere but the retirement pastures."

But Nance even submitted one of his orders in the Bergdahl case as his writing sample in his application to become a federal judge, according to the ruling.

Walton also took the opportunity to warn politicians about commenting on ongoing cases - in apparent reference to Trump, who declared Bergdahl a traitor who should be executed.

"The Court notes that what occurred in this case illustrates why individuals aspiring for public office and those achieving that objective should not express their desired verdict," he wrote.



(Reporting by Phil Stewart; Editing by Stephen Coates)
MORE FROM THE
OAF NATION NEWSROOM