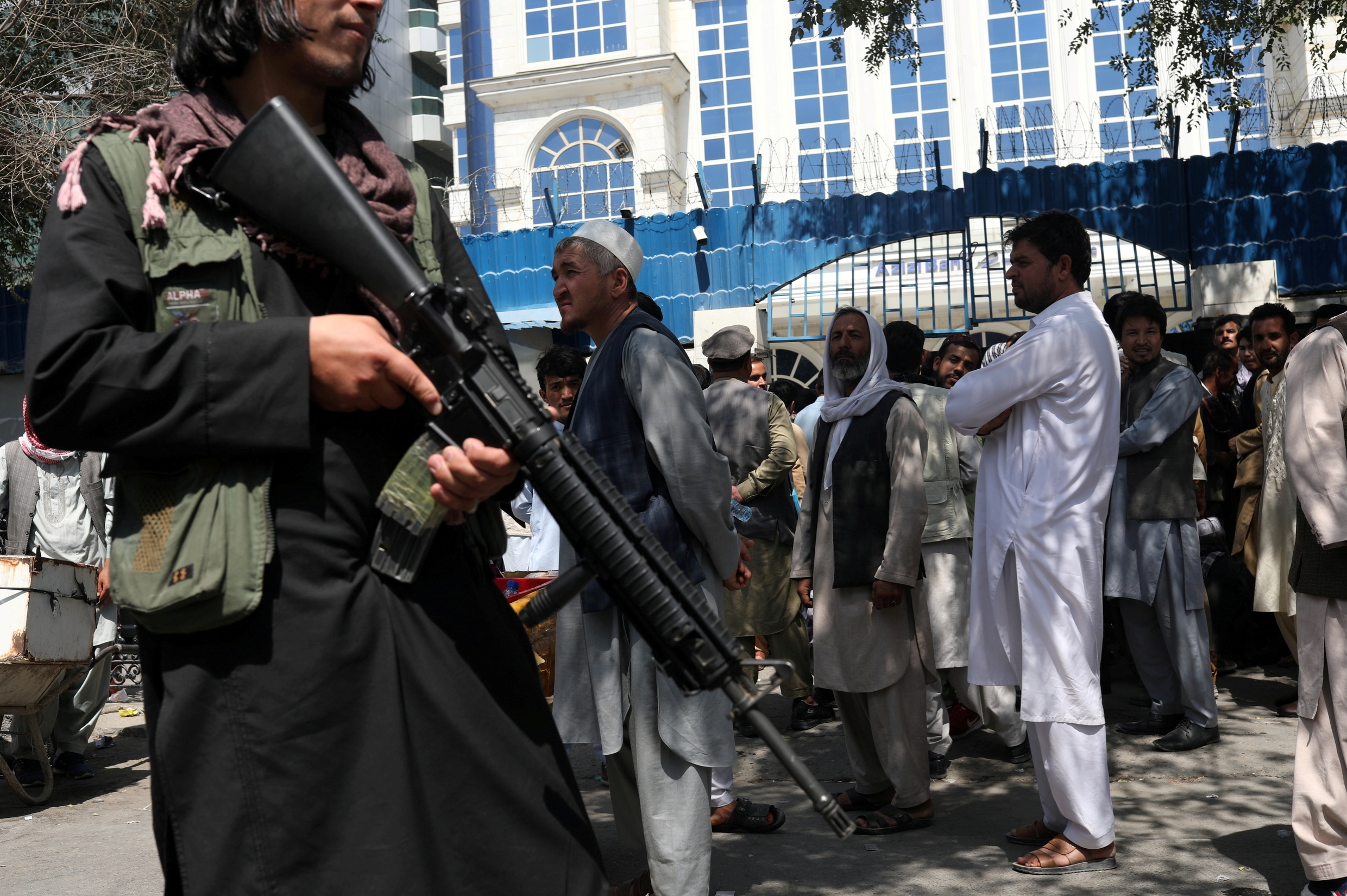 UN records torture, deaths of detainees in Taliban custody
PHOTO CAPTION: A Taliban security member is seen holding an M16A4 rifle while controlling a crowd in front of Azizi Bank in Kabul, Afghanistan, September 4, 2021. WANA (West Asia News Agency) via REUTERS
(Reuters) - The United Nations has recorded over 1,600 incidents of rights violations against people detained by the Taliban authorities, nearly half of them acts of torture and ill-treatment mostly by police and intelligence agents, a report released on Wednesday showed.

The U.N. Mission to Afghanistan (UNAMA) said 18 people had also died in prisons and in the custody of police and intelligence in the 19 months ending July 2023.

The Taliban have staffed and controlled the police and the intelligence agency since they took over the country as foreign forces withdrew in 2021.

"In attempts to extract confessions or other information, detainees were subjected to severe pain and suffering, through physical beatings, electric shocks, asphyxiation, stress positions and forced ingestion of water, as well as blind-folding and threats," UNAMA said in a statement.

Other violations included not being informed of the reason for arrest, not being able to access a lawyer and inadequate medical care in custody.

Around one in ten of the violations were against women. Journalists and civil society members accounted for nearly a quarter of the victims of the violations.

In a response published with the report, the Taliban-led ministry of foreign affairs said the number of reported violations was not accurate, especially the number of journalists or civil society advocates affected.


The ministry said the authorities and the judiciary were working to increase oversight and ensure compliance with decrees by the supreme leader that prohibited torture or forcing confessions.

The U.N. said the decrees, and allowing access to the prisons, were "encouraging signs", but called for more action to redress the situation.

"These documented cases highlight the need for urgent, accelerated action by all," said Roza Otunbayeva, the Secretary-General's Special Representative for Afghanistan and Head of UNAMA. "There is a pressing need to consider more engagement with the de facto authorities to end these practices."



(Reporting by Charlotte Greenfield; editing by Miral Fahmy)
MORE FROM THE
OAF NATION NEWSROOM