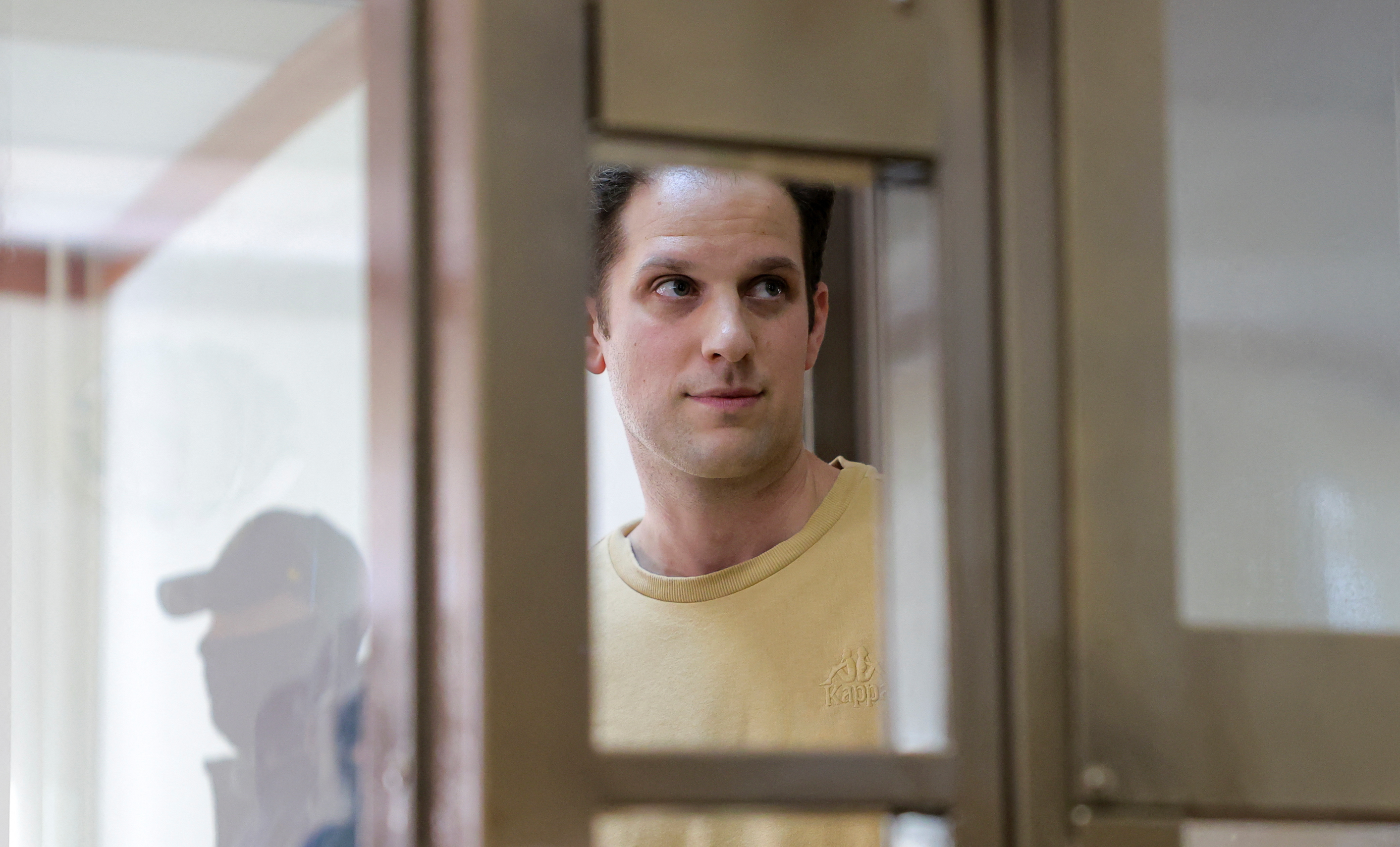 Russian court declines to consider appeal by US reporter Gershkovich against detention in spy case
PHOTO CAPTION: Wall Street Journal reporter Evan Gershkovich stands inside an enclosure for defendants before a court hearing to consider an appeal against his pre-trial detention on espionage charges in Moscow, Russia, September 19, 2023. REUTERS/Evgenia Novozhenina
MOSCOW (Reuters) -A Moscow court on Tuesday declined to consider the latest appeal by U.S. reporter Evan Gershkovich against his pre-trial detention, nearly six months after his arrest on spying charges that he denies.

The court's press service said the case was being sent back to a lower court, meaning that the 32-year-old Wall Street Journal reporter remains in Moscow's Lefortovo prison awaiting his trial, for which no date has been set.

Gershkovich, a reporter for the Wall Street Journal, was arrested on March 29 in the Urals city of Yekaterinburg on charges of espionage that carry up to 20 years in prison.

He had failed in two previous appeals, in April and June, against his pre-trial detention.

"It is unacceptable that Evan Gershkovich and Paul Whelan still languish in Russian prisons on charges that are baseless," U.S. ambassador Lynne Tracy told reporters after Tuesday's hearing.

Whelan is an American who is serving 16 years in a Russian penal colony on spy charges that he too denies. Tracy visited both men in prison last week.

"The United States will not rest until Evan and Paul are safely at home with their families and friends," she said.

A court spokesperson said the court had considered the latest complaint by Gershkovich's lawyers at Tuesday's closed hearing and decided to send it back to a district court "to eliminate the circumstances impeding the consideration of the criminal case in the appeal court".

Asked what these "circumstances" were, the spokesperson said: "We don't know - most likely some sort of documents were not presented for the parties to review".

Gershkovich's lawyers left without speaking to reporters.

Before the hearing, reporters were allowed into the court where Gershkovich was standing in a glass box, wearing a pale yellow top and blue jeans.

Russia has said the reporter was caught "red-handed" on a trip to the Urals city of Yekaterinburg, where the FSB security service said he was trying to obtain military secrets. It has not provided any detail to support that assertion.

The White House has called the charges "ridiculous" and President Joe Biden has said Gershkovich's detention is "totally illegal".

The United States has accused Russia of using Gershkovich to conduct "hostage diplomacy", at a time when relations between the two countries are at their lowest point in more than 60 years because of the conflict in Ukraine.

(Reporting by Reuters, writing by Mark Trevelyan, editing by Guy Faulconbridge and Hugh Lawson)
MORE FROM THE
OAF NATION NEWSROOM