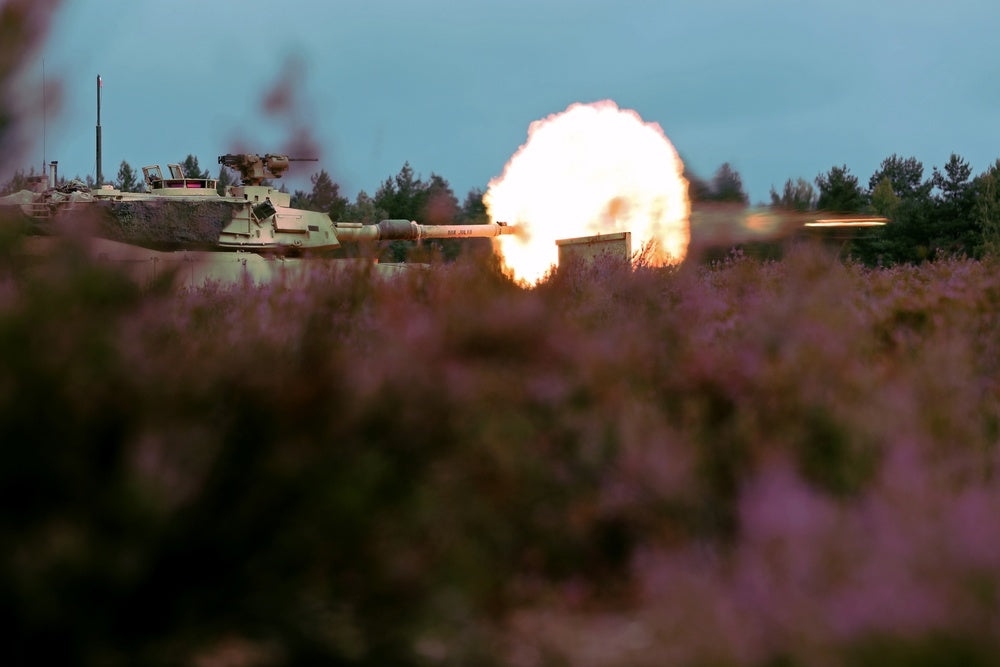 Ukrainian soldiers say they are heartened by delivery of US Abrams tanks
PHOTO CAPTION: A U.S. M1 Abrams main battle tanks fires its 120mm round during training at Świętoszów, Poland, Aug. 27, 2021. (U.S. Army photo by Sgt. 1st Class Chad Menegay via U.S. Defense Visual Information Distribution Service)
By Anna Voitenko

DONETSK REGION, Ukraine (Reuters) - Ukrainian tank crews in the eastern front see the first delivery of U.S. Abrams tanks to Kyiv as a boost that will offer them more protection and firepower in battle.

President Volodymyr Zelenskiy said on Monday that Ukraine had taken delivery of its first shipment of U.S. jet-powered Abrams tanks to help in the defence against Russia's invasion.

Mark Milley, the top U.S. general, has said he regards M1 Abrams tanks as the world's best and that they "will make a difference" in the 19-month-old war. With a powerful engine, 120 mm main gun and special armour, the Abrams tank is particularly lethal against heavy armour forces.

Ukrainian tank crews training in the Donetsk region of eastern Ukraine said that once they were deployed, the Abrams tanks would be a big step up from the Soviet-era tanks they are currently operating.

"The Abrams tank....has protection against ammunition detonation. (This tank) does not have it. If ammunition detonates, there is no chance to survive," said tank driver Vitalii, 29.

A tank commander who uses the call-sign "Wel" said his team needed the additional firepower and protection offered by the Abrams and other Western tanks, such as the German-made Leopard.

"It would be better to have foreign weapons. The armour is better and they are more effective, I believe," he said as tank crews advanced in their Soviet-era tanks across wooded terrain and scrubland during recent drills.

Using a derogative term for Russians, he said: "My friends who were trained to drive Leopard tanks and took part in assaults told me that T-72 tanks which belong to the Orcs were penetrated (by the Leopard tanks) as if it were a frying pan. Very quick. It takes only one or two shells and there is nothing left."


LARGE NUMBER OF RUSSIAN TROOPS

In January, the U.S. pledged to supply Ukraine with 31 advanced M1A2 Abrams tanks after months of shunning the idea of deploying the difficult-to-maintain tanks to Ukraine. Zelenskiy did not say how many have been delivered so far.

The Kremlin said this week that U.S. supplies of military hardware such as the Abrams tanks would not change the situation on the battlefield. Milley has also said there is no "silver bullet" to end wars.

A 26-year-old officer who gave his name as Oleksandr said his main concern was facing large contingents of Russian troops.

The east is one of two main fronts in the war as Ukraine mounts a nearly four-month-old counteroffensive. Although Kyiv's troops have been strengthened by Western arms, progress has been slow against Russian troops sent in force to the eastern front.

"It's all about the number of their troops. Advances are made by big numbers," Oleksandr said. "For example, we know that they have more tanks than we do in Ukraine. If we get more weapons and their two tanks are confronted by four of our tanks, we will prevail."

Oleksandr said his wish list for Western military assistance would include ammunition, artillery and fighter planes as well as tanks. "And more manpower because there are wounded and killed among infantry," he said.



(Writing by Ron Popeski, Editing by Timothy Heritage)
MORE FROM THE
OAF NATION NEWSROOM